LITTLE VILLAGE — Michael Rodriguez sees his new title as alderman as a "calling."
It's a calling rooted in his early days growing up on 27th Street and Kostner Avenue and his summers in college working with toddlers for the Chicago Park District at Piotrowski Park.
But most importantly, it's from his time as a community organizer helping with a hunger strike led by Little Village mothers that resulted in the creation of a new high school in the Southwest Side neighborhood.

Those formative years inspired a line of work that revolves around improving the quality of life in the community where he was raised.

"It's a good feeling," Rodriguez said, reflecting on his February election night victory at El Faro restaurant, 3936 W. 31st St. "It feels right. It feels like God has a plan for all of us. Right now, my calling is to serve the residents of the 22nd Ward."

When the Democratic committeeman is sworn in as alderman in May, it will be the first time the 22nd Ward will have a new alderman in 26 years. The 40-year-old Little Village resident won a four-way race to replace retiring Ald. Ricardo Muñoz by capturing 64 percent of the vote. His closest opponent was Lisette Lopez, an Outreach Director for Oak Street Health, who received 13.8 percent.

Last summer, the race was left wide open after Muñoz announced he would not seek re-election in a ward that includes all or parts of Little Village, Brighton Park, Lawndale and Sleepy Hollow.
Muñoz was first appointed to the seat in 1993 by then-Mayor Richard M. Daley to replace Jesus "Chuy" Garcia after Garcia was elected to the State Senate. Both Muñoz and Garcia threw their support behind Rodriguez during the campaign.

In January, Muñoz was charged with domestic violence for allegedly attacking his wife on New Year's Eve. Despite calls for him to step down, Muñoz previously told The Daily Line in January that he planned to "continue his life in public service," finishing out his term.

In February, a Cook County judge approved an agreement for the Little Village alderman to return to the home he shares with his wife, according to the Sun-Times.

Despite Muñoz's personal troubles, Rodriguez said he credits the longtime alderman for fighting to empower the city's inspector general, for his work fighting to raise the minimum wage and for the construction of several new grammar schools in the ward.

"I think Rick has proven to be a reformer. … Being in one place for 25 years, we are bound to make mistakes," Rodriguez said.

'I'm Going To Be Different'

Now, after a decisive victory, Rodriguez is eager to get started. Setting himself apart from his predecessor, Rodriguez said he aims to bring his constituents into the process. He plans to create a committee to help decide what to do with $1.2 million in ward menu money, and another committee to review developments that require zoning changes or some form of aldermanic approval.
"I'm going to be different [than Muñoz] as far as community engagement is concerned," Rodriguez said. "My history is that of an organizer. I feel like I'll be more of an organizer here locally."
Rodriguez sees community benefits agreements as a requirement for all new developments and projects coming into the ward to ensure existing residents' needs are being met.

He wants to work with a collective of community groups to set standards and requirements that developers have to meet when coming forth with a proposal.

Like voters in the ward and his future City Council colleague Byron Sigcho-Lopez in the neighboring 25th Ward, Rodriguez supports a community benefits agreement for the proposed Paseo trail.
In full, the measure calls for developers to sign an agreement that would require 30 percent affordable housing units be built in new developments, freeze property taxes and provide funding for local jobs and affordable housing.

Rodriguez said he's conscious of the gentrification happening in Pilsen, and wants to make sure he's on top of the issues in the 22nd Ward before longtime residents are priced out.

"Leadership requires people to look into the future and put in place policies and practices now that will benefit communities in the long run," Rodriguez said.
"I'm not against development. I'm not against people coming into the community who want to invest here and live here. But at the same time you better damn be sure that I'm for working class people being able to stay in the community. …That's my priority," Rodriguez said.

During his time in office, he said, he'll also look to tackle public safety and to allocate more resources for education and youth development programming. He also wants to ensure that police officers are "better trained and are responsive to the needs of the community."

He said he wants to invest in programs that are proven to work, like community-based mentoring program Urban Life Skills.

Rodriguez also supports an elected school board, and plans to advocate for a progressive tax because "the rich and super wealthy need to pay their fair share." He also is in support and advocating for the Fair Workweek Ordinance to help workers like single mothers who struggle to find child care with last-minute workweek schedules.

No Stranger To Ward Politics

Rodriguez isn't a stranger to aldermanic duties. One of his first jobs out of DePaul University was at Muñoz's office as an assistant to the alderman — helping residents with immigration paperwork, organizing an annual higher education conference and working with kids in the area.

He also volunteered and worked with the Little Village Community Development Corporation, where he helped organize a hunger strike for a new high school at 31st Street and Kostner Avenue. He led marches, rallies and called on people to attend CPS hearings on the matter. Little Village Community Development Corporation eventually became Enlace Chicago.

After leaving Muñoz's office, Rodriguez worked at Instituto Progreso Latino, where he helped neighborhood residents get jobs at the newly built Little Village Lawndale High School in 2004 and 2005.

While getting his master's degree in community organizing, planning and development from the University of Chicago School of Social Service Administration, he also worked at the U.S. Hispanic Leadership Institute.

Following graduate school, Rodriguez began work at Little Village nonprofit Enlace as director of violence prevention. He eventually became the executive director of the nonprofit for six years, before leaving his seat when he was elected Democratic committeeman in 2016.

Most recently, Rodriguez served as an executive officer of the Cook County Medical Examiner's Office before leaving his post in October to run for alderman full-time.

Rodriguez is ready to get back to the root of his work, and serve the community where he and his wife, and lifelong Little Village resident, Jaqueline, are raising their 7-year-old daughter, Sophia, and 1-year-old son, Diego.

'Too Many Trucks'

Standing at the corner of Harding Avenue, Rodriguez watches a series of diesel trucks head in either direction on 31st Street.

"I don't remember this as a kid," Rodriguez said, as fumes hang in the air outside El Faro restaurant. "It's clear that there are too many trucks going through our neighborhood."
The Little Village Environmental Justice Organization has been working to curb the number of diesel trucks coming into the neighborhood. Most recently, the neighborhood organization vehemently opposed Hilco Partners plans for massive development center at the Crawford Coal Plant.
"I have two young children. They're breathing in this air," Rodriguez said.  
Despite community opposition, Rodriguez's predecessor backed the plan, which has since been approved by City Council.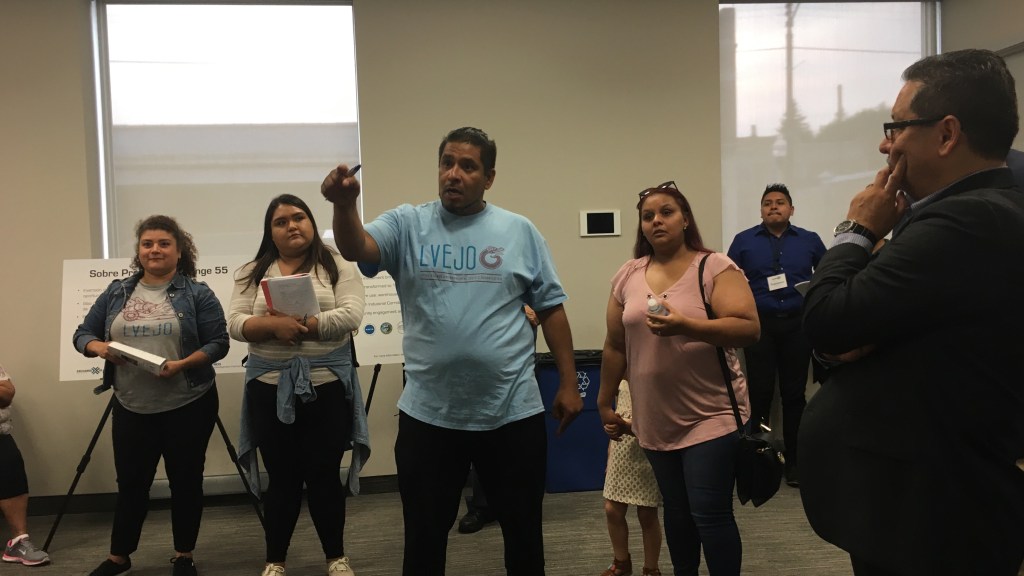 Now, as Hilco moves forward with its plans to bring a 1-million-square-foot distribution center to Little Village, Rodriguez said he plans to work with local organizations to figure out how to minimize the number of trucks coming into the neighborhood.
Asked if he would have backed the project, as Muñoz did, he said no.
"I would have handled it differently, I would have engaged the residents more proactively," he said. "The way it was presented to the community and City Council, I would have had serious reservations. I certainly wouldn't have supported a tax break for them."
Moving forward, Rodriguez said he plans to work with "local groups to figure out how corporations come into the neighborhood responsibly."
The Department of Planning and Development is currently working on a draft plan to modernize the Little Village Industrial Corridor. When Rodriguez takes office he plans to be actively involved and wants assurances that the health and safety of residents and workers are at the forefront.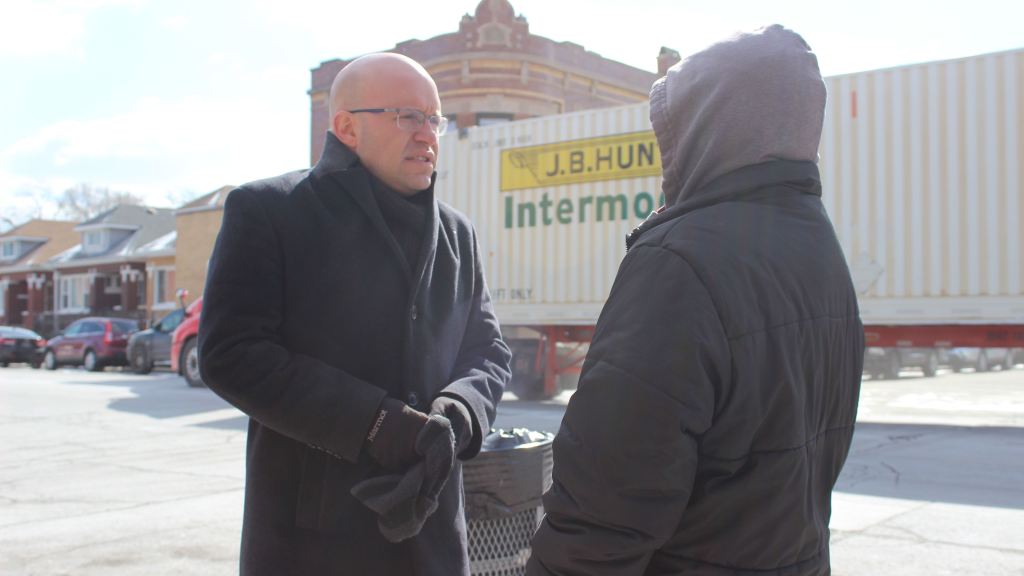 "I'll do everything I can to mitigate the environmental hazards from industry [in the ward.] I do believe we need good jobs in the community, but I think we can do that without negatively impacting the health of our children and residents," Rodriguez said.

"The ward is one that is important to me. I hope to do it right; I hope to do it justice."
Do stories like this matter to you? Subscribe to Block Club Chicago. Every dime we make funds reporting from Chicago's neighborhoods.