LOGAN SQUARE — Within the last four weeks, two developers have proposed large apartment projects on Western Avenue on the Logan Square/Bucktown border.
If approved, they would be the third and fourth developments to rise in the area surrounding the Western Blue Line stop; the Weyland building apartments and the John Pennycuff LGBTQ-friendly apartments, offering a total of 220 units, are both currently under construction.
As the latest proposal goes through the community review process, some residents are wondering: Can the already-crowded, oft-delayed Blue Line handle the hundreds of new residents developers are throwing at it?
Longtime property owner Gene Bernshtam is behind the latest proposal, which calls for a five-story, 60-unit apartment building with ground-floor retail at 1700 N. Western Ave., the site of his family's car dealership, Berns Auto Sales.
The apartments would be a mix of one-bedroom, two-bedrooms and three-bedroom apartments with almost half offering between 1,400-1,500 square feet. Rents won't be finalized until the project is complete, but a three-bedroom apartment will likely go for about $3,300, according to Bernshtam.
Of the 60 total apartments, nine of them would be reserved as affordable housing units, as required under the city's affordable housing requirements ordinance.
Because of its close proximity to the Western stop, the project qualifies for the city's transit-oriented development ordinance, which allows for fewer parking spaces.
As such, the proposal includes 26 parking spots for 60 apartments, though Bernshtam said another 25 spaces will be available in his sister development across the street at 1667 N. Western Ave., which is currently wrapping up construction.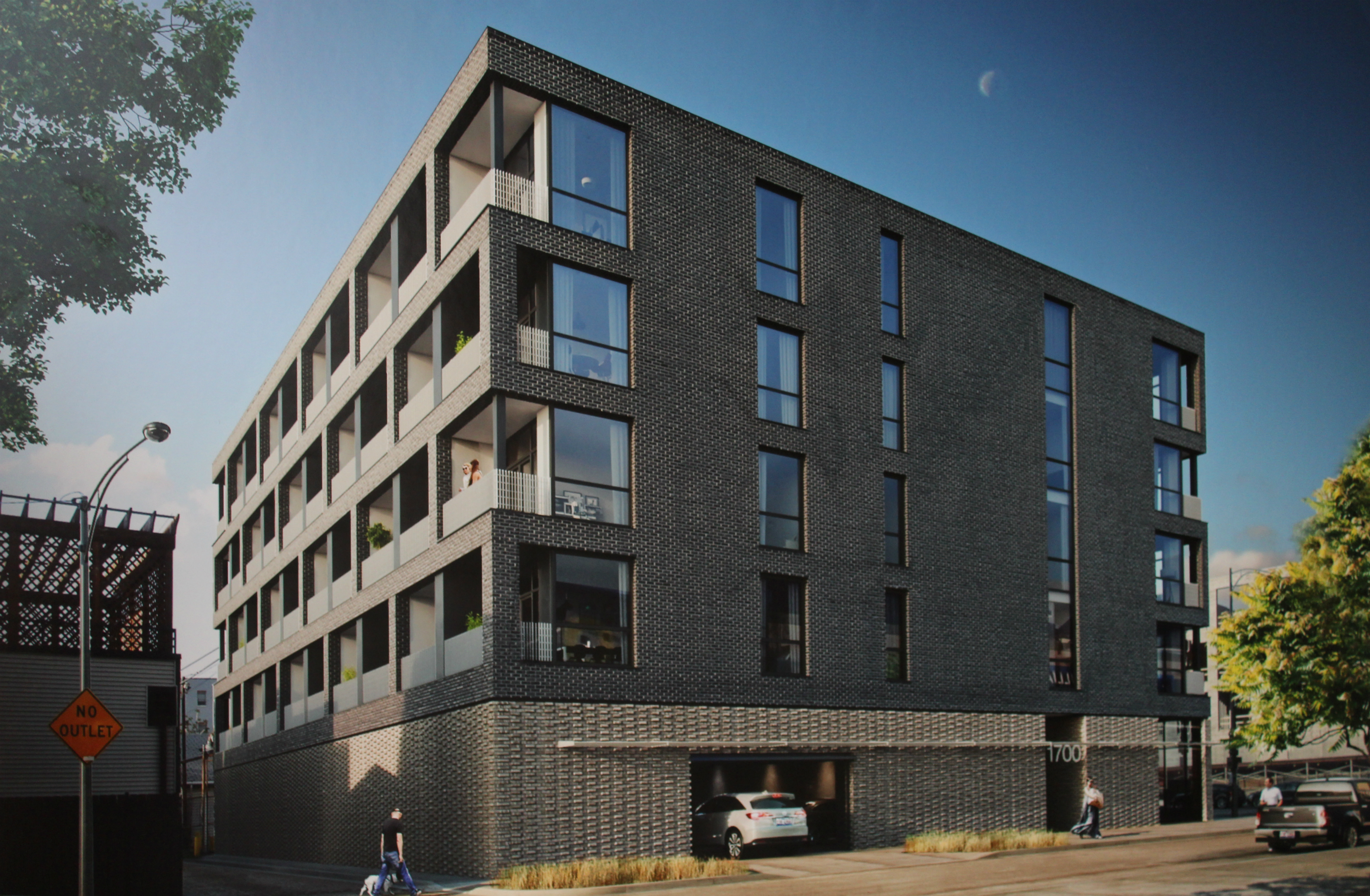 Bernshtam caught heat from residents at a community meeting, held Wednesday evening at The Joinery, 2533 W. Homer St., but not for the project's lack of parking.
Of the roughly 20 residents who showed up, about half of them implored the developer to consider how the project — in combination with other projects like it — would impact the Blue Line, which has seen explosive growth in recent years.
"I know the purpose is to have it near the 'L' train. Fine, I agree with that. Five years ago, the train stopped and it would be maybe 10 people that got out. Now it's about 100 people every time," longtime resident Cesar Munoz said.
"By having more of these units, it's going to be more crowded. Our kids, when they're going to school, they're having a hard time early in the morning when they take the train."
Another resident who spoke during the public comment section said the Blue Line already sees "significant disruptions on a daily basis."
"It's very difficult to get on the train in the morning and catch it in the evening. … The CTA is really not providing the level of transportation this type of development is requiring," the woman said.
Bernshtam's zoning attorney, Sara Barnes, and Raymond Valadez, chief of staff for Ald. Joe Moreno (1st), both acknowledged there are issues with the Blue Line that must be fixed, not only to accommodate the influx of new residents but also to properly service existing residents.
According to Valadez, the CTA is currently conducting a capacity study for the Blue Line which will help determine the best path forward.
CTA spokesman Jon Kaplan said the agency is "pursuing a number of strategies to meet the increased demand."
"The power improvements and signal upgrades we're working on will greatly benefit service and reliability," Kaplan wrote in an email. "In addition to those and other large-scale construction projects we've already announced, we continue to study other near-and long-term ways to improve service and manage capacity."
The CTA is making major improvements to various Blue Line stations under the $492 million Blue Line improvement project, called the Your New Blue program. The Western stop, built in the early 2000s, was last renovated in 2015.
Valadez repeated what he said at a recent community meeting for the 100-plus-unit luxury apartment project at 1750 N. Western Ave.: The alderman wants to put a moratorium on transit-oriented developments along the Logan Square/Bucktown border to "assess the impact."
"After that, we will determine if it makes sense to entertain more projects," he said.
Implementing a cap on the number of dense developments in the area would ease the concerns of residents like Kathy Pruett, 60, member of the Maplewood Park Advisory Council.
"It just seems like the neighborhood is getting very, very dense," said Pruett, who has lived in the Bucktown/Logan Square area for more than 30 years.
"I kinda liked the used car lots on Western. It gave the neighborhood some character. I don't mind losing them, and I think this is a lovely building," she said. "But I am curious how many more of these large buildings we're going to let into the neighborhood."
Pruett concluded by saying, "I've been working hard for families here, for parks. I want to see [the neighborhood] stay in that direction."
Yet Bernshtam, whose family has owned the car dealership lot since 1980, said this development — and his other project across the street — will add to the neighborhood's newfound vibrancy.
"You're not going to be able to recognize the surrounding blocks in the next few years, and I think that it's going to be for the better," Bernshtam said. "[There's] a much better caliber of people moving in, enjoying what we have."
Bernshtam and his family have donated a total of $9,750 to Moreno's campaign since 2010, according to Illinois Sunshine, a website that tracks campaign donations. He donated twice in 2018, as recently as June 15.
When resident Brian Elmore asked if he donated in order to get Moreno's blessing to build the project, Bernshtam flatly denied the accusation.
"We've been in the neighborhood for 40 years. We're talking Ald. [Billy] Ocasio, Ald. [Luis] Gutierrez, all of those alderman that went through. They've been in our office. I've known them personally," Bernshtam said. "If you're asking me if I contributed to all of the aldermen, the answer is yes."
Barnes chimed in, saying donating for financial gain, commonly referred to as "pay-to-play politics," is "not even a legal possibility."
Barnes said the development team plans to incorporate all of the feedback gathered at the meeting. She emphasized that the project is "not a done deal," like some residents suggested.
Other suggestions brought up at the meeting include adding a green roof and eliminating some parking spots along Wabansia Avenue to make turning from Western Avenue less dangerous.
Do stories like this matter to you? Subscribe to Block Club Chicago. Every dime we make funds reporting from Chicago's neighborhoods.