LOGAN SQUARE — A stretch of Western Avenue near The 606 is heating up with another development proposal.
Gene Bernshtam, whose family owns Berns Auto Sales, wants to replace his family car dealership at 1700 N. Western Ave. with a five-story residential development, according to a public notice and Cook County property records.
The proposal calls for 60 residential units, ground-floor retail and 26 parking spaces, according to a community meeting notice shared by the West Bucktown Neighborhood Association.
Because of the site's close proximity to the Western Blue Line station, the project qualifies for the city's transit-oriented development ordinance, which allows for fewer parking spaces.
The car dealership site is currently zoned for commercial district use. Bernshtam is seeking a community shopping district zoning designation to build the project.
Bernshtam will petition neighbors for the zoning change at a community meeting at 6:30 p.m. Wednesday evening at The Joinery, 2533 W. Homer St. According to the notice, a representative from Ald. Joe Moreno's 1st Ward office will be at the meeting.
If approved, the project would be Bernshtam's second along the stretch. He recently built a four-story apartment project across the street from the car dealership at 1667 N. Western Ave.  Construction on the project — pitched back in 2016 — is currently underway.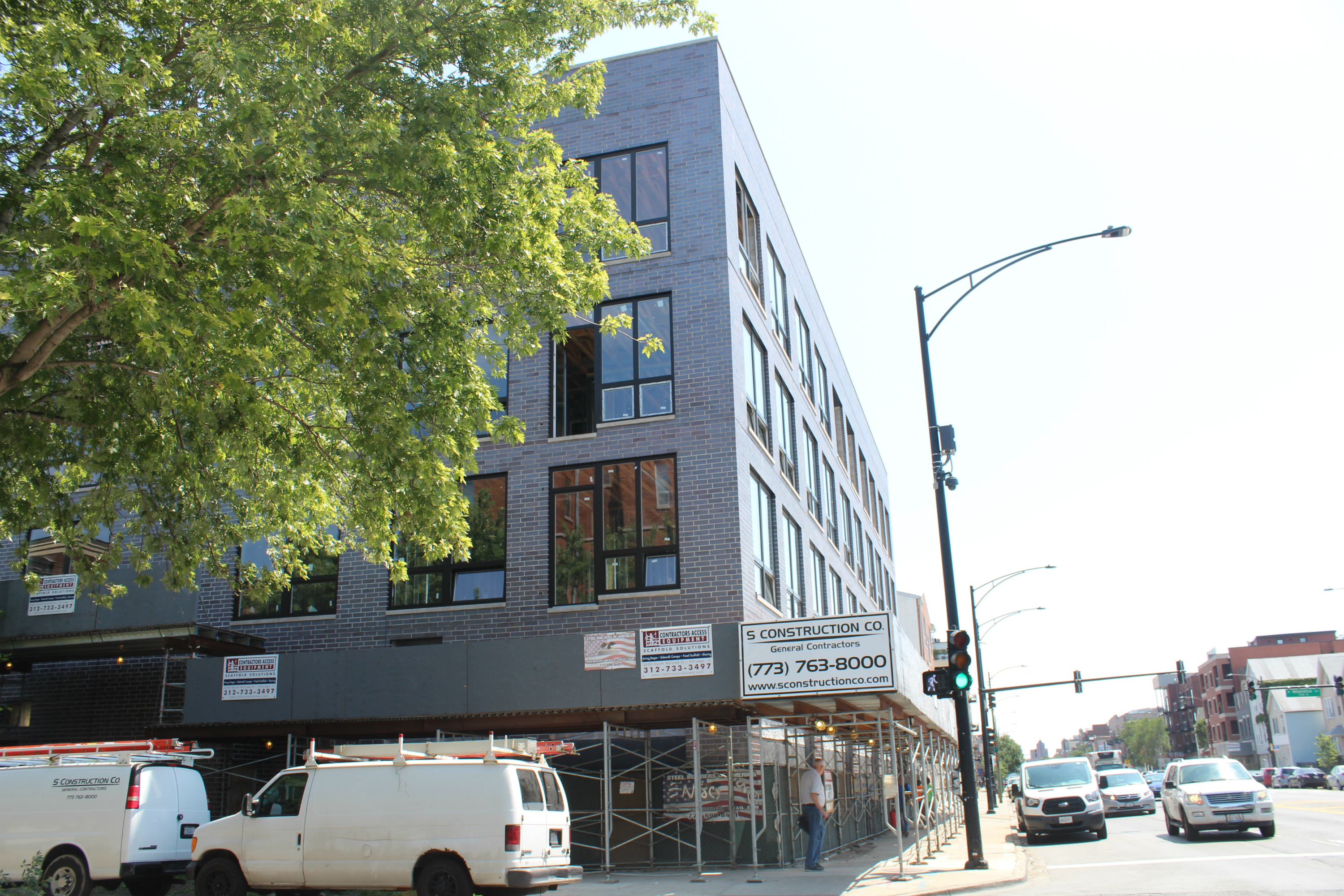 Details on the 1700 N. Western Ave. plan are scarce. Bernshtam was reached, but declined to provide an immediate comment.
What's known is Bernshtam's proposal surfaced just a few weeks after a different developer — GW Properties — pitched neighbors on a 123-unit luxury apartment project down the block at 1750 N. Western Ave.
GW Properties bills its development as the first to be integrated into The 606. Under the plan, both residents and trail users would be able to access the building off a ramp along the trail.
Most neighbors who spoke during public comment session at a community meeting opposed the project, saying it lacks enough parking spots to accommodate existing residents and the influx of new ones.
RELATED: 606 Luxury Apartment Plan Shrinks, But Neighbors Still Worry About Packed Trains, Lack Of Parking
Despite this, the project was sent to Plan Commission for final approval last week. The vote ended up getting deferred for unknown reasons. Mitch Goltz, principal at GW Properties, couldn't be reached for comment.
Raymond Valadez, chief of staff for Moreno, said the alderman won't decide whether or not he supports the project until after he receives more community feedback.
"Logan Square, particularly by the transit stations, continues to be a very attractive place to live. With most of the available Milwaukee Avenue land parcels already being developed, the next investment and development frontier appears to be Western Avenue," Valadez wrote in an email.
He continued, saying, "In conjunction with the local community organizations and stakeholders, Alderman Moreno welcomes investment in this major commercial corridor, further enhancing the vibrancy of the ward and providing commercial and residential opportunities for all who seek them."