WICKER PARK — A record store that took over the former Bric-A-Brac space in Avondale last year has opened a second location in Wicker Park.
Signal Records opened Friday at 1343 N. Ashland Ave. Owner Blake Karlson said in an email Monday he decided to expand after buying the inventory of Dave's Records, which closed in Lincoln Park in 2022 after 20 years in business.
Karlson needed the space to store the influx of vinyl records, and when the Wicker Park storefront was posted for rent online, he jumped on it.
"We bought Dave's Records' stock back in December, which was about three times the amount of inventory we keep at the Logan store. Between that, the hundreds of boxes I had in storage and the collections I buy or bring in weekly, I just needed more space," Karlson wrote. "So, I figured if I was going to pay for them to be stored anyway, might as well have it be shoppable … Just fell into place really."
Karlson founded and ran the record label Chicago Research in 2018 to put a spotlight on local post-punk, electronic and industrial music. After sixty releases, the label "ran its course," Karlson said, although "some of the aesthetic from that label certainly bleeds into the Signal look."
He's now shifted to focus on Signal Records full time, which started when he took over the Bric-A-Brac space, 3156 W. Diversey Ave., last summer. The popular store moved nearby to 2843 N. Milwaukee Ave., where owners also opened an adjoining horror-themed coffee shop called The Brewed.
Karlson does carry some new releases at Signal, but his focus is on used vinyl, including hard-to-find punk, electronic, house and techno records. Since opening a year ago, the store has been well-received by all types of record buyers, he said.
"I've seen a ton of support from the local DJ scene, heavy duty collectors and people visiting from out of town. I try really hard to keep the inventory exciting, but also fun for everyone to dig through," Karlson wrote.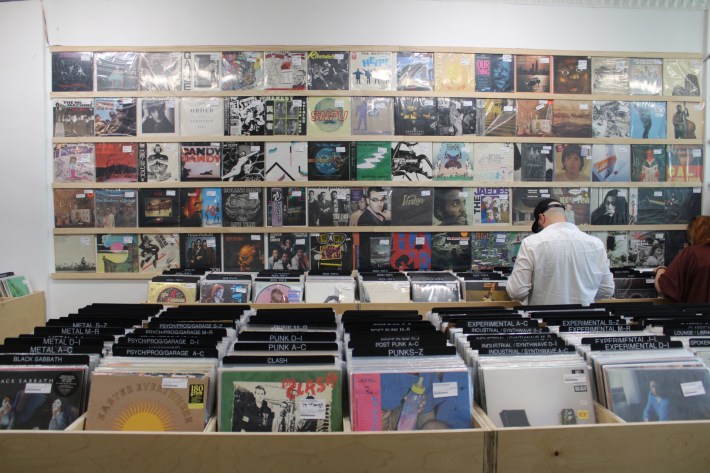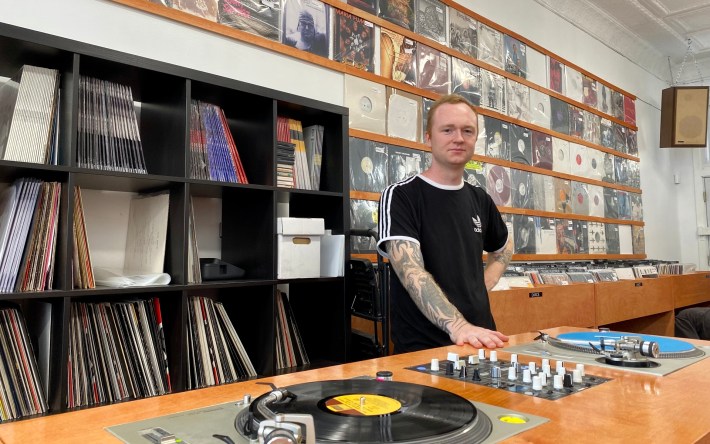 While there will be some overlap in genres between the Wicker Park and the Avondale/Logan Square locations, each will serve its own niche, Karlson said. That includes a "much wider selection" of jazz and soul records at the Ashland Avenue store.
"Right now there is a TON of really nice original Jazz and Rap pieces from collections I've picked up this summer at the Wicker Park store," Karlson wrote. "The Logan store will continue to expand its DJ 12″ selection, Underground, Punk, Electronic and Experimental. Our Techno, Chicago House and Disco/Boogie/Funk sections are always getting larger for the DJs that have been massively supportive to us."
Karlson is still tapped into Chicago's electronic music scene, he said, and he helps host a monthly DJ night at the Empty Bottle called Various Distractions. He's also started holding in-store events at the original Signal location.
"The response to those events has been great so we will definitely be planning more of those as we get more settled into the new location," he wrote.
Karlson said his two stores are in ideal locations: close enough for him to go back-and-forth, but far enough away to serve "slightly different crowds."
"Personally, it's truly been the pleasure of my lifetime," Karlson said. "I put a lot of time into sourcing records for the store and having an in-person customer base that's just as excited as I am about music has been awesome."
Both Signal Records locations are open 12-7 p.m. daily.
Watch our "On The Block" TV show on The U, CW26 and MeTV.
Listen to "It's All Good: A Block Club Chicago Podcast":