LOGAN SQUARE — Furious Marine Leadership Academy parents are demanding change at the embattled school after they said a seventh grader was bullied and beaten by a group of his peers last week and did not receive any help from school staff.
A few dozen parents staged a protest Monday morning outside the military high school, 1920 N. Hamlin Ave., calling for Principal Kristin Novy to be fired and other school staff to be held accountable for their handling of the beating.
The attack happened after school Sept. 12, according to parents and emails from Novy. Video footage reviewed by Block Club Chicago show the lead-up to the incident and the first few seconds of the attack.
The seventh grader was on the soccer field with a group of older students, when the older kids started taunting him, the video shows.
The taunting quickly turned into students taking turns shoving the seventh grader, then hitting him and knocking him to the ground. Several in the group continue hitting and kicking the child as he cowers on the ground. The footage stops in the middle of the attack.
RELATED: Bullying, Fights And A Mental Health Crisis: Marine Leadership Academy In Turmoil After Sex Abuse Scandal, Parents Say
The 12-year-old was taken to Lurie Children's Hospital, where he was treated for bruising and swelling to his arms, legs and genitals, according to community organizer Dulce Arroyo with Palenque LSNA, formerly Logan Square Neighborhood Association.
Asked for comment, a Chicago Public Schools spokesperson provided copies of two emails Novy sent to parents, students and teachers after the attack.
Novy wrote that said school staffers stepped in to de-escalate the situation, and the school is "working with families to provide follow-up supports to any students who were involved or impacted."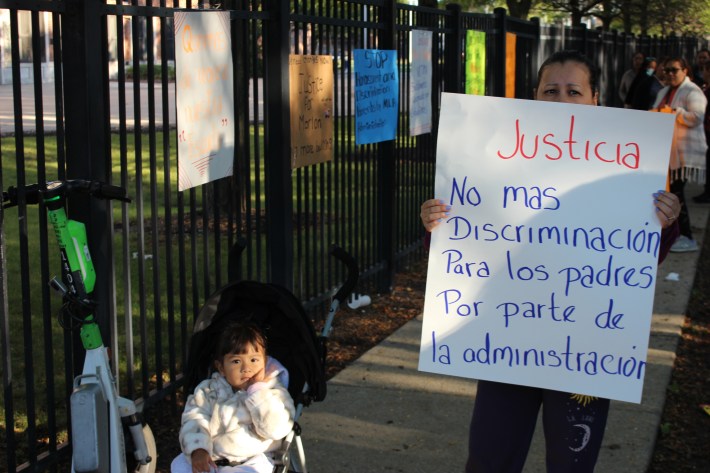 But the child's mother, Sagla Sarai Soto, said school employees didn't intervene or do anything help her son, and her family hasn't received meaningful support from school administration.
Sarai Soto said she found out about the attack from a teacher, who said her son got into a fight with three other students, which turned out to be false.
Soto said when she arrived at the school, the staffer she spoke to was dismissive of the incident and her son's injuries, saying she could take him to the hospital or "do whatever you want."
"They keep saying 'it's just bullying,' but to me, it's more than that," Soto said in Spanish through a translator.
Soto said her son was attacked because he was trying to protect his friend, a girl, from getting hurt. A group of students were trying to take her into the bathroom, "most likely not for a good reason," he stopped them and then started receiving threats, Soto said.
Not only did school employees fail to intervene at the time of the attack, but Soto said they also didn't notify her when her son reported the threats day earlier.
"Injustice happens at this school very often," Soto said.
A Chicago Public Schools spokesperson didn't immediately respond to questions about the reported threats.
"Students are expected to uphold the Student Code of Conduct (SCC) and face the consequences consistent with our policies," the district's statement read.
The school also has implemented ongoing administrator training on student safety, created a calm-down space for students inside the school, and "revamped the Behavioral Health Team and Culture and Climate Team," the district's statement read.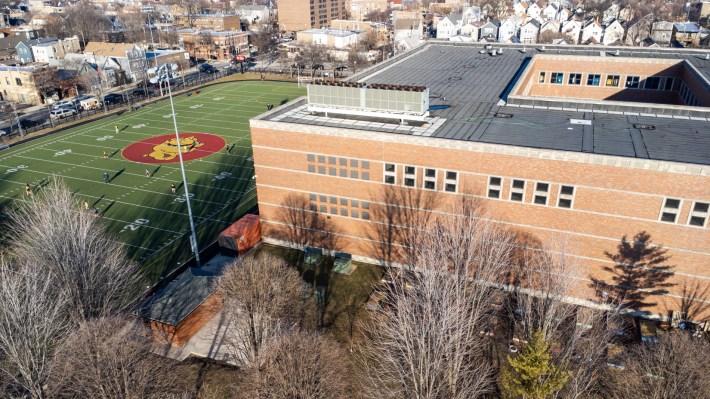 The attack is the latest upheaval to hit Marine Leadership Academy.
Parents have said the Logan Square school has been in shambles following a years-long sexual abuse scandal that led to the firing of about a dozen school employees, including former principal Erin Galfer, in 2021.
Some school employees were accused of sexually abusing and having inappropriate contact with students, while others were charged with "grooming" students, having personal relationships with them after graduation or covering up the misconduct.
District leaders have insisted the school has undergone "systemic changes" after the sexual abuse scandal came to light. But earlier this year, parents told Block Club that school leaders, including Novy, have struggled to rein in ongoing problems at the school, including fights, bullying, drug and alcohol use and mental health struggles.
RELATED: Bullying, Fights And A Mental Health Crisis: Marine Leadership Academy In Turmoil After Sex Abuse Scandal, Parents Say
Unchecked bullying is one of the most persistent issues at the school, parents have said.
Earlier this year, a 13-year-old was diagnosed with depression after her peers disparaged her in graffiti and on social media.
Another student had a mental health crisis that ended with police pulling her off nearby train tracks. That incident came after at least two other students died of suicide in recent years, including seventh grader Emily Barrera.
Soto's son hasn't been back to school since the incident, she said.
Soto said she's keeping her son home as he recovers and she plans to pull him out of Marine Leadership entirely if the administration doesn't make meaningful changes to the school culture.
Soto has launched a fundraiser to help cover living expenses, since she's not been back to work since the attack in order to care for her son.
Holding hand-written signs, Soto and about 35 others, a group made up mostly of Marine Leadership parents, marched around the perimeter of the school Monday morning.
Yolanda Eusebio, whose son is a sophomore at the school, said she's questioning her son's safety after the attack.
"It's unfair what happened to her son. It's unfair the principal hasn't come out of her office. It's unfair that there was security, and yet this happened on campus," Eusebio said in Spanish. "It could've been my son."
Watch our "On The Block" TV show on The U, CW26 and MeTV.
Listen to "It's All Good: A Block Club Chicago Podcast":