CHICAGO — Illinois is saying goodbye to cash bail starting Monday.
Ending cash bail was part of the "pretrial release provision" of Gov. JB Pritzker's SAFE-T Act and was set to take effect at the start of the year — only to have the change put on pause in the final hours as sheriffs and prosecutors across the state filed legal challenges.
But after a drawn-out legal battle, the Illinois Supreme Court upheld the law this summer. While other states have drawn back cash bail, Illinois is now the first state to fully abolish it.
Proponents of ending cash bail say the measure is necessary to erase discriminatory practices that keep a disproportionate number of lower-income people locked up while awaiting trial.
The act also makes it harder for those charged with violent crimes — who might normally be able to post bail and get released — to get back on the street, supporters say.
Despite widespread misinformation on social media, the SAFE-T Act does not mean jails would empty out or judges would lose their authority to detain someone they believe is a danger to the public or a flight risk. It removes cash bail as a standard in pretrial procedures.
A judge still can detain someone depending on the criminal charges, or if they think a person poses a danger to the community or may flee.
Victim rights groups and criminal justice advocates have rallied around the change, while some prosecutors and law enforcement officials have pushed back, saying ending cash bail would remove guardrails to ensure people stand for their trials.
RELATED: There Is No 'Purge Law' In Illinois. Here Are The Facts About Ending Cash Bail
"Cash bail does not make communities safer, and it never has; it has simply exacerbated existing inequities and disparities in the criminal legal system," Mayor Brandon Johnson said in a statement over the summer. "Pretrial detention, as a result of the inability to pay bail, further decimates communities that have long been most impacted by mass incarceration, and the destabilization of households and families.
"I am grateful that we can move forward to implement this legislation to uphold justice and equity." 
Cook County State's Attorney Kim Foxx has also said the ruling is a "monumental milestone toward achieving equal justice."
"Everyone deserves a fair shot at justice, regardless of their zip code, paycheck or the color of their skin," Foxx said.
New Jersey mostly scrapped cash bail in 2017, with some officials acknowledging its court system had long discriminated against the poor.
The Public Defender's office released a flow chart explaining how pretrial detention will work moving forward in Cook County.
Check it out here: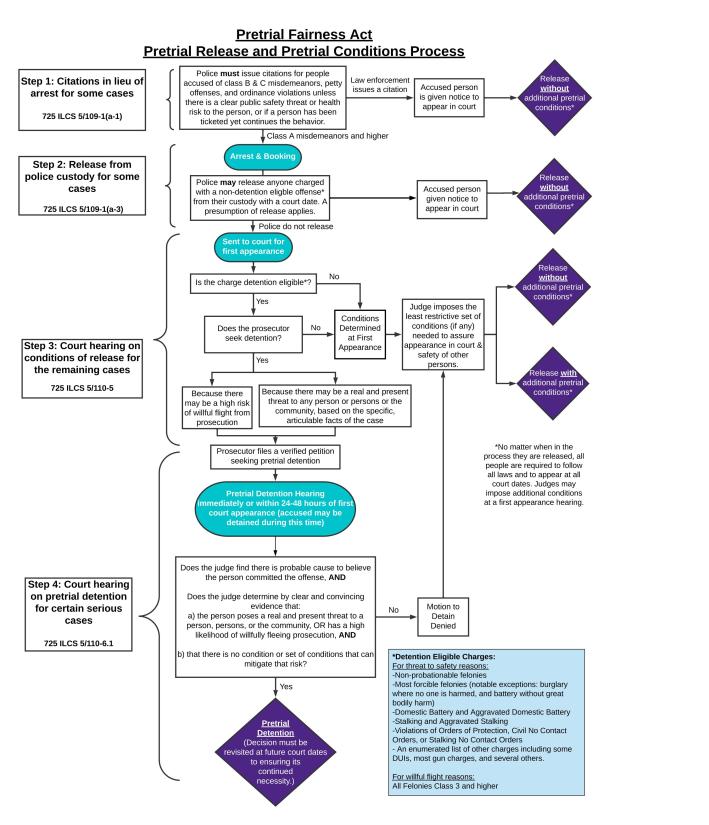 Watch our "On The Block" TV show on The U, CW26 and MeTV.
Listen to "It's All Good: A Block Club Chicago Podcast":