PORTAGE PARK — Imagine a small genie suddenly appears before you, empowered to grant you exactly one wish. What would you wish for?
Now imagine this: You're not the only one. Instantly and simultaneously, otherworldly imps materialize before everyone around you. What happens when every single person on the planet gets a magical bestie?
That's the premise behind Image Comic's new graphic novel, "Eight Billion Genies," published in late July. (Spoiler alert: Things go great for a few people, very poorly for everyone else.) The raucous tale, a mix of action, drama and comedy, has brought new acclaim and a much higher profile to its co-creators, Chicago artist-designer Ryan Browne and New York-based writer Charles Soule.
Anchored in a pub in Michigan that becomes a magical sanctuary for eight people to ride out the chaos, "8BG" was originally released as eight single issues beginning in May 2022. An instant hit, the comic quickly inspired a Hollywood bidding frenzy. By the time the second issue was published that June, Browne and Soule were inking a deal with Amazon Studios.
Although the series' outward success happened with lightning speed, it was the culmination of years of creative effort. Browne estimates he spent about 18 months actively drawing "8BG," which includes a mix of artistic styles, including some approaches he'd never tried before. He worked on it from his Portage Park home, where he lives with his wife of 10 years, their two young children and their cat, Simon, who makes some cameos in the book.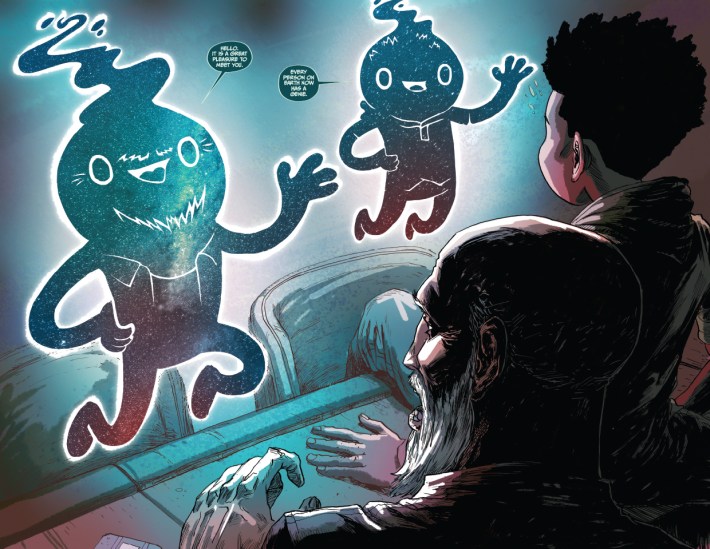 The premise is "a weird, hypothetical idea I had many years ago," Browne, 42, told Block Club.
"While you're out having drinks, it's a great conversation starter. Your wish can be a nuclear option; it can also be the happiest, greatest option. It reflects who you are as a person. What a lot of people want is to put other people down." 
It took Browne's friend and collaborator Charles Soule to help shape the idea into an actual narrative.
"Every once in a while, we'd talk about my stupid idea, 'What if everyone had a genie?' Charles said, 'I'm going to figure it out,'" Browne recalled. "The thing that locked it into place was to follow these eight characters in a bar that's basically wish-proof. You can see the fate of humanity through them." 
Browne and Soule had met years before at the New York Comic-Con. At the time, Browne was writing, drawing and self-publishing his own comic, "God Hates Astronauts," while Soule had made a name for himself writing some of DC and Marvel Comics' biggest characters, including Superman, Wonder Woman and Wolverine, plus a slew of "Star Wars" titles.
In addition to a love of comics, the two Michigan natives bonded over their shared geography, and they began hanging out every December when they converged back in their shared home state to visit family for Christmas. Eventually they collaborated on "Curse Words," another Image series that ran from 2017-19.
Browne has plenty of boosters in his adopted home of Chicago, having lived here since 2006. Patrick Brower, co-owner of the Bucktown-based Challengers Comics + Conversation, remembers meeting Browne a dozen or so years ago, during his "God Hates Astronauts" days.
"That series was utterly ridiculous and amazing, and exactly the kind of book we love," said Brower. "We've been fans and champions of all of Ryan's work for over a decade, and we're glad the rest of the world is catching up!" 
And what a head-spinning catch-up it's been, Browne said.
"It's a truly crazy, life-changing moment to be at the center of a Hollywood bidding war with 27 suitors," Browne said.
The deal with Amazon Studios includes a live-action film, a TV series and some other, not-yet-revealed ideas. ("Of course, everything's on pause because of the strike," Browne added. "Being a creative, I'm on the side of the writers and actors, so however long this strike needs to go to protect creatives, it's fine with me.")
Despite the tragedy inherent to the story, "8BG" has a universality at its core that clicks with a wide audience.
"It's a high concept that everyone seems to get, really easily," Browne said. "From our first birthday, you blow out a candle, you make a wish. See a shooting star? Make a wish. Lose an eyelash? Make a wish. It extends across all cultures. 
"And while this is the saddest thing I've ever made, there's also a lot of hope and joy sprinkled into it, which I think really resonates with people."  
Watch our "On The Block" TV show on The U, CW26 and MeTV.
Listen to "It's All Good: A Block Club Chicago Podcast":