NORTH LAWNDALE — Despite lingering controversy from neighbors, Riot Fest returned to Douglass Park again over the weekend, its home since 2015.
The three-day fest featured five music stages, a wide swath of food selections and some of the most interesting people-watching imaginable, from four-inch long blue mohawks to neon Ken-inspired ensembles.
The crowd ranged from gray hairs to babies wearing noise-cancelling earmuffs, but all were there to soak up the myriad sights and, most importantly, sounds of the fest.
The park was packed almost from the moment Riot Fest opened at noon Friday, with long lines at the entry gates and water stations suggesting that many music fans had left work early for the day to get to Riot. Those early concert-goers were lucky to witness music legends like George Clinton leading Parliament Funkadelic, or alternative icon Kim Gordon resplendent in silver shorts rocking out on the Rebel Stage.  
In an effort to please neighbors, Riot Fest showed videos between sets that promoted neighborhood eateries, like Aloha Wagon, 2023 S. Western Ave., and The Soul Food Lounge, 3804 W. 16th St., urging the crowd to ditch the fast food chains and eat local.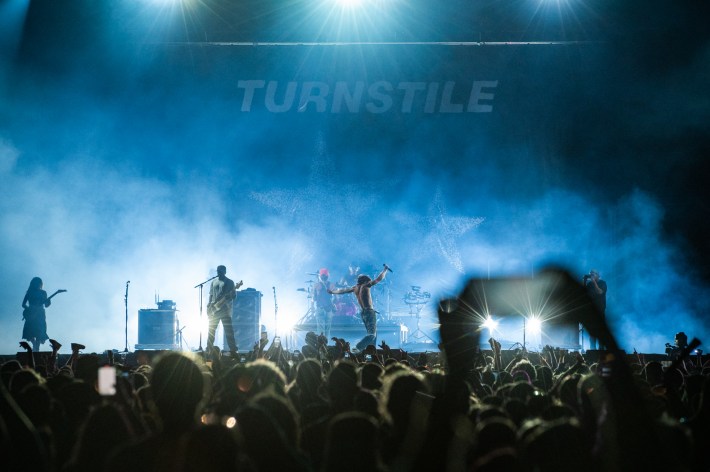 Organizers tried to mitigate traffic issues as well, as the fest was competing with Mexican Independence Day events. But folks trying to get home at the end of the night were met with confusion. Some were forced to wait for the roads to reopen so that their rideshares could get through.
Chicago Transit Authority buses and Reggie's free shuttle service from Douglass Park to their Near South Side bar and restaurant were available through the weekend but it seems more attendees took advantage of the CTA Pink Line, scores of them getting off at the California station to make the 15-minute walk to the venue, passing spray painted signs like "Riot Fest sucks!" and "Get Out!" along the way.
Inside the line for concessions were as long as the lines out front. There were plenty to keep fans busy between sets, especially the multiple vendor stands at the Riot Mall — where attendees could pick up anything from sustainable hats and tees to mushroom gummies.
Pop-punk outfits Say Anything and Turnstile kept the crowd engaged on Friday, leading up to the day's headliner, Foo Fighters. Dave Grohl pleased fans by teasing iconic guitar riffs from Metallica and Black Sabbath in the midst of Foo hits, in front of a crowd that filled all available space in front of two music stages, nearly all the way to the festival exit.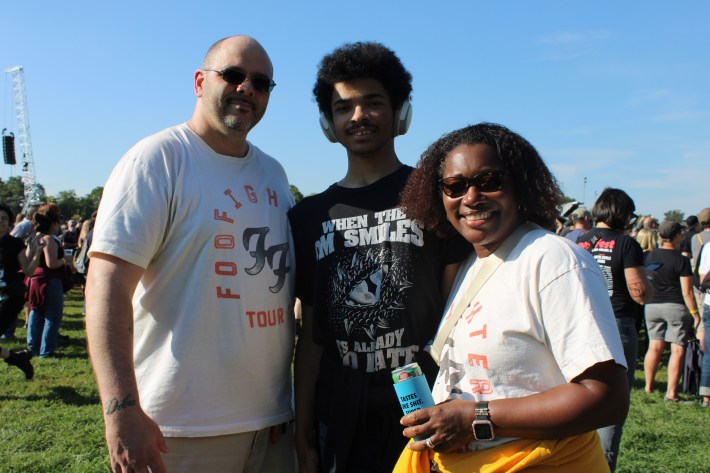 The first-day headliners cycled through their two-hour set with a combination of fan favorites and b-sides like "My Hero" and "White Limo."
Some Riot Fest first-timers had arrived early to see the Rock and Roll Hall Of Famers play live. Debra Rogers — who camped out on a patch of grass with her family nearby — said she became a fan after he husband introduced her to their music.
"My first show was when they were playing Wrigley, the one when [Grohl] was playing with a broken leg. After that, I started listening to 'Sonic Highways' and that was it," said Rogers, who traveled from Indiana to attend.
While the family was there for Foo, Rogers said they were looking forward to soaking up the first festival experience.
A few yards away, another Riot Fest first-timer, Charlotte Norman, was looking for a friend. The South Loop resident, a vision in a Black leather motorcycle jacket, print minidress and combat boots, Norman told Block Club she hoped to see the band perform "The Pretender" — the song that made her a fan.
Her piece of advice as a first-time Riot Fest attendee?
"Come with your friends or you'll spend most of your time looking for them," said Norman.
Saturday brought showers but fans were unfazed as they stood in long lines to gain entry. Inside, "Beyond the Fest" winner and drill artist 1300cadoe performed "Mabeline" on the Rebel Stage to a smattering of fans around the stage.
Other local artists who snagged stage spots thanks to Riot's "Beyond the Fest" contest included Future Nobodies and Through N Through, both who performed Sunday.
"Shoutout to Little Village, that's where I'm originally from," said one of the guitarists of Future Nobodies as the troupe performed newwave sounds.
And as hardcore band Through N Through shredded, their lead singer dedicated their performance to Chicago's Southwest Side.
"This is for La Villita," Pilsen, McKinley Park and Brighton Park, he said.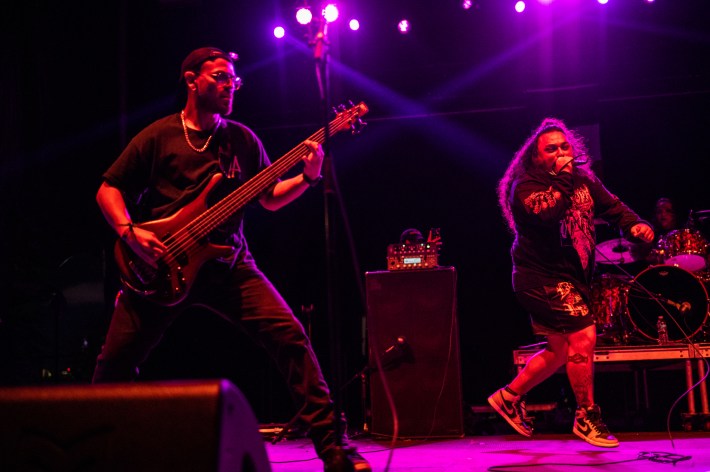 Across the street from Douglass Park, a vendor named Terrance, who declined to use his last name, was selling rain ponchos for $5. Terrance, who has worked Riot Fest for the last 15 years, told Block Club that he sees Riot Fest as a public good. A lot of the neighbors he's encountered felt the same way, he said.
"A lot of people complaining probably don't even come out the house," Terrance said.
While he isn't from the neighborhood, Terrance said many of the people he knows living nearby welcome the opportunity to make a quick buck selling parking spaces close to the venue.
He likes the opportunity as well, but the hustle isn't as lucrative as it used to be.
"When I first started you could make $6,000, $7,000 to $9,000 a weekend. But when folks started making the counterfeit tickets, that's when everything changed. People used to trust buying a ticket from you but now they buy them ahead of time because they're afraid of being scalped for a counterfeit ticket," he said.
Terrance managed to sell a few ponchos since posting up across from the entrance Saturday morning but he said he didn't expect to make a lot that day, as the rain would eventually give way to a sunny and warmer afternoon.
"I'll be back here next year," he said.
A block away from the festival grounds, Gumero Grisby was on his seventh year of selling parking spots and Gatorade with a smile and a warm welcome.
Grisby lives in the neighborhood and sees a lack of resources in the area, and wanted to provide these to those visiting the community.
"There's no stores, you have to really walk to Cermak or 15th or Roosevelt," Grisby said. "So we have everything, accommodate everybody. We even have parking!"
The parking spots are easy to enter and exit, and Grisby and his team stay until every car leaves.
Many other neighbors operate similar entrepreneurial endeavors, but his services come with a welcoming and "good energy."
"A lot of people not even from here, [they're coming from] Wisconsin, Rockford, so they come to Chicago show them a good face, go have a great time, get home safe," he said.
Back inside the gate, Eshu Tune (a.k.a. Hannibal Buress) made his Riot Fest debut on the Rebel Stage Saturday, fronted by a colorful horn section and an African drummer. The West Side comedian-turned-music-artist got a bit of a late start but quickly won over the crowd with some of his more popular hits, including "Veneers" and "Tallest Person at the Mexican Party."
The Steinmetz alum also performed "1-3 Pocket," which Tune said is "the hardest song about bowling."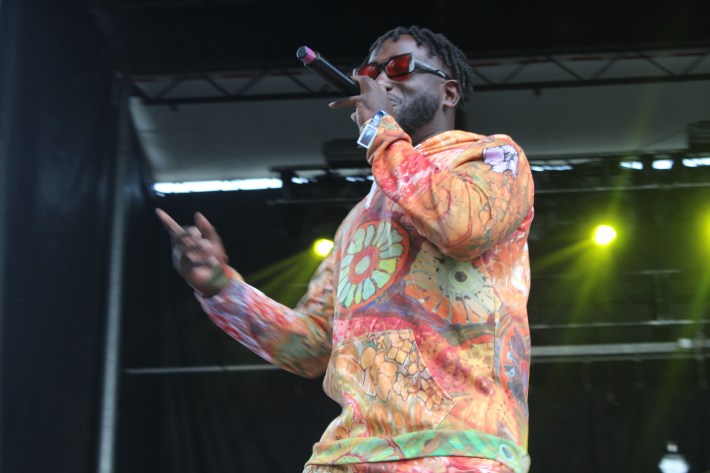 Over at the Riot Stage, Death Cab For Cutie played tracks from their critically acclaimed 2003 album "Transatlanticism" to a crowd of thousands, before The Postal Service closed out the second day playing songs from their 2003 LP "Give Up." Death Cab frontman Ben Gibbard recorded the lone album with producer and keyboardist Jimmy Tamborello while on a break from his bandmates.
The rain then caused a delay on Sunday, with the gates opening two hours late at 2 p.m. This led to a last-minute schedule revision, cancelling the appearance of local punk heroes Smoking Popes.
The storm subsided but the mud remained, which did not deter fans who swarmed the park Sunday to see Ride, Mars Volta and festival closers The Cure. Robert Smith and the legendary post-punk band offered an array of early hits like "Boys Don't Cry" and "Killing An Arab" in a crowd-pleasing eight-song encore.
See photos from the weekend's festivities: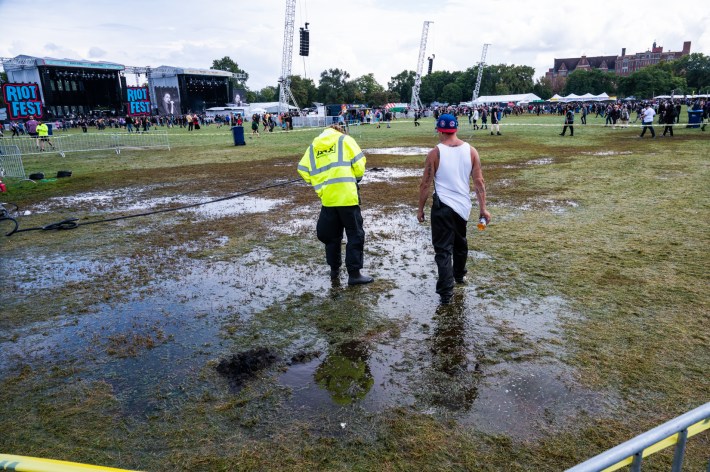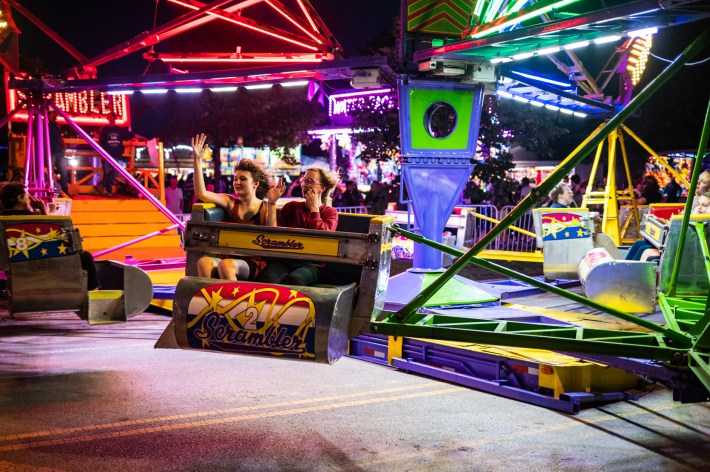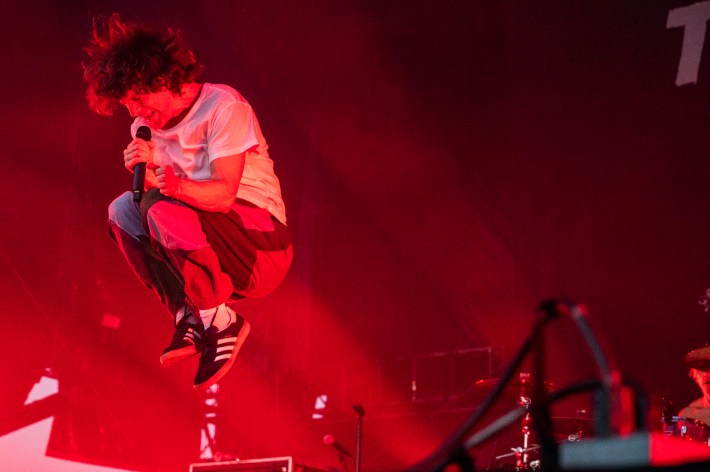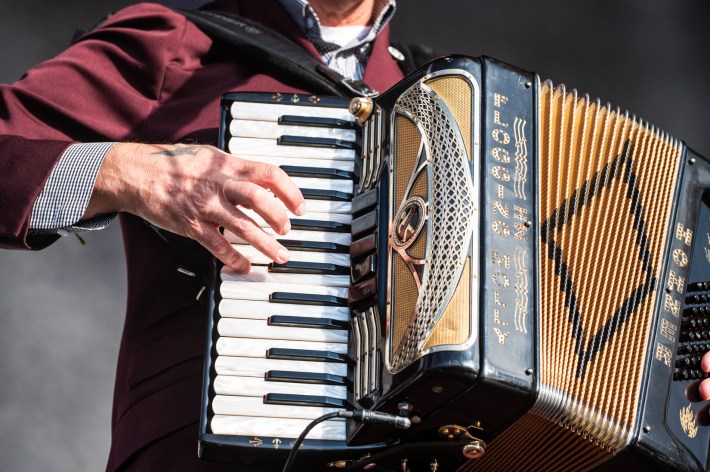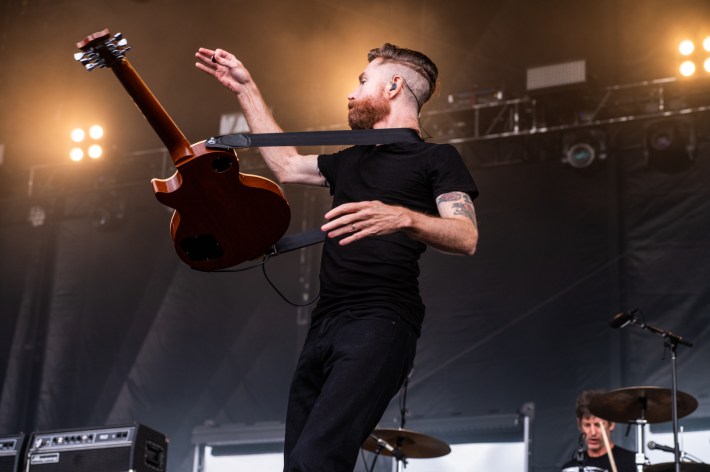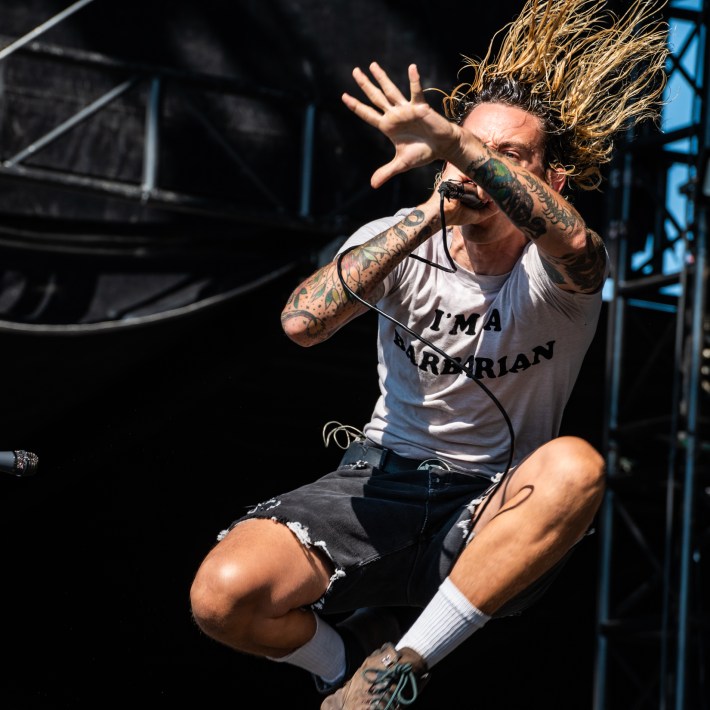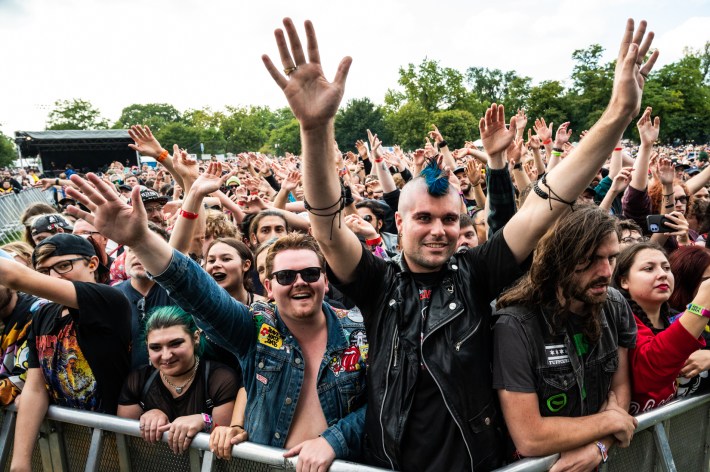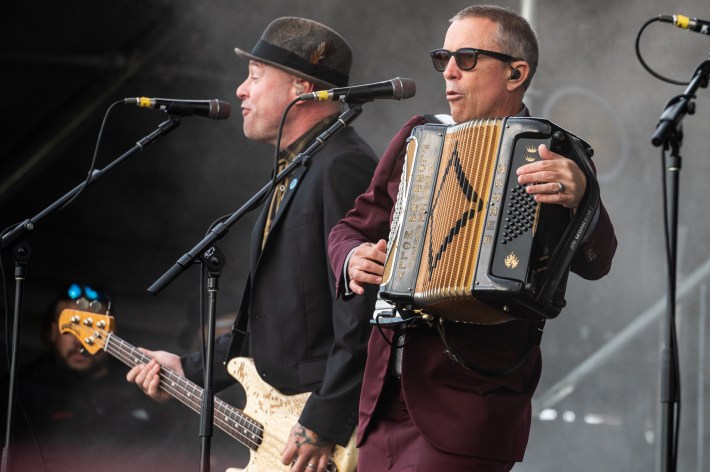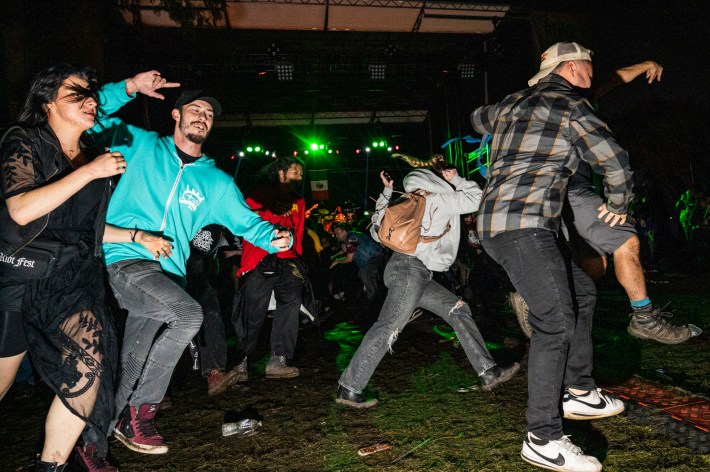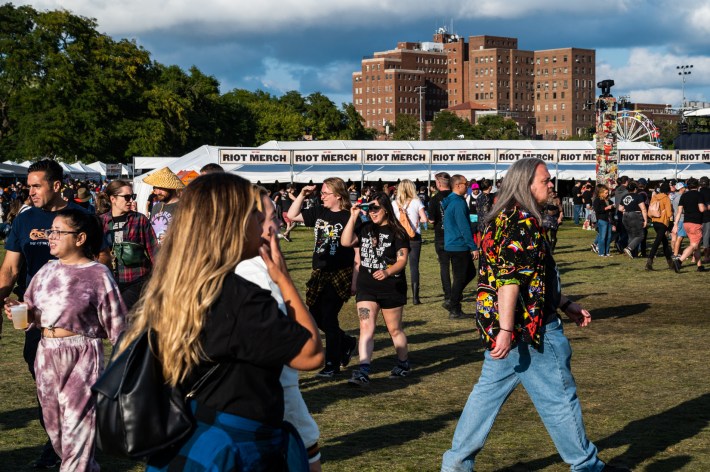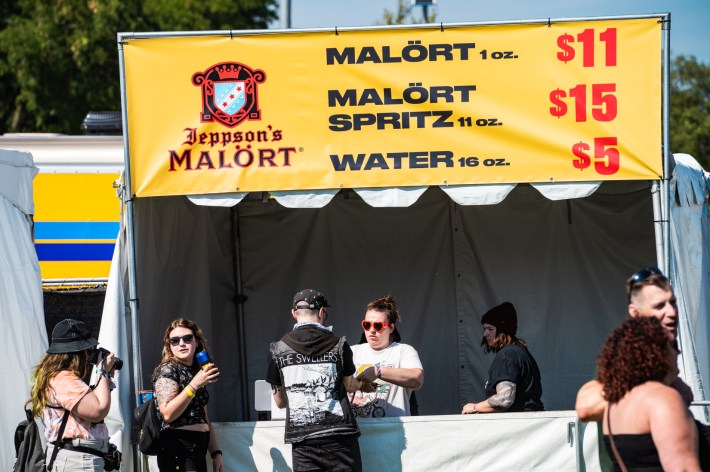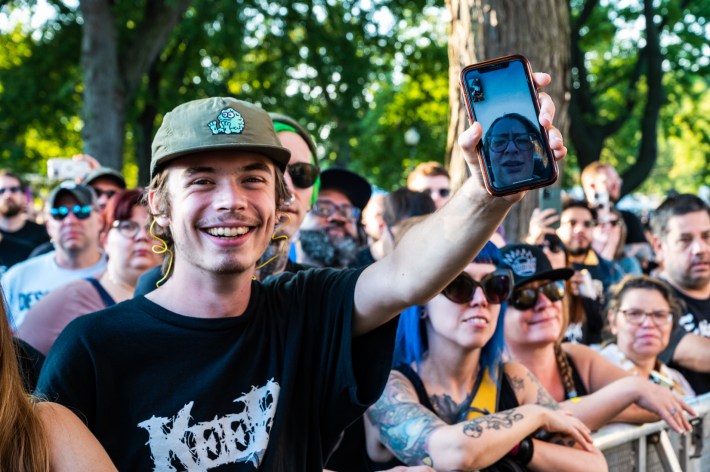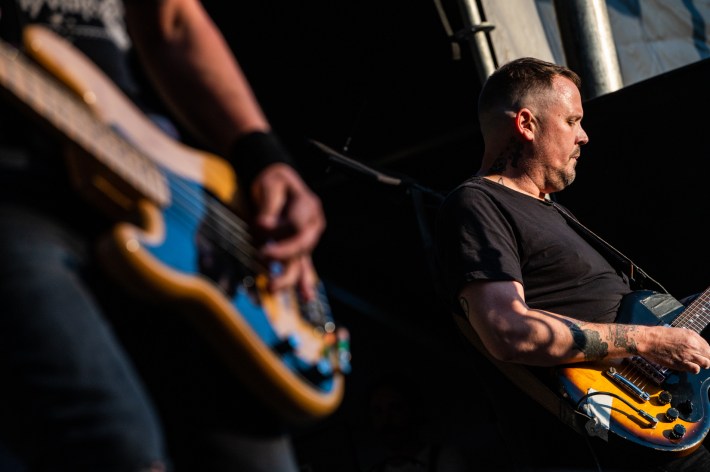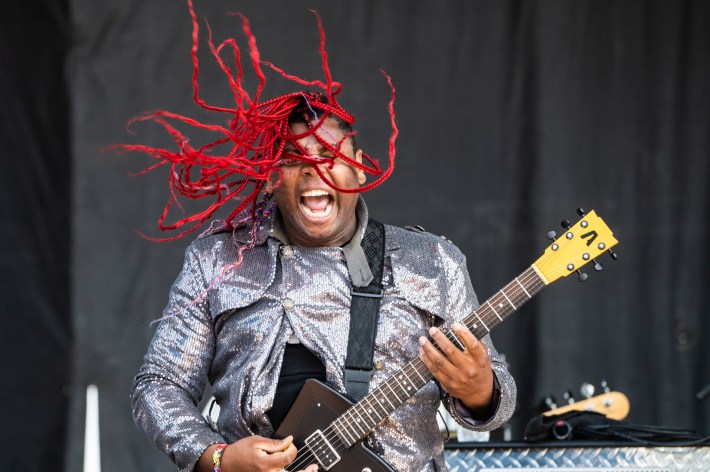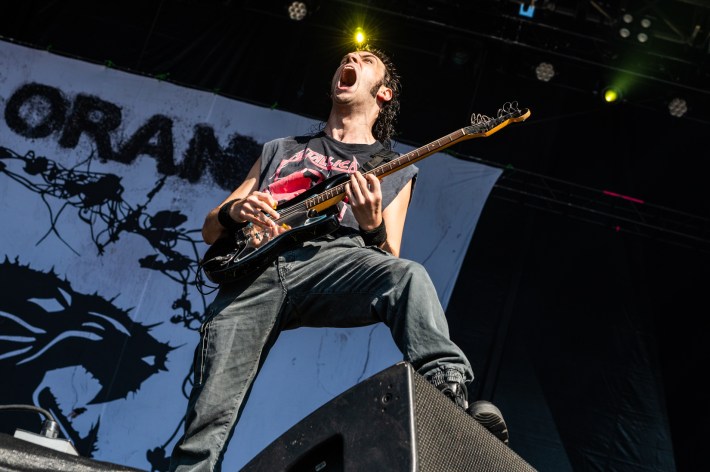 Watch our "On The Block" TV show on The U, CW26 and MeTV.
Listen to "It's All Good: A Block Club Chicago Podcast":