CITYWIDE — As busloads of migrants continue to arrive in Chicago, the ongoing humanitarian crisis is estimated to cost taxpayers $255 million by the end of the year, Mayor Brandon Johnson revealed to alderpeople Friday.
Johnson briefed City Council members last week after he disclosed to the Sun-Times plans to move 1,600 migrants from police stations into "winterized base camps."
"We've identified multiple locations around the city that can be suitable to treat the family and individuals who are here by law, seeking asylum constitutionally and legally, to have a place that recognizes their dignity," Johnson said during a news conference Friday.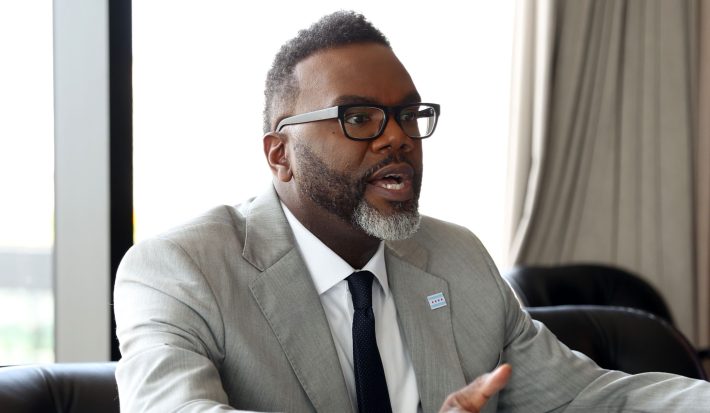 Later Friday afternoon, alderpeople were given few new details about the proposed tent camps — but were told they would be modeled after migrant tent shelters in New York City, Ald. Maria Hadden (49th) said.
RELATED: 'Refugee Camps' In Chicago? Mayor Proposes Tent Cities For Migrants, Report Says
Even behind closed doors, mayoral officials did not specify locations but "have places they're working on, and talking to leaders in those communities first," Hadden said.
The military-grade tents would be climate-controlled with bathrooms and showers, intake spaces and facility areas, Hadden said. The new tent sites are also meant to help reduce the volume of asylum seekers living in police stations,
Sources told CBS Chicago the former Halsted Indoor Mall parking lot at 115th and Halsted Streets could be one location for the tent camps, the station reported. The mayor's office did not respond to request for comment on the location.
The parking lot was set to be redeveloped into affordable housing including 250 rental units, 140 single-family homes, and up to 20,000 square feet of ground retail space, according to The Real Deal. Currently, the parking lot sits vacant.
The developer of the site, Far South Community Development Corporation, told CBS Chicago that had not received confirmation about a base camp, but would work with the mayor's office on what's best for the community.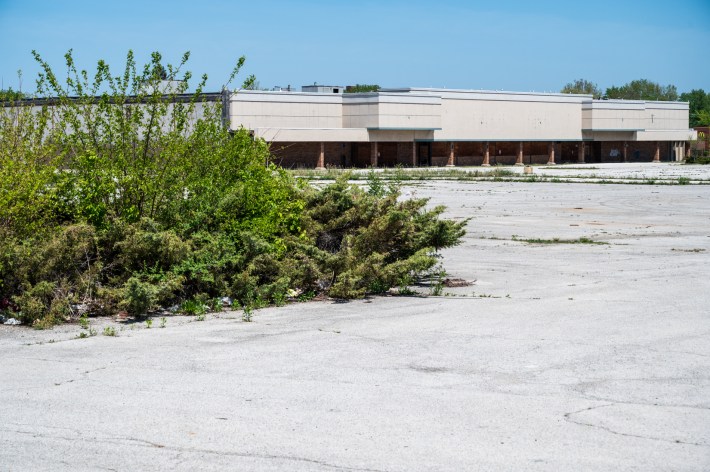 Hadden, a member of the city's immigration committee, said she's heard tent cities being floated for at least a year, but former Mayor Lori Lightfoot's did not support the idea.
"I don't like the plan, but I'll say we now don't have any other options," Hadden said. "It's desperation. There's no more space. We're seeing increases in the number of folks … Nobody is happy about it, I'm not happy about it."
Ald. Andre Vasquez (40th), who chairs the City Council's Committee on Immigrant and Refugee Rights, said he still had a lot of questions about how the plan would be implemented.
"The briefing today was similar to what we've already seen in previous reporting about this," he said Friday.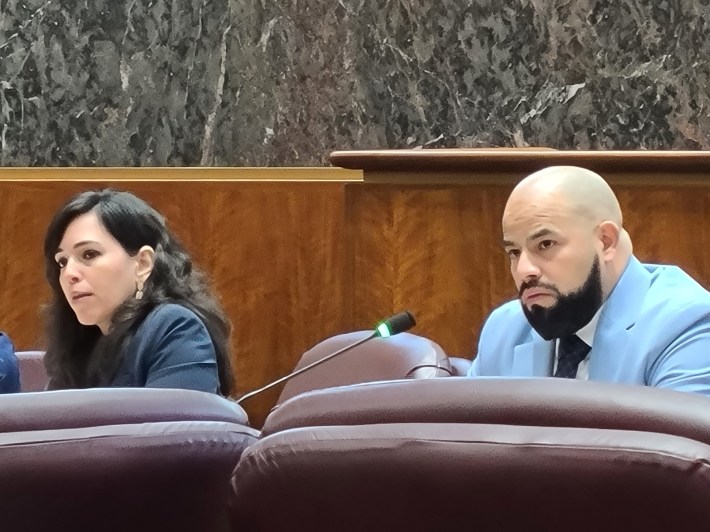 But Johnson's office still hasn't provided clear details on where these tent complexes would be set up or the total cost of operating them before winter hits, Vasquez said.
Johnson hasn't ruled out budget cuts, tax increases or both in order to pay for the ongoing crisis — which is costing the city more than $30 million a month, according to the Sun-Times.
The city has spent nearly $133 million from August 2022 through July 2023 on the ongoing migrant crisis, according to the city's presentation to alderpeople. Through the rest of the year, the mayor's office expects the crisis to cost the city another $123 million.
The total cost of Chicago's migrant crisis by the end of 2023 is estimated to hit $255 million.
"This highlights, to me, the lack of options that city governments have in dealing with situations like this," Vasquez said. "New York is also facing similar concerns, which is why we need to state and federal government to step up."
Migrants Living In Police Stations At Wits End
People living outside police stations are frustrated with the slow approvals of work permits and some are seeking help leaving Chicago altogether. They are headed for places like Denver, Colorado, where they've heard they might be able to get more assistance than in Chicago, they said.
The recent arrest of migrant barbers has also angered asylum seekers living inside and near the 12th District Police Station on the Near West Side.
"They don't have permission to work but they need to eat and provide for themselves and their loved ones who are here and back home," said Alex Rossi, a migrant living in a tent next to the 12th District station.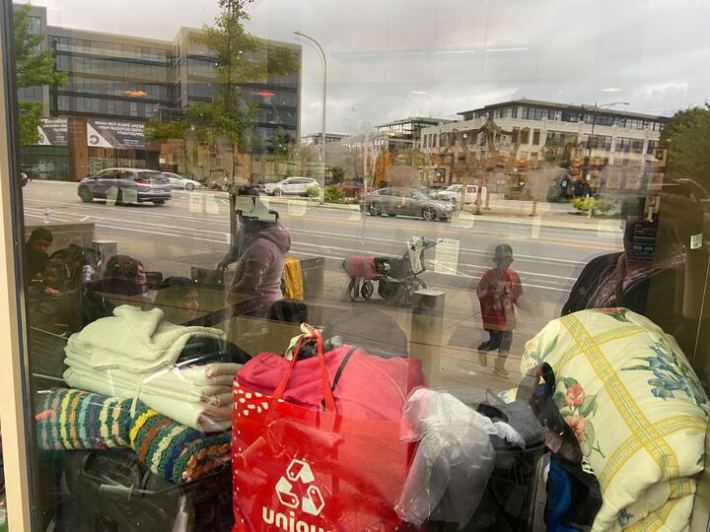 Rossi has been waiting for his work permit for more than a month and called the bureaucracy surrounding work permits ridiculous. Only the federal government can provide employment authorization, according to the city.
"We can't work legally without permission and they aren't giving us permission," Rossi said. "And while we wait they have us living outside in tents without work because they don't have space for us. What the hell do they want from us?"
Last week's rain also drenched the migrants living outside, as some of the tents leak and those without tents, like Jesus Alzuata, now are sleeping on water-logged mattresses on the ground.
"Can you send someone down here to give us more tents or something? … We can't live like this," Alzuata said.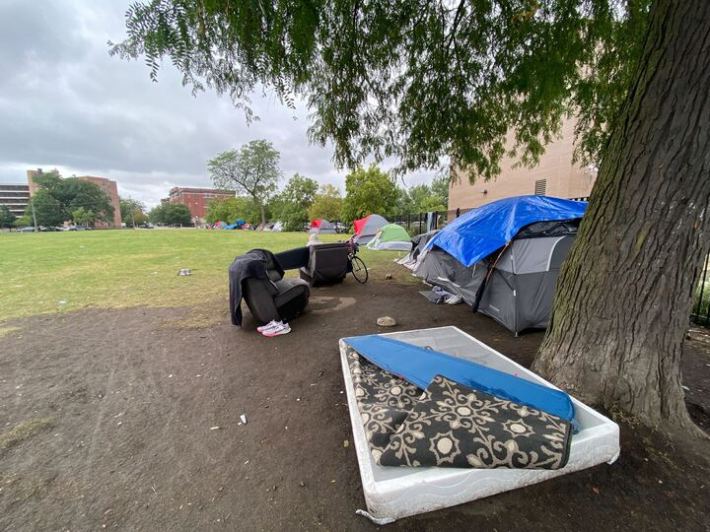 Rossi was a chauffeur and mechanic back in Venezuela and during his first weeks here walked to different shops nearby asking if he could work.
But those shops turned him away and said to return when he has work permission, he said.
Rossi and other migrants Block Club spoke to are worried more desperate asylum seekers will go off with anyone who comes by offering work and get taken advantage of.
"People are getting desperate because they don't have the money to live," Rossi said. "But until we get our papers it's like we're not even really here."
As for the insulated tents city officials are promising, migrants at the 12th District station are skeptical it'll be an improvement since they're already living outside.
"If they're thinking of making tents like a barracks, we've seen that before when we first arrived in Texas. It didn't work," Rossi said.
Watch our "On The Block" TV show on The U, CW26 and MeTV.
Listen to "It's All Good: A Block Club Chicago Podcast":