THE LOOP — Migrants who set up a temporary barber shop in a Downtown park have stopped their operation after they were arrested.
Seven men were arrested Aug. 21 in the 0-100 block of West Van Buren Street and cited for operating an unlicensed business and selling or offering goods without a permit on park property, police said.
The address corresponds to Pritzker Park, where migrant barbers seeking asylum had set up shop by giving haircuts near the Harold Washington Library "L" stop. The group, which was featured in a Block Club story and other media days before the arrest, had taken up a spot under some trees to cut hair as a way to pass the time, make money, show off their skills and provide a service.
One of the migrants who was arrested, who asked not to be named for safety reasons, told Block Club Wednesday police handcuffed all of the barbers and detained them for eight hours, informing them it was illegal to operate a pop-up barbershop without a license or permit.
Chicago's municipal code states it's illegal to operate a business and exchange money without a proper license. People can be fined at least $250 for violations, according to the code.
The barber who was arrested said he did not know why police held the men for hours but said they were not fined.
Police did not answer further questions about the arrest.
A police spokesperson said the department enforces "all laws, including the City's Municipal Code" and "does not comment on specifics regarding deployment of resources."
Chicago long has been a sanctuary city, meaning the city does not cooperate with the U.S. Immigration and Customs Enforcement. The local Welcoming City ordinance means officials will not ask immigrants about their legal status, deny services based on that or disclose that information to federal authorities.
The barber, who is from Venezuela like many asylum seekers, said the incident was an unfortunate circumstance to an already tense situation.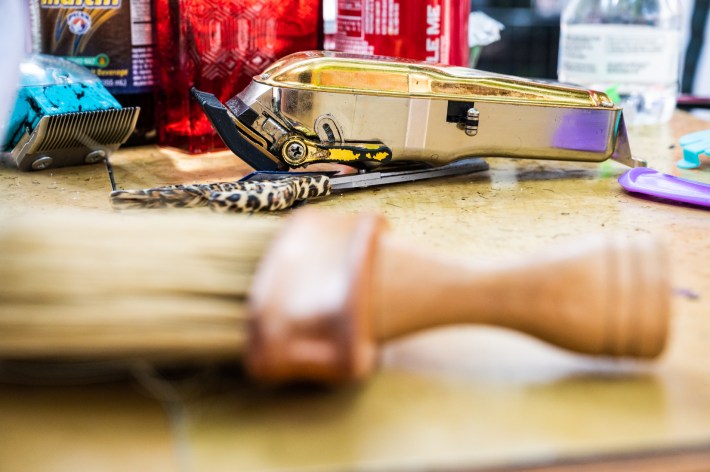 More than 13,500 asylum seekers have arrived in Chicago since August 2022. Most are from Venezuela, which has struggled with political upheaval and an economic crisis resulting in severe food and medicine shortages, surging inflation and rising unemployment and violent crime. 
As of this summer, 7.3 million Venezuelans have fled their country.
Many are here hopeful for new life to support their families locally and back home. But migrants face long waits to securing work permits, and local leaders are pressuring the federal government to help speed up the process.
RELATED: One Year After First Migrant Buses Sent To Chicago, City Still Unprepared To Tackle Crisis: 'There Is No Over For This'
The group of barbers, who cut hair in their home country, came up with the pop-up as a way to make extra cash to send back to their families, and buy food and other treats.
The asylum seekers had charged $20 per haircut, though the barbers gave free cuts for customers who didn't have the money, the barbers previously said.
Now he and the others "don't have money and we can't cut hair," he said in Spanish.
"Police told us we can't do it so now we don't know what to do …. we can't work, we can't do anything," he said.
Once a person submits an asylum application, 150 days must pass before migrants can apply for work permits, said Lisa Koop, director of legal services for the National Immigrant Justice Center. It takes a few months more before migrants can receive those permits, said Ere Rendon, director of Pilsen-based The Resurrection Project, a nonprofit working with immigrants in Chicago. 
A "dire" shortage of lawyers and case workers in immigration law is also worsening the chances people have of even making a successful asylum case, nonprofit partners have said.
Despite being forced to stop the makeshift barbershop, one migrant said the press coverage helped get them more business and highlight their stories to the public.
Another migrant who was handing out homemade food Wednesday to others staying in the nearby shelter said he saw the arrests of the barbers and said it felt targeted.
The man, who didn't want to be named for safety reasons, said the barbers weren't doing anything criminal and used the money to support their families and themselves. While they understand making money that way is considered illegal, it's been tough navigating the system and waiting to work legally with no end in sight, he said.
The barber who was arrested said he's seen a few more cops in the area, but it's not very noticeable. Officers came by the area after the arrest to remind folks not to break the law, but other than that, have not bothered the migrants again, he said.
A squad car was seen parked next to the plaza Wednesday as several people hung around the park and surrounding blocks, laughing, eating and talking with friends.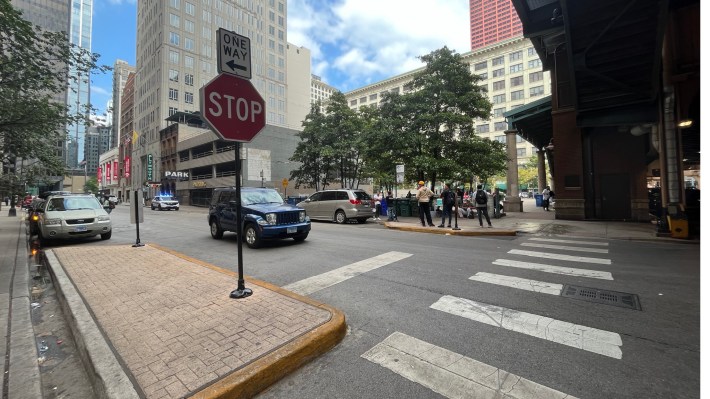 Broader Tensions
There have been growing concerns about crime and safety in the area.
The migrants are among several hanging out at Pritzker Park as they await to apply for work permits, get permanent housing and move along in the asylum process. The park is near a city-run shelter that houses hundreds of people.
A video circulating on social media purports to show migrants and other people getting into a fight and throwing bottles and other items at each other. Block Club has not been able to independently verify the footage and who was involved in the confrontation.
The men who spoke to Block Club on Wednesday said they have heard of fights and violent crime happening in and around the park, but most of it happens at nighttime when they are back in the nearby city-run shelter. Shelter rules indicate folks have a curfew from 8 p.m.-8 a.m.
An employee at the nearby Subway shop, who requested to remain anonymous for safety reasons, said crime has increased in the area in the last six months, and the larger amount of people at the plaza is a recipe for "chaos," she said.
The store has been robbed multiple times and her coworker, who also requested to be anonymous, said she was attacked by a group of young men who robbed the store recently.
Both employees said they have not seen or had any problems with the migrants who hang around the plaza, but they want to see more police patrol the area to feel more secure.
"There has been fighting and robberies, and the police take an hour to come when we call … it's mostly in the evening," one of the women said. "We want more police to patrol the corridor."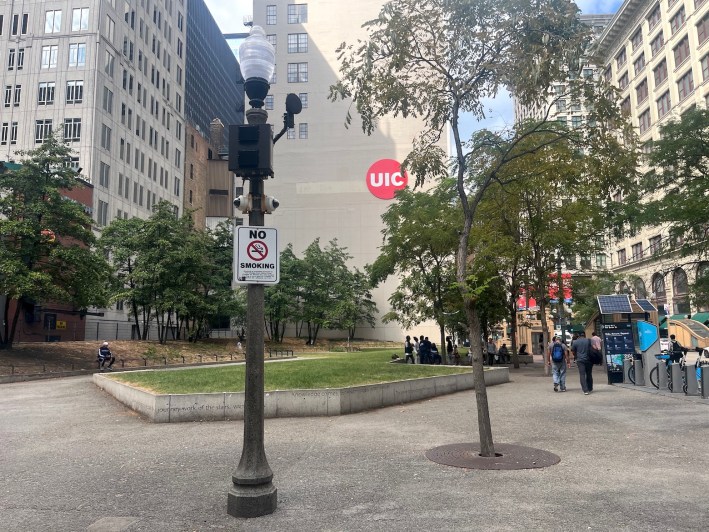 Police data show a slight increase in the number of robberies, batteries and assaults in the beat that includes the park and three Downtown "L" stops. There have been around 204 reports of such crimes in as of August 2023 compared to 186 during the same period last year.
Matt Wos, a longtime South Loop neighbor, told Block Club residents have pressed for more security. In response, surveillance cameras were installed near the migrant shelter, Wos said.
That was a good start, but he and other neighbors want to see more, he said.
"With regards to cameras, that beats nothing, right? It's not a permanent solution, certainly by any stretch of the imagination, but it can help. They're not only for the people that have lived here, but for those living in the shelter, too," Wos said. "I would love more police presence there, but I understand they have a lot of ground to cover."
A spokesperson for Ald. Lamont Robinson (4th), whose ward includes Pritzker Park and the nearby migrant shelter, confirmed they had received complaints about security in the area but did not answer follow up questions about whether they requested added security cameras.
Robinson said in a statement said his office is in "daily communication with the local businesses, shelter managers, CPD and the Mayor's Office ensuring a coordinated and comprehensive approach" to address challenges in the area relating to the influx of migrants.
RELATED: After The Buses: Meet The Migrants At The Center Of Texas' Manufactured Crisis
Watch our "On The Block" TV show on The U, CW26 and MeTV.
Listen to "It's All Good: A Block Club Chicago Podcast":