LINCOLN SQUARE — New cafes serving bubble tea have been popping up in Lincoln Square, North Park, North Center and Albany Park. 
The refreshing treat starts with a milk or fruit tea base, then can be customized a variety of ways, including add-ons like chewy tapioca pearls (boba), aloe vera, popping pearls or red bean. With a bevy of cold options, it's a great way to beat this week's record heat — but don't sleep on hot bubble tea once winter hits.
Here are four recently opened boba joints.
Lincoln Square
4705 N. Lincoln Ave.
872-888-8899
11 a.m.-8 p.m. Monday-Sunday
Hello Jasmine already has locations in Chinatown and Lincoln Park serving boba tea and Taiwanese food. Its Lincoln Square spot opened earlier this month next to Oromo Cafe.
"What makes us stand out is our teas are imported from Taiwan and we take a lot of pride in that," said Benjamin Banh, barista with Hello Jasmine. "Whatever you're in the mood for, we'll have something that you might like. Teas smoothies and fruit teas, all of them very refreshing."
2547 W. Lawrence Ave.
773-654-3310
11 a.m.-10 p.m. Monday-Sunday
This family-run boba tea shop is now open on the Lawrence Avenue commercial stretch near Kimberli Sushi, Thai Cuisine and Green Post.
The new cafe features Vietnamese egg coffee, which is made with egg yolks, sugar, condensed milk and coffee. Other menu items include matcha milk tea topped with cheese foam and snacks like egg rolls, crab rangoon and curry fish balls. 
North Center
2205 W. Montrose Ave.
773-654-3222
11:30 a.m.-8 p.m. Monday-Sunday
Sisters Tina Chen and Jenny Liu and their friends moved their popular boba tea cafe from Chinatown to a larger location just across the street from Welles Park in May. T Square uses fresh-brewed tea made daily from tea leaves, herbs and spices instead of powdered concentrates for its boba. Its six signature boba flavors include jasmine, chamomile and taro, Chen said.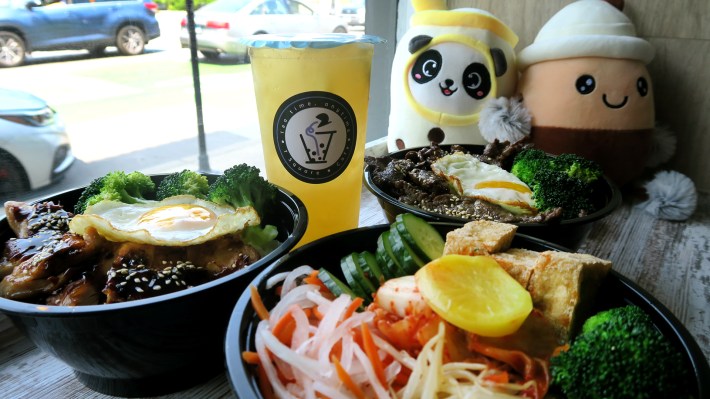 North Park
3244 W. Foster Ave.
872-262-6868
11 a.m.-9 p.m. Monday-Saturday, 11 a.m.-7 p.m. Sunday
The new tea house near North Park University has menu items like a peach, orange and lemongrass tea, a roasted oolong milk tea and cookies and cream milk tea alongside a variety of boba options. 
Watch our "On The Block" TV show on The U, CW26 and MeTV.
Listen to "It's All Good: A Block Club Chicago Podcast":