CHICAGO — The city hasn't felt this hot since the mid-'90s, when it recorded its deadliest heat wave.
The National Weather Service recorded a temperature of 98 degrees early Wednesday afternoon at O'Hare Airport, breaking a daily high temperature record that stood for 76 years. Chicago's previous high temperature for Aug. 23 was 97 degrees, recorded in 1947, according to the weather service.
The record-breaking temperature came hours after the city recorded its second highest heat index. That came around noon Wednesday, when a temperature of 96 degrees mixed with 80 percent humidity for a heat index of 116 degrees.
The highest heat index ever recorded in Chicago was 118 degrees, set on July 13, 1995 in the middle of a historic heat wave that killed over 700 people.
Wednesday's near-record setting temperatures came in the early part of a two-day heat advisory that forecast "oppressive and dangerous" temperatures through Thursday.
Chicagoans are in for a long two-day stretch, weather experts said.
"It's not going to be comfortable to be outside for a long period of time," said Zachary Yack, a meteorologist at the weather service. "Definitely hot, humid and muggy out there. Some might say oppressively hot."
A high dew point mixed with soaring temperatures is a red-hot recipe for a record-setting heat index, which tracks what temperatures really feel like, Yack said.
The heat index and temperatures could both creep up a few more degrees before the day's end, Yack said.
City officials are taking extra precautions to keep residents safe.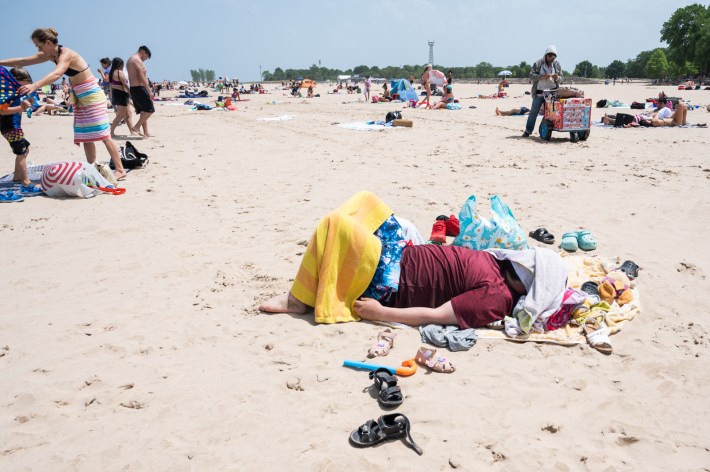 Chicago Public Schools canceled outdoor sports and moved recess inside during the two-day heat wave. As schools resumed classes this week, teachers said they're hoping aging air-conditioning systems will hold up inside classrooms that in the past have had "meltdowns."
Hours for the city's six cooling centers have been expanded — 8:30 a.m. to 7 p.m. — as part of the city's "emergency response plan," a mayoral spokesperson said. The centers usually close at 5 p.m.
Scroll down for a full list of cooling centers.
Park District field houses, Chicago Public Library locations, senior centers and splash pads throughout the city are also open to the public for cooling, the spokesperson said.
The Greater Chicago Food Depository will deliver 10 cases of water to all police district stations starting Wednesday, according to a city email sent to community members. More than 1,200 migrants are living in lobbies of city police stations as they await shelter, according to the email.
In a tweet, Johnson said more than 12,000 water bottles have been donated by the private sector and will be passed out to CPS students, crossing guards and Safe Passage workers.
"My administration is mobilizing the full force of government … to better coordinate resources during an Excessive Heat Watch that has been issued," Johnson said in the tweet.
Sweet relief for Chicagoans is expected Friday as temperatures dip to the upper 70s.
Here are the locations of the city's cooling centers:
Englewood Center, 1140 W. 79th St.
Garfield Center, 10 S. Kedzie Ave.
King Center, 4314 S. Cottage Grove  
North Area Center, 845 W. Wilson Ave.  
South Chicago Center, 8650 S. Commercial Ave.  
Trina Davila Center, 4312 W. North Ave.  
These additional cooling centers are open 8:30 a.m.-4:30 p.m. Wednesday and Thursday:
Southeast – 1767 E. 79th St.  
Southwest – 6117 S. Kedzie Ave.  
Central West – 2102 W. Ogden Ave.  
Northeast – 2019 W. Lawrence Ave.  
Northwest – 3160 N. Milwaukee Ave.  
Renaissance Court – 78 E. Washington St. (10 a.m.- 5 p.m.)  
Satellite Senior Centers acting as cooling stations:
Pilsen – 2121 S. Morgan St.  
West Town – 1615 W. Chicago Ave.  
North Center – 4040 N. Oakley Ave.  
Norwood Park – 5801 N. Natoma Ave. 
Portage Park – 4100 N. Long Ave. 
Abbott Park – 49 E. 95th St.  
Chatham Park – 8300 S. Cottage Grove Ave.
Roseland – 10426 S. Michigan Ave. 
Garfield Ridge – 5674-B S. Archer Ave.
Kelvyn Park – 2715 N. Cicero Ave.
Auburn Gresham – 1040 W. 79th St.  
Englewood – 653-657 W. 63rd St.  
Austin – 5071 W. Congress Parkway  
Edgewater – 5917 N. Broadway  
South Chicago – 9233 S. Burley Ave. 
Watch our "On The Block" TV show on The U, CW26 and MeTV.
Listen to "It's All Good: A Block Club Chicago Podcast":