WEST GARFIELD PARK — More than a year after the city bought a closed West Side Aldi to revive it as a grocery store, two competing proposals are trying to make that a reality.
The city's Department of Planning and Development unveiled the proposals last week to overhaul the site at 3835 W. Madison Ave. where Aldi abruptly closed in October 2021.
The city's guidelines for the 1.8-acre site call for a multi-purpose building anchored by a grocery store. The winning proposal will be announced in the fall, officials said.
Aldi's closing angered neighbors who depended on it and left large swaths of the West Side without a large grocery store.
A few months later, the neighborhood's Save A Lot was shut down because of rats, leaving the entire neighborhood without a major grocer.
The Garfield Park Rite to Wellness Collaborative organized a campaign demanding Aldi sell the vacant building to the community for $1 so it could be redeveloped into a supermarket with a mission and values that aligned with the needs of residents.
Neighbors and organizers then successfully pushed the city to agree to buy the building if those negotiations fell through. The City Council approved buying the building for up to $700,000 in February 2022 so it could be repurposed into a grocery store.
Here's a closer look at the two proposals. You can sign up for email updates, weigh in via through an online survey and nominate a West Side neighbor to be part of a community evaluators panel for the project.
Grocery Store, Affordable Housing And Public Plaza
The $86.4 million Garfield Gather project would include two mixed-use, six-story buildings separated by a one-story, 9,500-square-foot grocery store and an 11,689-square-foot public plaza for various retailers.
It would have 101 affordable housing units: 69 in the six-story east building and 32 in the five-story west building, according to the city. Both would have commercial space on the first floor.
It would also have 67 parking spaces for residents and shoppers.
The project would be built in two phases, said Ben Andrews of Community Builders.
The first phase would be the grocery store, 69 affordable units and the public plaza, while the second phase would be the smaller housing building with retail.
The proposal asks for at least $20 million in city funding.
Garfield Gather was conceptualized by Community Builders and West Side United, with design by Canopy and Brooke Architecture. It would be built in three phases and be made out of cast-in-place concrete with panelized exterior walls.
West Side United executive director Ayesha Jaco and Garfield Park Council president Gina Jamison spoke of the stark decline of Garfield Park over the years in a project development video. They recalled a flourishing neighborhood with successful businesses that has lost several staples in the community over time, including the Marbro Theater and Goldblatts.
"Racism and disinvestment have been key contributors to the current state of the West Side, particularly Garfield Park," Jaco said in the video. "We have a community that has not seen sizable investment since the riots in 1968 when Dr. King was assassinated."
A community plaza connected to the grocery store could spur growth and engage the community through business and the arts, developers said.
Jaco said a grocery store will complement plans to build the Sankofa Wellness Village along the Madison and Pulaski corridor. The $50 million community project aims to address health issues in Garfield Park by providing better health care accessibility, grocery options and education.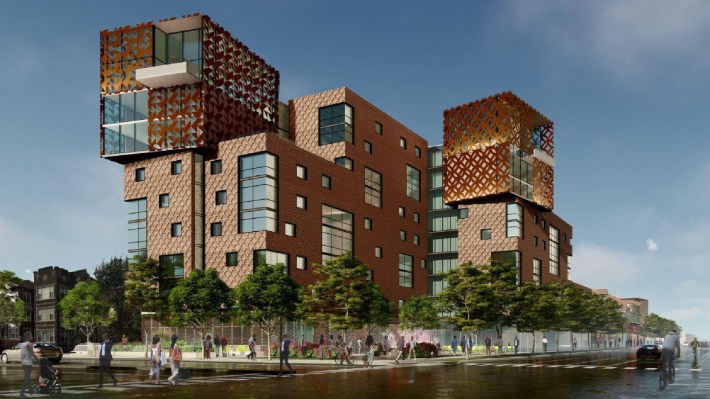 Grocery Store And Cafe, Apartments And Townhomes, Restaurant And Roof Deck
The second proposal, the $78.1 million Westgate project, would comprise three multi-purpose buildings, including a 13,800-square-foot grocery store and cafe.
The nine-story east building would have 72 affordable apartments, a first-floor restaurant and 10,000 square feet of public space, according to the proposal.
The four-story west building would have 16 affordable townhomes.
The two-story central building would have a roof deck, play spaces, workspaces and a plaza, according to the proposal.
There would also be 66 parking spaces.
Westgate was conceptualized by Citizens Building a Better Community, East Lake Management, TruDelta and Project Forward. Architectural firms Valerio Dewalt Train and Latent Design oversaw the designs.
TruDelta founder Jim Webb is one of the developers of the Hub32 project, a $47.2 million affordable housing development near the Kedzie Green Line station.
Katherine Darnstadt, founding principal architect of Latent Design, said in a proposal design video the firm studied African textile design patterns and the influence of hip hop in architecture as a guide to provide ethical architecture for Black communities. The firm seeks to create housing and retail areas that do not constrain and harm communities over time, Darnstadt said.
"This project offered an opportunity to create a process and a building that focused on an architecture of liberation," Darnstadt said in the video.
Valerio Dewalt Train has designed various projects ranging from academic buildings such as the Gordon Parks Art Hall to housing in Chicago, Denver, San Francisco and Palo Alto.
Latent Design is a Chicago-based firm that focuses on urban design in underserved neighborhoods. The Forty Acres Fresh Market in Austin was one of its projects.
The lack of fresh food in the neighborhood contributes to the massive health disparities West Garfield Park residents face, West Side organizers have said.
West Garfield Park residents live to an average age of 69, compared to age 85 for people living in the Loop, according to a 2015 Virginia Commonwealth University report.
A report from the city's public health department found that Black people in Chicago live an estimated 9.2 fewer years than non-Black people and have higher death rates due to diabetes-related issues, homicides, HIV and drug use.
Watch our "On The Block" TV show on The U, CW26 and MeTV.
Listen to "It's All Good: A Block Club Chicago Podcast":