WEST GARFIELD PARK — A $50 million wellness complex planned for the West Side will boost neighbors' length and quality of life by improving their access to health care, nutritional food and other resources long denied to the area, organizers said this week.
The Garfield Park Rite to Wellness Collaborative invited community leaders and neighborhood groups to a meeting Wednesday to detail plans for the Sankofa Wellness Village along the Madison and Pulaski corridor.
The project won the $10 million Chicago Prize from the Pritzker Traubert Foundation in January. It will include:
The Sankofa Village Wellness Center, a 60,000-square-foot facility that will provide more than 170,000 residents with a health center, gym, early childhood development programs, community-owned credit union, small business support and other services.
The MAAFA Center for Arts and Activism, a residential leadership, workforce development and arts center to be built inside a renovated New Mount Missionary Baptist Church, 4239 W. Washington Blvd.
The K Entrepreneurship Development Hub, a business incubator and entrepreneurial support center.
The Community Grocer Initiative, a community-led effort to bring grocers and healthy food to the neighborhood with pop-up markets until a permanent grocery store opens.
The Garfield Park Community Council, architectural firm Moody Nolan, Rush University Medical Center, Erie Family Health Centers and the YMCA of Metropolitan Chicago are working on making the village a reality.
Theron Hawk, community organizer of the Garfield Park Community Council, said the project will bring in resources that have been needed for decades.
"There's been a systemic lack of investments in the West Side for generations," Hawk said. "It can be so hard for people to rise up above that."
West Garfield Park residents live to an average age of 69, compared to age 85 for people living in the Loop, according to a 2015 Virginia Commonwealth University report.
A 2021 city study showed the life expectancy gap is growing between Black and non-Black Chicagoans. Black people in Chicago live an estimated 9.2 fewer years than non-Black people as they struggle with higher death rates for diabetes-related issues, homicides, HIV and opioids, that report found.
Community organizers and West Side health providers long have worked to tackle the social factors that lead to worse health outcomes, like poor nutrition and lack of regular health care.
That's where the grocer initiative comes in, organizers said. TJ Crawford, director of the Garfield Park Rite to Wellness Collaborative, said Sankofa will help extend the life expectancy of West Side residents in part by giving them more nutritional food choices.
A grocery store is badly needed in the community, which is considered to be a food desert. Aldi abruptly closed its West Garfield Park in 2021 to neighbors' shock and frustration.
Kevin Davis, Erie's senior director of marketing and brand strategies, said Erie will handle basic checkups, urgent care, behavioral health and mental wellness. More complex treatment will go through Rush, Davis said. 
Garfield Park is also a health desert that needs better quality of care, Davis said. Erie's facility within the wellness village would be the company's first in a predominantly Black community, Davis said.
"For me and others on my team, that is super important," Davis said. "We are going to be providing the same high-quality health coverage to this area that we provide everywhere else. It's a historic neighborhood, and it's an opportunity for us to give the area the same health coverage that others have been getting for the past 65 years."
David Ansell, a Rush physician and author who has written about health care inequalities on the West Side, said health outcomes have worsened in the area over the past four decades as businesses left and wealth was drained.
"Structural racism and economic deprivation cause social pathologies that lead to poorer health," Ansell said. "If they are the root causes of poor health [in our neighbors], then we have to think about how to invest capital in the neighborhoods."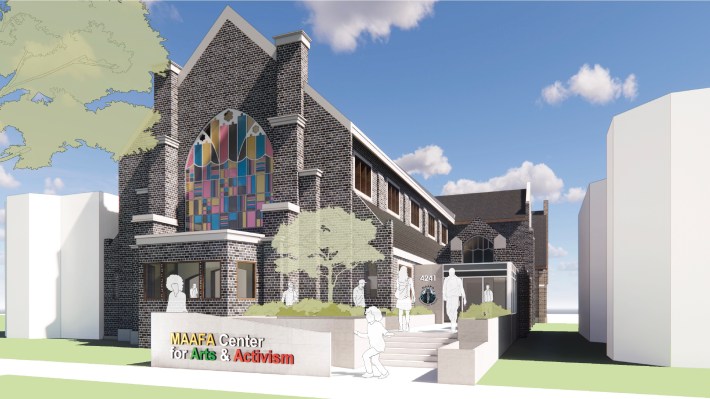 The Sankofa Village Wellness Center could break ground by the end of the year, and the entire village could be complete by 2025. 
YMCA, Erie and Rush will contribute financial support.
Listen to "It's All Good: A Block Club Chicago Podcast":