CHICAGO — Over 5.6 million rides on the CTA were recorded in the first week of June, which the agency touted as the most since the start of the pandemic — but that hasn't stopped critics from doubling down on calls for the CTA president to be fired as new data reveals his top executives rarely travel on city trains and buses. 
Eight of the CTA's top leaders, among the agency's highest paid, used their unlimited work cards to swipe onto the system on less than 50 days each in all of 2021 and 2022, CTA records show. One executive never used her pass in two years. Block Club obtained the records through Freedom of Information Act requests.
Executives skipping out on a struggling system is a "culture problem" created by CTA President Dorval Carter, said Ald. Andre Vasquez (40th), who has repeatedly called for more reliable CTA service.
Block Club revealed in May that Carter used his work card for the system on 12 days over the last two full calendar years — with only one swipe recorded in 2021. 
RELATED: Does CTA Boss Dorval Carter Use Public Transit? Records Show He Swiped Pass Once In 2021
Now Vasquez, Ald. Jeanette Taylor (20th), State Rep. Kam Buckner, co-chair of Johnson's transition transportation committee, and Commuters Take Action, a group of riders tracking CTA reliability, are calling for Carter to be replaced. 
"If you're running the CTA, you should be riding it," Vasquez said. "You got to understand the experience of Chicagoans who must use it everyday to get to their jobs and around the city. … Setting that expectation starts at the top with the president."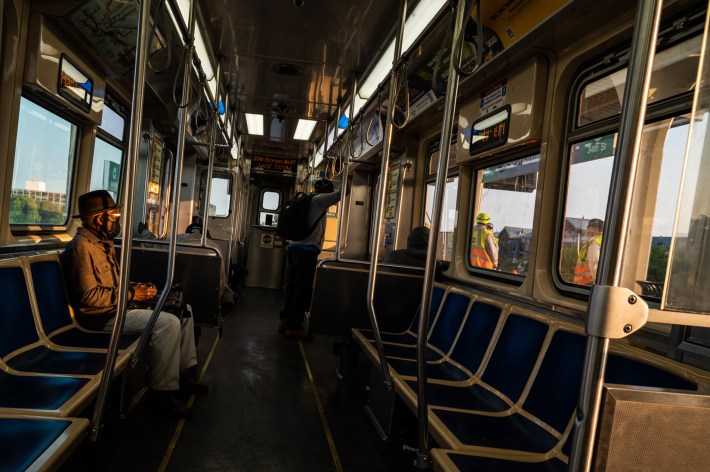 Last November, Carter came under intense pressure from riders and city officials who complained of long wait times, deteriorating conditions, security issues and "ghost buses and trains": transit that showed up late or not at all. Carter blamed many of the problems on a staffing shortage. Alderpeople also slammed Carter for skipping a council hearing in September about complaints.
In a statement, CTA spokesperson Manny Gonzales said Carter and his executives "are fully attuned to the day-to-day transit experience" and track the system through "dozens of managers," a 24/7 control center, security footage, daily "flash" meetings about operational issues, real-time data and feedback "collected from customers, elected officials and other key stakeholders."
In response to Vasquez, Gonzalez said CTA's culture is "nothing short of a nonstop, 24/7 dogged commitment to our riders," pointing to Carter's "Meeting The Moment" plan to rebound transit from the pandemic.
"Collectively, the identified executives have more than 160 years of transit-related experience, both as transit professionals and as longtime transit users," Gonzales said. "Some have risen through the ranks over the years —  from being an operator of a bus or train to turning wrenches in one of the maintenance facilities."
All of the executives surveyed make between $199,000 and $376,000 a year, records show.
Carter received a 33 percent raise during the pandemic in 2021 when CTA ridership suffered its biggest setbacks. Since then, records show Carter received three raises that "coincide with salary increases received by all non-bargained-for CTA employees," a CTA Freedom of Information Act officer said. Carter now makes $376,000 a year, according to public records.
Taylor said it's "easier to get paid and make excuses than it is to do your actual job." 
"Get out there, take the trains and buses and talk to the operators, let them help tell you how to fix it," Taylor said. "Do your damn job or give it up." 
How Often Did CTA Execs Swipe In?
Jairo DeJesus Naranjo, vice president of bus operations, swiped onto the bus on more days than any other CTA executive surveyed: 11 days over the two years. On some days, he took a combination of rail and bus, for a total of 13 days riding the system over two years.
April Joy-Marie Morgan, chief of staff for the CTA board, did not use her work card once in 2021 and 2022, records show. A bio for Morgan in The Chicago Defender said she "advises the Chairman and the Board on policies that impact agency operations." 
Nora Leerhsen, chief of staff for the CTA president, did not swipe her work card in 2021 and then used it on five days in November and December 2022. 
Jeannie Alexander, vice president of rail operations, used her work card to swipe onto the train 15 days over those two years. 
Brian Steele, vice president of communications, used his work card on 33 days over the two years. 
Veronica Alanis, chief operating officer, used her work card on 34 days over the two years. 
Nancy-Ellen Zusman, CTA's chief safety and security officer, used her work card on 46 days over the two year period, with bus trips recorded on six of those days.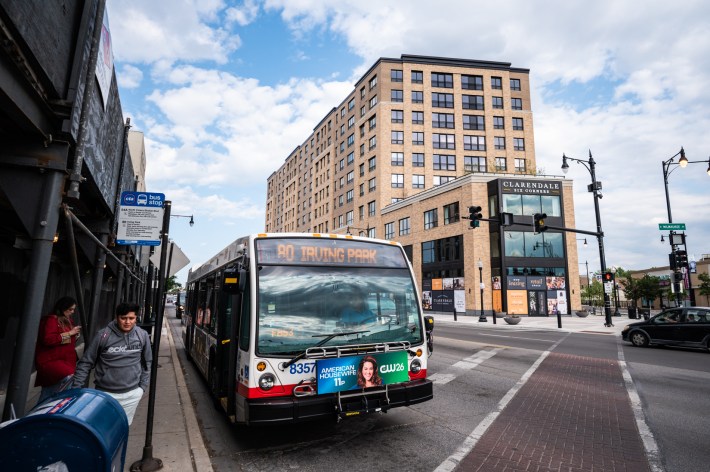 Ridership records for leaders of the CTA's two largest workers unions were not any better.
Eric Dixon, president of Amalgamated Transit Union Local 308, representing rail operators, used his work card on 10 days over the two years, with nine of those days including swipes onto the train.
Keith Hill, president of Amalgamated Transit Union Local 241, representing bus operators, used his work card for the bus on 28 days over the two years. Dixon and a representative for Hill did not return requests for comment. 
Records show one CTA executive was an outlier: Donald Bonds, CTA's chief transit operations officer, swiped into the system with his work card on 310 days in those two years.
Bonds did not return requests for comment by Block Club's deadline. 
CTA Top Brass Needs 'Fresh Look,' Officials Say
Gonzalez did not directly answer questions regarding whether Carter requires or encourages his executives to ride the system. 
In contrast, former CTA President Richard Rodriguez, who held the role from 2009 to 2011, told Governing he required his executives to ride the system at least 40 times a month, "to know exactly what the CTA's needs are, as they advocate for more funding in Washington."
Rodriguez would commute to work two or three days a week and pick one day each week to "simply to ride around on the system in a given part of the city, talking to operators in the field, monitoring the conditions of vehicles and stations," according to Governing.
Employees are "getting e-mails from me every few minutes about, 'We need to fix this,' and, 'Why can't we clean this up?" Rodriguez said.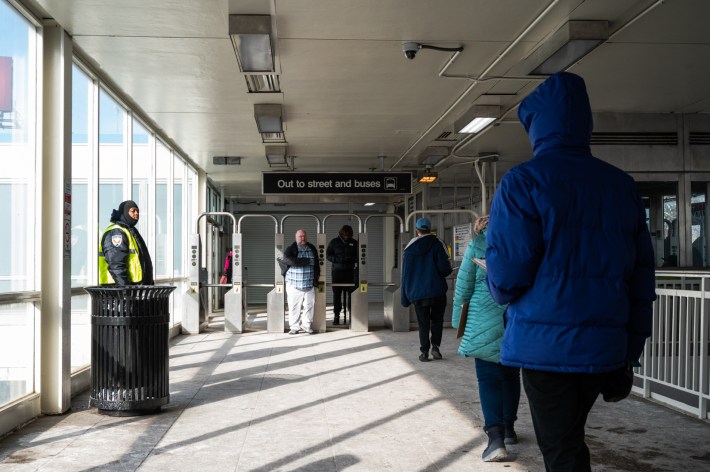 Taylor, an alderwoman who represents the South Side's 20th Ward, said the CTA needs a "fresh look" and must first rebuild trust with riders and workers by hosting public meetings with high-ranking officials.
Taylor stopped taking public transit after her daughter was harassed on a CTA bus, she said.
"The leaders don't take it because they don't feel safe like the rest of us," Taylor said. "But it's on them to make it safe." 
Buckner said CTA leaders should be riding the system at least a couple times a week. Vasquez and Taylor agreed.
"No one expects for people to not have another way around town, but we do expect people running the system to be using the system," Buckner said. "This is like the sorry chef who won't eat their own cooking." 
In a report from Johnson's transportation transition committee released last week, Buckner and over a dozen community transportation groups made a "near-term recommendation" to "appoint CTA leadership…committed to the administration's policy priorities."
Buckner said the committee discussed "policy and not personnel." 
"But whoever runs CTA next needs to have a better vision," Buckner said. "Chicago could be at the top for how transportation in this country works, but instead we're uninspiring." 
Commuters Take Action, a group of disgruntled riders who have tracked "ghost buses" and organized to improve CTA conditions, said in a statement they were "not surprised" by the low ride records of CTA executives.
"It's no wonder we haven't seen more improvement, even as city leaders and the public have put more pressure on CTA leadership," Commuters Take Action spokespeople Christina Marfice and Luca Harsh said in the statement. "CTA riders deserve leaders that are truly invested in public transit — and show it by using it themselves,"
Watch our "On The Block" TV show on The U, CW26 and MeTV.
Listen to "It's All Good: A Block Club Chicago Podcast":