HYDE PARK — Cubs ace Marcus Stroman is giving Brave Space Alliance, a South Side-based Black- and trans-led LGBTQ+ center, $20,000 in honor of Pride Month.
The surprise donation is among three Stroman made to organizations in cities he's played in throughout his career. A former New York Met and Toronto Blue Jay, Stroman also donated to New York City's LGBTQ+ youth group Hetrick-Martin Institute and Toronto's The 519, a service center and charity for the local queer community.
The donations are about more than just the money, Brave Space leaders said. The signal of support — from a Black pitcher in a sport where queer people are underrepresented — "comes with much more social and cultural value," Deputy CEO Jae Rice said.
"We welcome a cis guy in sports, which is usually a hypermasculine space, expressing this type of camaraderie," Rice said. "This is steps. This is evolved allyship. It moves the needle."
Stroman, who has posted top numbers in his second season with the Cubs, announced the donations on his social media pages this week.
"It is my hope that my contribution will further the ongoing efforts of the LGBTQIA+ community in raising awareness, combating discrimination, and helping to celebrate diversity and inclusion," Stroman said in his statement.
Rice now plans to bring Brave Space Alliance leaders and families to thank the pitcher ahead of the Cubs' June 16 game against the Baltimore Orioles at Wrigley Field.
In the meantime, Rice will start putting Stroman's generosity to work in two of Brave Space Alliance's staple programs: its community pantry and gender-affirming center known as the dignity suite, both located at the nonprofit's Hyde Park headquarters, 1515 E. 52nd Place.
The pantry is open to all community members and features name-brand groceries, vegan, vegetarian and halal sections, personal care items and a food delivery program for seniors and immunocompromised neighbors, Rice said.
"Queer folks, especially queer trans Black folks, have always provided for the greater masses. For all sorts of marginalized people we understand our liberation is connected," Rice said. "The pantry is an olive branch.'"
The dignity suite provides trans people with free items to affirm their gender, which could include suits, haircuts, binders, wigs and makeup, Rice said. The dignity suite also assists trans people with wrap-around services, including resume help to providing storage lockers, Rice said.
"It's a way to mitigate harm and violence in our community, and to give people dignity without them feeling ostracized or looked down upon if they just went to a regular shop," Rice said.
RELATED: Brave Space Alliance Opens Gender-Affirming Makeup Room After Raising $60K In Supplies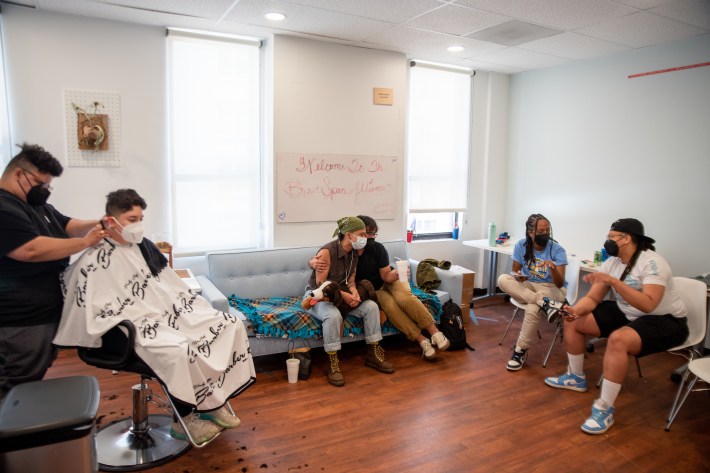 Stroman's donation comes as other LGBTQ+ rights and Pride celebrations have proved divisive in professional sports. In March, the Chicago Blackhawks nixed their Pride jerseys, citing safety concerns for the team's Russian players, according to the Sun-Times.
Rice said there's been a "reverse in acceptance" for LGBTQ+ people and particularly trans people, pointing to bans on gender-affirming care for minors, attacks on drag shows and other laws limiting transgender girls and women from participating in high school and collegiate sports in Republican-controlled states.
Meeting with Stroman at Wrigley Field will be a small step forward for inclusion in sports, Rice said.
"First, I just want to tell him 'Thank you,' and then ask how we can get his colleagues involved in these conversations, as well," Rice said. "It means a lot right now for a pitcher of color to come out and say they are standing with us in Chicago."
Watch our "On The Block" TV show on The U, CW26 and MeTV.
Listen to "It's All Good: A Block Club Chicago Podcast":