WICKER PARK — A Wicker Park nightclub and music venue is reopening this week more than a year after police labeled it a "public safety threat" following multiple shootings outside the business. But the nightclub's long-term future remains in flux as the building's landlord pushes to evict it.
The Point, 1565 N. Milwaukee Ave., will host an electronic music concert Friday, according to a Facebook event, Instagram post and a ticket sales page.
It's the first show scheduled at the late-night club since February 2022. The city shut down the business after one person was killed and several were wounded in two shootings outside the bar in less than four months.
Owner Joe Jun Lin, who also owns Bourbon on Division, 2050 W. Division St., confirmed in a statement Monday the club was reopening but shared few additional details.
"I am relieved that we are finally able to re-open The Point. We pride ourselves on being a good neighbor to the community and an establishment that creates a safe space for people to gather," Lin wrote in an email. "While our closure is a subject of litigation and our club and our injured patron were victims of a violent crime in 2022, over the past 17 months, we've further enhanced our safety and security to protect our customers and the neighborhood, and we look forward to seeing everyone again."
Lin did not respond to a request to be interviewed and did not answer follow-up questions via email to detail his plans for "enhanced" security or his hours of operation.
The Point has announced two other concerts this summer, July 7 and July 22, according to an Eventbrite page.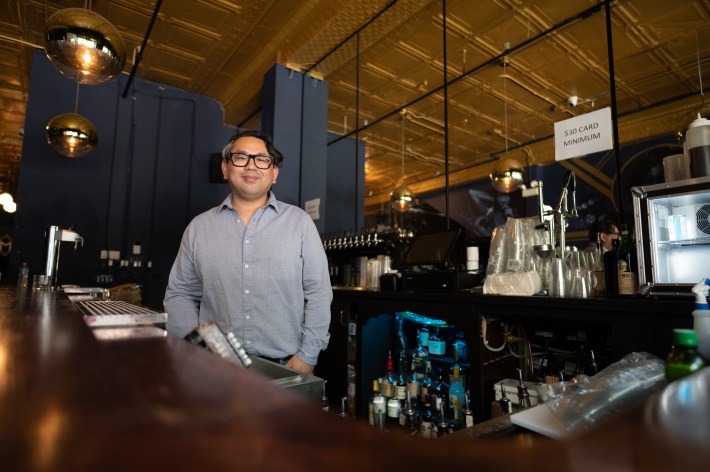 The shows come as the bar's landlord, North American Real Estate, is suing to evict The Point from Wicker Park's Flat Iron Building.
Cook County court records show Lin was served with a "termination of tenancy" notice on Nov. 8 by Savas Er, principal with North American Real Estate, or NARE, which bought the Flat Iron last year.
The landlord filed the eviction suit Feb. 16, and the litigation is still pending, according to court records. Reached by phone this week, Er declined to comment.
Lin has pledged to fight the eviction, saying in a separate February court filing the property owner was "citing an objectively out of context and arguably unenforceable provision in the Lease, which Plaintiff will challenge in due course."
Lin declined to comment further on the potential eviction this week.
"I don't have any comment because this is an ongoing matter that is in litigation," he wrote in an email. A lawyer for The Point confirmed the business is "actively challenging" the eviction.
A status hearing in the case is scheduled for next week, according to court records.
Troubled History
The Point opened in May 2021 in the Flat Iron Arts Building. It holds a late-hour liquor license, allowing it to stay open until 4 a.m. Fridays and 5 a.m. Saturdays.
The first of the two shootings that led to its shutdown occurred five months after the nightclub opened.
Raymond Jones was killed in a shootout Oct. 10, 2021 after police said he opened fire outside The Point. Four others were wounded in the incident, police said.
The second shooting occurred Feb. 6, 2022. Jordan Mendez was inside The Point after working at a nearby bar when someone outside fired shots into the business, hitting Mendez below his right eye. Mendez survived but underwent several surgeries.
The person charged in that shooting, Daveon Montgomery, had been at the bar that night and left shortly before shots were fired, police said.
Days later, police issued a summary closure notice, which can keep a business shut down for up to six months if owners do not agree to a safety plan with the city or submit an appeal.
The Point has been closed ever since, as Lin went back and forth with the city but did not ultimately agree to a reopening plan.
Lin has repeatedly said he and his employees were not at fault in either shooting. Employees searched and checked the ID of the man charged in the Feb. 6, 2022 shooting and used video to identify him on social media, Lin told Block Club last year.
Lin sued the city in February, claiming the closure of his club was part of a larger campaign to shut down late-night bars around Chicago. The Point, Lin has said, is being scapegoated for the city's widespread violence problems.
Lin also claimed in the lawsuit the reopening was delayed by a series of building code issues in the bar's basement, which it shares with other tenants in the Flat Iron Building.
On Feb. 18, 2022, the city issued an emergency closure notice after inspectors found numerous issues at The Point and in the building's basement, according to a document filed with the lawsuit and signed by Buildings Commissioner Matthew Beaudet.
Department of Buildings' records show the address failed another inspection Aug. 25, 2022, with citations almost identical to those from Feb. 18.
In his February lawsuit, Lin argued that because many of the violations occurred in the shared basement, all of the Flat Iron Building tenants should be impacted. But because only The Point was closed, he claimed his bar was singled out.
If city officials "believe that building is a danger and has to be closed, why have they let all the other businesses stay open?" Lin told Block Club in February.
Those citations have since been cleared up, officials confirmed this week.
Now, after almost a year and a half of sitting empty, the bar is ready to reopen, Lin said.
Spokespeople for the city's buildings and business departments confirmed there were no citations or issues currently delaying The Point from reopening, and that it holds an active business license. The summary closure notice expired last summer.
Lin also did not respond to a request for comment about the state of his lawsuit against the city.
The Point is one of several bars and clubs in the Wicker Park and Ukrainian Village area where shootings have occurred in front of or nearby over the past year and a half.
Austin McAllister was shot and killed Jan. 1 outside the Lyon's Den Hookah Lounge, 2123 W. Division St., while working as a bouncer. The Lyon's Den was ultimately not issued a summary closure by police, and has been fully operational since a few weeks after the shooting.
On New Years Eve, DSTRKT Bar & Grill, 1540 N. Milwaukee Ave., was also shut down by summary closure, just hours after three men who allegedly fought inside the business were shot in a nearby alley. 
Unlike The Point, DSTRKT reopened about a month after it was closed by police, owner Frank Maza said this week.
Ald. Daniel La Spata (1st), whose ward included most of Wicker Park, commended DSTRKT management for working with the city to make operational adjustments after the shooting. The alderperson said he wishes The Point had acted similarly — and that public scrutiny will be high as the club reopens.
"I still am disappointed that [The Point] chose to hold on to their 4 a.m. license when everyone was asking them to relinquish that. That is still a choice that they could make, and it's a choice that I would encourage [Lin] to make," La Spata said Tuesday.
"In Wicker Park, we've really been making strides towards having a safer, more stable community for residents and businesses, and I hope that they are prepared to be a different business than they were."
In a since-deleted Facebook post last month announcing The Point's July 22 concert, Lin was celebratory about the reopening.
"I have fought the good fight," he wrote. "2 Timothy 4:7-8 Happy to finally announce one of the Point's 1st shows."
Watch our "On The Block" TV show on The U, CW26 and MeTV.
Listen to "It's All Good: A Block Club Chicago Podcast":