LINCOLN SQUARE — Neighbors clashed during a rowdy Wednesday night meeting where Ald. Andre Vasquez (40th) and other officials pitched plans to convert a Lincoln Square motel into transitional housing for unhoused Chicagoans.
The project would have the city acquire the 46-room Diplomat Motel, 5230 N. Lincoln Ave., and convert it into 40 rooms of special housing tied to supportive services that include mental health and medical care, city officials previously said. 
The new initiative is part of the Department of Public Health's Stabilization Housing Pilot Program and has its roots in a March 2020 pilot program to provide people experiencing homelessness rooms at hotels to slow the spread of COVID-19, Vasquez previously said.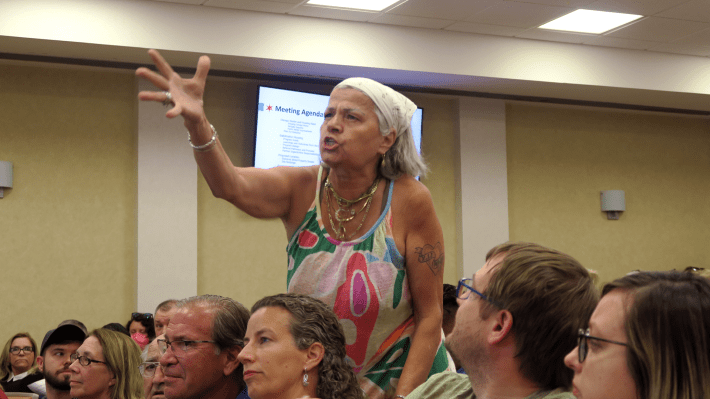 While the majority of neighbors at the packed meeting at Swedish Hospital Anderson Pavilion, 2751 W. Winona Ave., appeared to be in favor of the proposal, a small but vocal group of neighbors disrupted it before Vasquez and city officials could start their presentation. 
A woman who said her name was Lila began yelling about immigrants, President Joe Biden, city crime and her property taxes.
"Let me tell you something: Those people, you guys welcome them here. Sanctuary City. Biden administration welcome them here. We don't know who they are. We don't know where they came from," Lila said. 
Lila was shouted down and booed by others as she yelled about the nearly 9,000 migrants who have arrived in Chicago since August, many fleeing economically and politically devastated nations like Venezuela and Colombia and hoping to rebuild their lives in the United States. 
The city's plan for The Diplomat is not a direct response to the recently arrived migrants and is instead aimed at helping people experiencing homelessness or who are housing insecure while already living in Lincoln Square, Vasquez said.
However, Lila continued to yell about migrants seeking asylum in Chicago causing crime. 
"We don't know what the hell they want here, and they let them come here," Lila said. ""… "I'm not going to pay for them. I'm sick and tired of the Biden administration, who brought them to this country."
Vasquez asked the audience to be respectful of each other. Lila was escorted out by hospital security and ward staff. After she left, Vasquez noted Lila spoke with an accent. 
"I will also remind our neighbors here that there are people who feel the same way about anyone with an accent, right?" Vasquez said. "It's very easy to vilify someone you don't know, who sounds a little bit different, who looks a little bit different."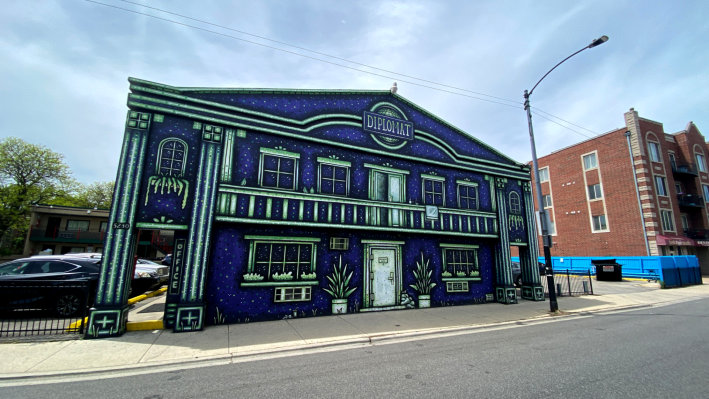 Despite the disruption, city officials shared new details about the city's plan to buy the The Diplomat and convert it into transitional housing. 
The city's Community Development Commission has already approved the plan to buy the building, and the measure will be introduced to City Council June 21. 
City officials are seeking proposals for a property management company and health service partner organization. The deadline to apply is Monday.
Once the property manager and health partner are selected, the city will move to acquire the The Diplomat property by November with the goal of renovating the building starting in December. The work is expected to completed within a year. 
Matt Richards, the deputy commissioner of behavioral health, said the city's first pilot offering transitional housing helped more than half of the 259 unhoused people who participated find housing within about six months, on average.
The majority of people in that pilot, 56 percent, were living with a mental health condition, and 34 percent had a substance use disorder. About 200 of them were older than 50, Richards said.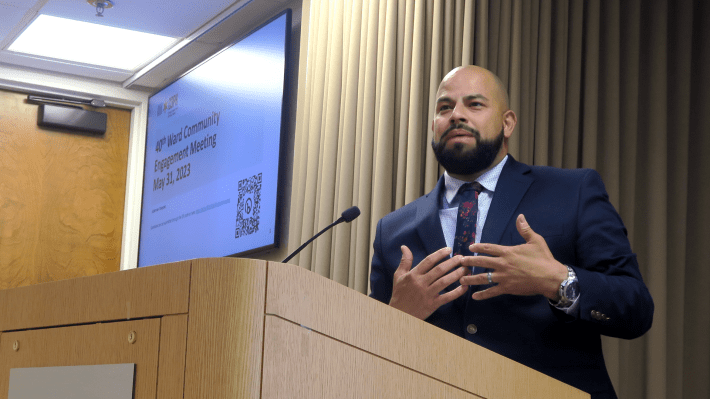 The success of the pilot can be attributed to consistent care from on-site medical, psychiatric and social work staff who built a rapport with the people in the pilot who would otherwise not have a sense of stability and be cycling in and out of shelters or places offering support services without housing, Richards said. 
"Once the person is appropriately and safely housed, you can address the unmet needs that they have," Richards said.
Other models require people to meet goals before they'll be considered for transitional housing, but that isn't a realistic way to address homelessness, Richards said.
"The trouble with that is telling someone, let me use an example with schizophrenia, that once you stop having symptomatic schizophrenia, we will get you housing. Not a great model. Turns out that doesn't work," he said. "Instead, what you do is you house them first, and you embed services and start medication."
Maureen Carroll, a former staffer for previous 40th Ward Ald. Pat O'Connor, has lived in the neighborhood since 1967 and said she's supportive of the proposal. 
During O'Connor's tenure, he tried to get motels in the ward like The Diplomat torn down, but city money for the demolitions ran out and city attempts to seize the motel properties using eminent domain were unsuccessful, according to WBEZ.
"In my family, I have a homeless person," Carroll said. "And I am aware of others in the area that have people with mental problems that make it for someone like me, unable to have them live with me because of their delusions. They're not violent.
"We have people in our ward already, who live here, who grew up here, were born here who through no fault of their own now have problems that their families, myself included, cannot solve. I'm 81 years old and I love these people. But I cannot help them. This sort of program, if it is feasible and if it works, is something we need."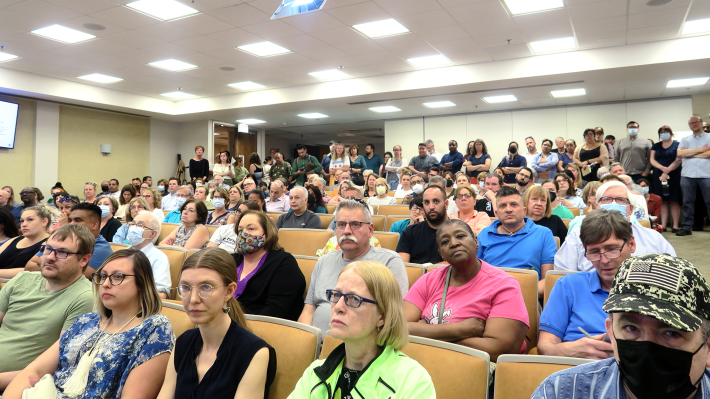 Chicago's homeless population was already on the rise even before the pandemic. An estimated 65,611 people were experiencing homelessness in the city in 2020, according to a 2022 report from Chicago Coalition for the Homeless.  
Most unhoused people in Chicago stay with others temporarily at some point throughout the year, research shows. Homelessness disproportionately impacts minorities, with Black people comprising more than half of unhoused Chicagoans, research shows.
And the city's lack of infrastructure to address homelessness has only been exacerbated by the arrival of thousands of migrants seeking asylum, Vasquez said. 
Chicagoans have been looking for solutions. The Bring Chicago Home ordinance would increase the city's real estate transfer taxes on sales of properties worth $1 million or more to fund homelessness services in the city.
The measure stalled last year after 25 City Council members ditched a meeting about it. Mayor Brandon Johnson campaigned on getting the measure passed and pledged his support for it during his inauguration speech.
"The city itself does not have the capacity, and it's not built the infrastructure to deal with the scale of the problem that we're looking at," Vasquez said. 
Watch our "On The Block" TV show on The U, CW26 and MeTV.
Listen to "It's All Good: A Block Club Chicago Podcast":