LINCOLN SQUARE — City leaders want to repurpose a Lincoln Square motel into transitional housing for unhoused Chicagoans, reviving an emergency program from early in the pandemic.
The project would convert the 46-room Diplomat Motel, 5230 N. Lincoln Ave., into 40 rooms of special housing tied to supportive services that include mental health and medical care, city officials said. It is part of the Department of Public Health's Stabilization Housing Pilot Program.
The city's Community Development Commission unanimously approved a proposal last week to buy the hotel for $2.9 million, Crain's reported.
Neighbors can learn more about the proposal at a community meeting 6 p.m. May 31 at at Swedish Hospital Anderson Pavillion, 2751 W. Winona Ave. Ald. Andre Vasquez (40th) and other city officials will host. 
The plan has its roots in a city effort created during the early days of the COVID-19 outbreak.
In March 2020, city officials launched a pilot to provide people experiencing homelessness rooms at five hotels to slow the spread of the virus, Vasquez said. 
"That pilot downtown during COVID had services on-site for people. And we saw a lot of success for folks who were unhoused finding jobs and permanent stable housing," Vasquez said. 
Steven Orn, the son of The Diplomat's owner, said his family has owned the motel for 20 years. He said the majority of people who stay there are experiencing homelessness or are housing insecure, so bringing supportive services to those customers would be great.
"Most of the people living at the motels along Lincoln Avenue don't have stable living situations. They work, but they're living paycheck to paycheck," Orn said.
"If they haven't been able to find an apartment for years, they don't know how to look for a new one. And because there's less housing available out there. The ones with the really good credit checks or that can pass a background check find homes. If you can't do that, you're out on the street or living at motels."
The Diplomat plan will build upon how the first pilot helped get people into permanent housing, Vasquez said.
For example, public health and housing officials found people who stayed at hotels during the pilot stayed for about six months on average before transitioning to permanent housing, Vasquez said.
Giving someone a private room versus housing them in a shelter is a better way to help people, Vasquez said. It gives them dignity, privacy and a better chance to regain stability, he said.
"We know that the homelessness challenge is getting larger and that the city doesn't yet have a capacity to handle it," Vasquez said.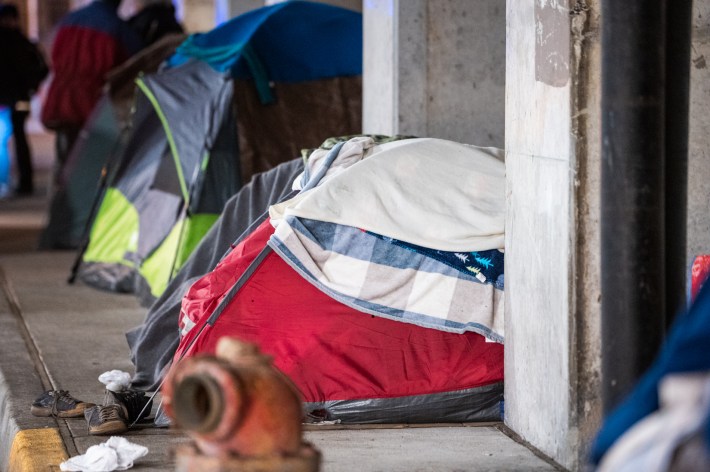 Chicago's homeless population was already on the rise even before the pandemic. An estimated 65,611 people were experiencing homelessness in the city in 2020, according to a 2022 report from Chicago Coalition for the Homeless.  
Most unhoused people in Chicago stay with others temporarily at some point throughout the year, research shows. Homelessness disproportionately impacts minorities, with Black people comprising more than half of unhoused Chicagoans, research shows.
Chicagoans have been looking for solutions. The Bring Chicago Home ordinance would increase the city's real estate transfer taxes on sales of properties worth $1 million or more to fund homelessness services in the city.
The measure stalled last year after 25 City Council members ditched a meeting about it. Mayor Brandon Johnson campaigned on getting the measure passed and pledged his support for it during his inauguration speech Monday, saying, "We can do it, Chicago. We can bring Chicago home."
As the city grapples with helping unhoused people, local leaders are also facing another urgent need to help vulnerable residents.
More than 8,500 migrants have been sent to Chicago since August, which has further strained the already limited infrastructure to house people in need. Many migrants have slept on police station floors while city officials convert schools and park buildings into temporary shelters.
Vasquez said the two issues are colliding to expose longstanding failures to boost social services.
"COVID exacerbated systemic issues organizers were already screaming about. And now this refugee crisis is again exacerbating issues around homelessness that many people have been organizing and fighting for," Vasquez said. "And it's coming to a head because Texas keeps sending folks here, and we weren't adequately prepared with the infrastructure needed."
Without more programs like The Diplomat pilot and Bring Chicago Home, the city will continue to see people setting up tent communities to survive, Vasquez said.
"You get housing for a period of 30-90 days to help you establish your job and find more permanent housing," Vasquez said. "It's meant to be transitional and also invest in people in a way that's not just come in, get services and head out." 
Converting the hotel will require minor renovations to the building, city officials said. Officials hope to secure City Council backing by the end of the year, Crain's reported.
The Lincoln Avenue stretch of hotels north of Foster are vestiges from when the street was a main thoroughfare between Chicago and Wisconsin, particularly in the late '40s and early '50s, according to the Tribune. 
Once the Edens and Kennedy expressways opened, the budget motels attracted fewer families on road trips and developed a reputation for prostitution and drug deals. Former 40th Ward Ald. Pat O'Connor tried to get them torn down, but city money for the demolitions ran out, according to WBEZ. Nine of the 14 motels are still standing.
The city also previously tried to seize motel properties using eminent domain, Vasquez said. 
But during his first term, the alderman reached out to the motel owners to try a different approach to address their reputations. He helped The Diplomat get artist Sick Fischer to repaint its Lincoln Avenue-facing facade via a micro grant from the city as part of his Lincoln Avenue North Arts District initiative. 
Listen to "It's All Good: A Block Club Chicago Podcast":