CHICAGO — Mayor Brandon Johnson announced a multi-million-dollar effort to fund violence prevention activities in Chicago this summer.
The announcement Thursday at 63rd Street Beach in Jackson Park ahead of Memorial Day weekend includes $2.5 million in private grants that will benefit more than 250 local organizations across 24 communities, an expansion of the existing Partnership for Safe and Peaceful Communities program. Johnson's administration helped raise the money, and more funding is expected, his office said.
The groups receiving the money will host "fun, safe programing and activities for young people" during the summer months, the mayor said.
The $2.5 million investment comes from the Partnership for Safe and Peaceful Communities' Chicago Fund, a coalition of more than 50 foundations and funders who invest in evidence-based solutions to address gun violence.
Neighborhood activations will take place across the South and West Sides, including in Austin, Little Village, Lawndale and Englewood. Organizations chosen received up to $10,000.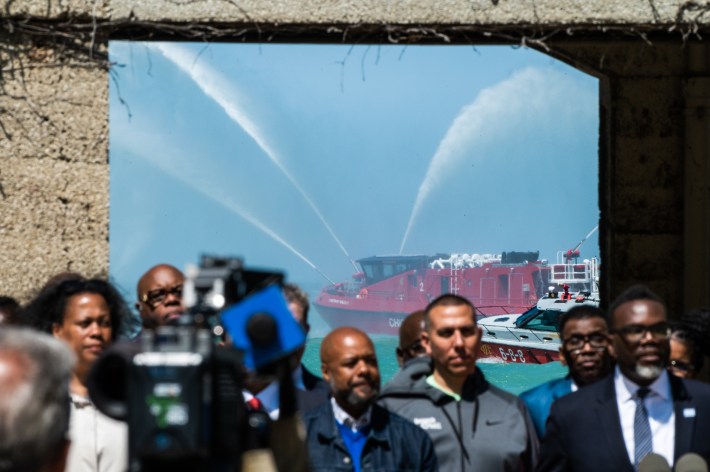 "Grant funding will empower grassroots organizations that intimately know their communities to take powerful underground action in their neighborhoods to promote peace and safety through enrichment," Johnson said.
Esther Franco-Payne, executive director of the Partnership for Safe and Peaceful Communities, estimates the investment will impact thousands of youth across the city with "1,000 young people in Englewood" alone slated to participate in activities like gardening, basketball tournaments, restorative justice circles, media and storytelling, literacy training and more.
Chicago police will have an increased presence over the weekend throughout the city as they have in years past, Interim Police Supt. Fred Waller said. This includes conducting bag checks at all of Chicago's beaches, Millennium Park and various events across the city.
The department will also be canceling a day off this holiday weekend for all officers in order to have enough manpower — standard practice every year, Waller told reporters Thursday.
Waller reiterated that all neighborhoods will be adequately staffed, not just Downtown. Officers will be tasked with "thwarting" any type of gatherings that "might get out of hand."
"We will also have intervention people down there to help us out with that … so it'll be a collaborative effort to try to keep everybody peaceful and enjoying the holiday weekend," Waller said.
In addition, the state is sending a team of peacekeepers into neighborhoods, Gov. JB Pritzker's office announced. Their role is to prevent violence by being present in areas where violence might emerge. Peacekeepers maintain communication with police but aren't consistently debriefing officers, said Waller.
In April, before Johnson took office, a youth gathering Downtown turned violent, with two teens wounded in a shooting and a couple randomly attacked by a group of people. The incidents sparked outcry from area aldermen who said the city was grossly unprepared.
Last year, Lightfoot pushed and successfully passed a 10 p.m. citywide curfew, despite opposition from activists and alderpeople who said it wasn't an evidence-based solution. An investigation by Block Club Chicago found the curfew had little to no impact on crime and was more widely enforced on the city's South and West Sides.
In response to questions from reporters about police being adequately prepared for the holiday weekend, Johnson stressed that the solution to combatting violence was not "a simple strategy around policing."
"Make no mistake about it that this administration has made it very clear that we are going to invest in people," Johnson said. "We want to make sure that the work that we do, not just for this weekend but throughout the summer and into the fall, that we're going to create as many opportunities as possible."
Listen to "It's All Good: A Block Club Chicago Podcast":