DOWNTOWN — Poor communication and planning from city officials are to blame for violence that came as large groups of young people gathered Downtown over the weekend, an area alderman said.
Two teens were wounded in shootings Downtown as the groups gathered, and a pair was "attacked at random" and robbed near one of the shootings Saturday. Nine adults and six juveniles were arrested, including two people were charged with possession of a stolen vehicle and a 16-year-old charged with unlawful use of a weapon, police said.
Ald. Brian Hopkins (2nd), who represents part of Downtown, said he heard chaos unfolding over police radio and patrol officers who had no guidance on where to go.
"I could hear immediately concern and in the voices of the patrol officers that were responding, questions that were not being answered: 'What do we do? Where's our post? Where are we assigned? Are we making arrests tonight?'" Hopkins said.
There seemed to be no clear answers from leaders — which indicated "a lack of preparedness," Hopkins said.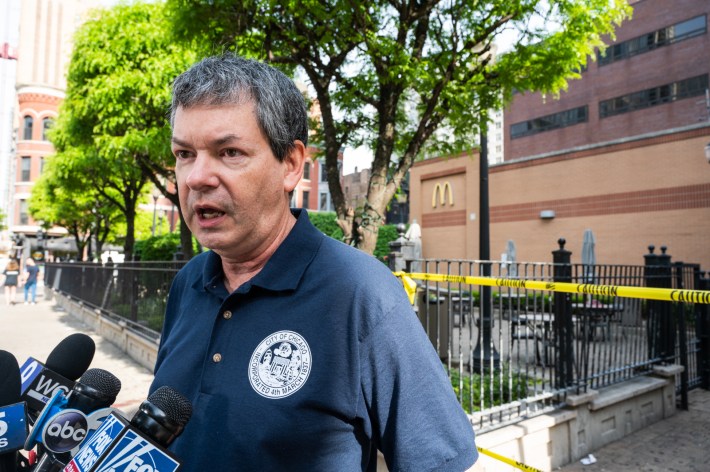 Hopkins posted up in his car Downtown to watch the scene unfold Saturday night before heading home as the night became "more chaotic," with people jumping on cars and disrupting traffic, he said.
As he continued to listen to the police radio, Hopkins said he heard communication break down between police and CTA officials, who were not able to coordinate to mitigate crowds.
"Once some of the stops started to get closed, nobody knew which ones were being closed. … Later on in the evening, when there were orders to try and herd some of the larger groups towards the 'L,' to maybe encourage them to get out of Downtown, they didn't know if the station was open or not," Hopkins said.
With that level of confusion, even "well-intended tactical responses" had the opposite effect, Hopkins said.
Ald. Brendan Reilly (42nd), who also represents the Loop, said the city is never prepared — even though large gatherings of young people happen every year during the first warm weekend.
"It seems to me that the response time last Saturday was woefully inadequate. Tactical units were brought in Downtown. … Once they got here, it took them almost half an hour to find parking," Reilly said. "We need to be better prepared for these kinds of things."
Reilly said he checked in with police leaders before the weekend, asking what the summer safety plan was, but received no response until after Saturday.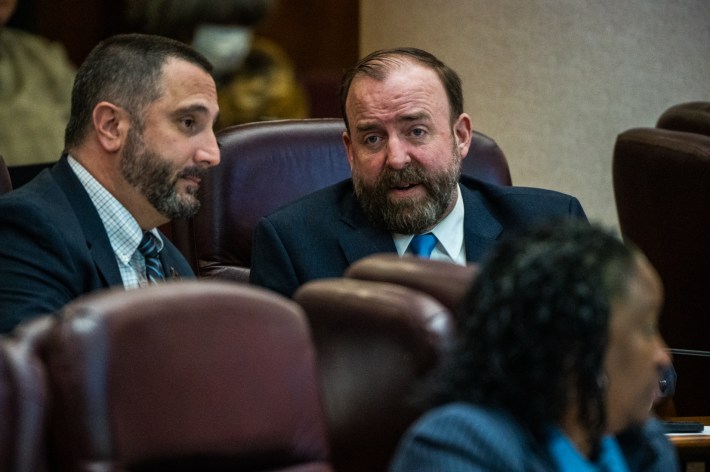 Police have assured Reilly they will be ready if something like this happens again, he said.
"Apparently the kids are planning another one of these, and [police said] they'll have an appropriate response. But my view is last Saturday should not have happened," Reilly said.
The two people who were attacked and robbed Saturday said during an interview with Fox News police passed by and did not help. Instead, a good Samaritan drove them to the hospital.
The Police Department has launched an internal investigation into the victims' claim that officers drove by the attack and did not intervene, a spokesperson said.
Ariella Gibson, marketing and communications manager for the Loop Alliance, which represents hundreds of area businesses and cultural institutions, said although the group is in regular communication with police and the Office of Emergency Management and Communications, the information shared Saturday was not "necessarily up to date."
Gibson said immediate communication is necessary so the group's street ambassadors and unarmed security guards can be prepared, who have been trained to de-esclate situations.
The Chicago Loop Alliance has had a private security patrol for the area since 2018, and its ambassador program has been around since 2014. The street ambassadors patrol State Street and several east-west streets until 10 p.m. daily, greeting people and offering help to tourists while providing assistance and resources to people experiencing homelessness.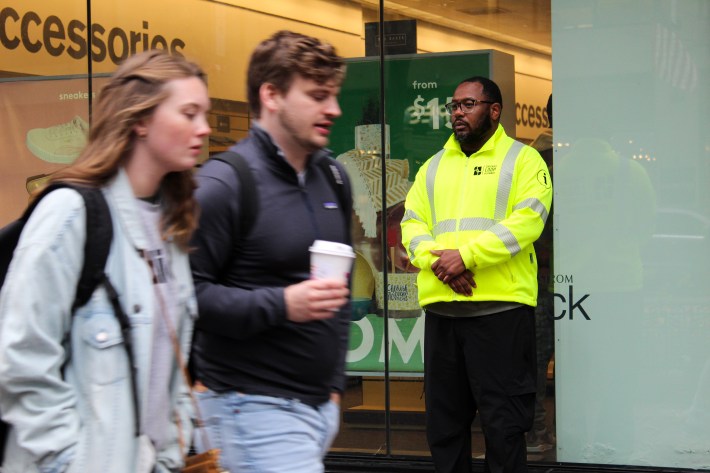 Over the weekend, the ambassadors patrolled areas with heavy foot traffic, but that became difficult as crowds grew Downtown, Gibson said.
Some hotels and businesses held people inside until about 1 a.m., when crowds dispersed. Several businesses near State Street — including Target, 7-Eleven and Walgreens — had damaged windows, Gibson said.
The organization has not been in contact yet with Mayor-elect Brandon Johnson, but its leaders hope they will be able to meet before he's inaugurated, Gibson said.
Johnson denounced "destructive activity" over the weekend, saying it was "unacceptable and has no place in our city," but he defended young people gathering.
"It is not constructive to demonize youth who have otherwise been starved of opportunities in their own communities," Johnson said in a statement. "Our city must work together to create spaces for youth to gather safely and responsibly under adult guidance and supervision, to ensure that every part of our city remains welcome for both residents and visitors."
On Monday, the Police Department announced it will again enforce Millennium Park's curfew. Implemented last year, it requires all minors to be accompanied at the park after 6 p.m. Thursday-Sunday. It also requires park visitors to go through security checkpoints for bag and ID checks.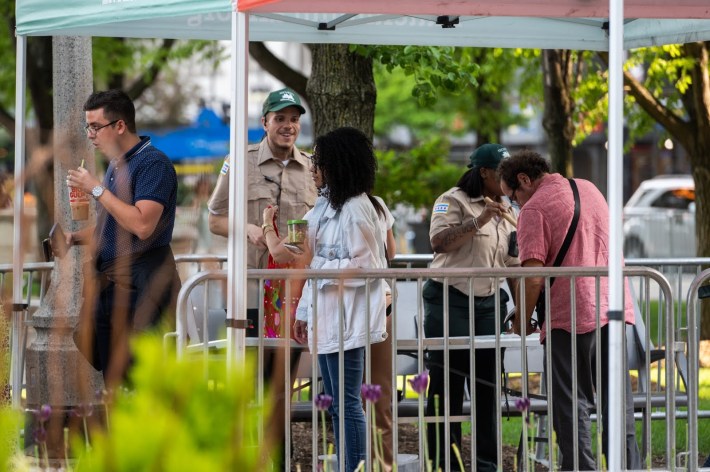 But until a new police superintendent is chosen, the city will have to "cope" the best that it can, Hopkins said.
"We can't really solve this problem in a long-term fashion until we have that command and control structure and that leadership in place. … This will be one of the most important decisions that Mayor Johnson has to make … and he's going to have to make it immediately," Hopkins said.
Listen to "It's All Good: A Block Club Chicago Podcast":