CHICAGO — The city's curfew crackdown for young people this summer was billed as a crime prevention tactic — but the police districts that enforced it the most saw little improvement in safety.
In May, the weekend curfew for youth was moved from 11 to 10 p.m. and expanded to include 17-year-olds. Separately, Mayor Lori Lightfoot issued an executive order banning unaccompanied minors younger than 16 from Millennium Park after 6 p.m. on weekends.
Lightfoot championed the updated curfew and overall curfew enforcement as a way to combat Downtown violence after a 16-year-old was fatally shot at The Bean. She faced pushback from local groups, youth organizers and aldermen, who pointed to research the showed curfews are ineffective. But the new curfew passed City Council in a 30-19 vote.
A Block Club analysis of police data found officers made one arrest, issued seven citations and made 119 reports in relation to the curfews May 27-Aug. 8, covering Memorial Day weekend to Lollapalooza weekend.
A report is when an officer has contact with a minor regarding the city's curfew but does not issue a citation or an arrest, according to police.
Here's what the data show:
Grand Central (25th) Police District, which covers part of the Northwest and West sides, recorded by far the most reports, with 28.

Then:

Chicago Lawn (8th) District on the Far South Side: 10 reports
Lincoln (20th) Police District on the Far North Side: nine reports
Morgan Park (22nd) Police District on the Far Southwest Side: eight reports
Town Hall (19th) Police District on the north Lakefront: seven reports
Just seven reports total were recorded between the Central (1st) and Near North (18th) Police Districts, which cover Downtown.
Some crimes — including murder and aggravated battery — are down citywide compared to a year ago, though other crimes — including robbery and criminal sexual assault — are up or have stayed flat, according to Police Department data.
And crime in the districts that saw the most curfew reports has kept pace with last year — which include the 25th, 8th, 20th, 19th and the 22nd districts.
Asked how Lightfoot is measuring the curfew's effectiveness, a mayoral spokesperson pointed to her comments at a Sept. 6 news conference.
"This is not about being punitive at all. What I think we have to accomplish — and I think we're making seeing strides in that direction — is, No. 1, reminding parents that there is a curfew," Lightfoot said. "No. 2 is making sure that the young people themselves know that there's a curfew."
Lightfoot also said "big, huge gatherings" of young people have decreased since the curfew changed. The Mayor's Office declined to answer questions about how that was being measured.
Aldermen who voted for and against the measure told Block Club Chicago they didn't really expect the curfew change to have an impact on crime in their wards. But the data does concern some who say the enforcement data seems to impact areas where Black and Brown children live the most.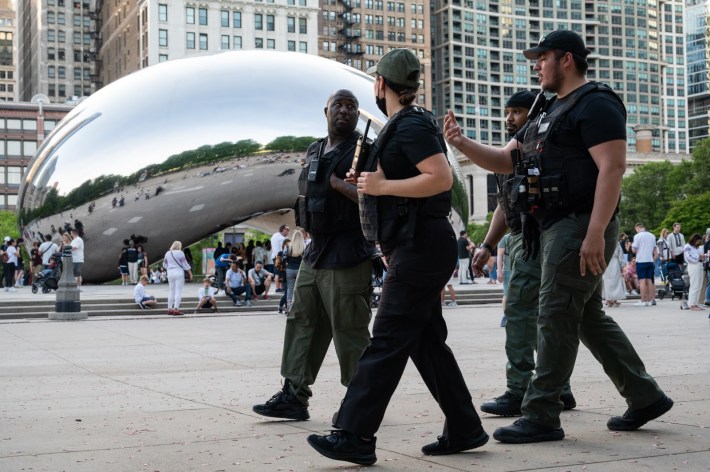 Police 'Saw It As A Potential For Investigative Stops,' Alderman Says
In the Near North (18th) Police District, where crime is significantly up from years past, there was only one curfew enforcement report. Ald. Brian Hopkins (2nd) said he wasn't surprised, saying he never really expected a "rash of curfew citations" as a result of the change.
Hopkins said he originally planned to vote no on the curfew change until local police leaders changed his mind.
"They saw it as a potential for an investigative stop," Hopkins said. "Because police no longer can do investigative stops. However, if they see a group of young people who are obviously underage congregating Downtown after hours, the curfew law gives the police authority to approach them and conduct an investigatory stop."
When asked about the department's curfew enforcement policy, a police spokesperson responded with the agency's policy for "processing curfew violators." The department did not respond to questions about if curfew enforcement is a tool for investigative stops.
A minor is only issued a citation if they are taken into custody for a criminal offense or if they have three or more curfew violations in the past year, according to the policy.
A curfew violation report is made for every minor an officer stops, regardless if criminal charges or a citation are issued.
Officers are "prohibited from engaging in racial profiling or bias-based policing activities, including when enforcing the Chicago curfew laws," but they are required to run the minor's name to determine if the minor is "missing, wanted or a runaway," according to the policy.
Ald. Gilbert Villegas (36th), whose ward includes the Grand Central (25th) Police District, said he believes the curfew change was a "waste of time." Police serving his area need to stop being micromanaged by City Hall, he said.
"It was a waste of time, just like the 9 o'clock liquor stores closing. Those are all touted as crime-reducing strategies, and they haven't worked," Villegas said. "We've got to take a look at root causes of crime and violence, which … takes time."
Villegas, who voted against the curfew change, believes that instead of focusing on expanding the curfew, other initiatives to fight violent crime such as carjackings and burglaries should have been explored.
Fast tracking police hires, investing in researching root causes of crime and investing in underserved communities should be prioritized, Villegas said.
"The reality is, when you're talking to people and you're talking to constituents in the neighborhoods, they don't feel safe, and so and so we've got to change that," Villegas said.
Curfew Enforcement Impacts Mostly Black And Brown Neighborhoods
The enforcement data concerns Kara Crutcher, a lawyer who represents GoodKids MadCity, a social justice organization that supports Chicago's Black and Brown youth. The organization announced in July it's prepared to sue the city to repeal the 10 p.m. youth curfew, calling it unconstitutional.
Youth organizers have said the curfew unfairly targets Black and Brown youth and keeps them away from Downtown while white residents and visitors get a pass.
Crutcher, a lifelong Chicagoan, said areas that saw the most curfew enforcement are home to mostly Black and Brown youth. Those areas include neighborhoods in the 8th, 7th, 9th and 25th police districts. While districts with more affluent, white populations — such as the Near North Side's 18th District, which had one report — "barely" had any reports, she said.
"I absolutely am not claiming to know who these young people are and who these specific cops are that stopped them. But it speaks for itself in these predominantly white neighborhoods that are having just one report," Crutcher said.
Instead, the impact of the curfew enforcement is being felt the most by Black and Brown kids who are being stopped, Crutcher said.
"There's no rational relationship between the alleged goals of the curfew and the way it's being implemented and enforced and the impact that it's having," Crutcher said.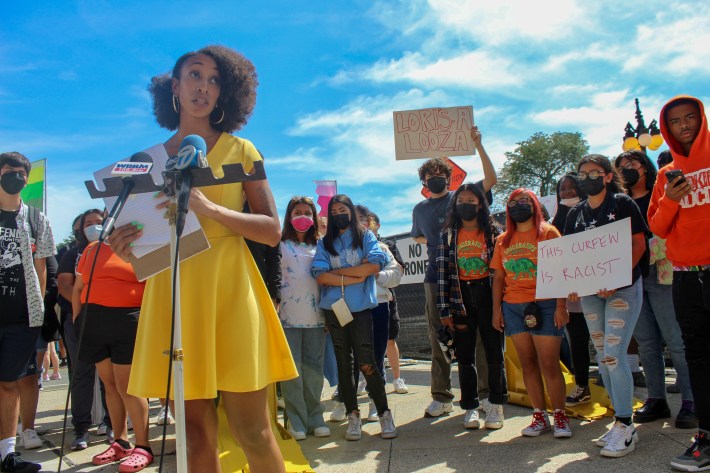 A 2018 report from The Marshall Project showed how curfew laws in various cities resulted in profiling of Black and Brown youth, who tended to be stopped at a higher rate.
A study from the Rutgers University School of Criminal Justice found these "encounters are initiated by police officers who are making on-the-spot assessments of young people's proclivity for delinquency, prospects for rehabilitation, and overall moral character, … with limited information, often falling back on racial and ethnic stereotypes," according to The Marshall Project.
Crutcher said she was also concerned with the citations being handed out to the children's guardians and what kind of implications they could have.
"If you look at this piece where this administrative notice of a violation, those there aren't predominantly white neighborhood even on that list. And so now you're also implicating families because administrative proceedings are not criminal, but they come with fines. When you don't pay your fines, that can lead to criminal penalties … so it opens up the door to so much," she said.
Ald. David Moore (17th) whose ward includes the Chicago Lawn (8th) Police District, said he was initially going to vote yes on the curfew but changed his mind after speaking with "Black and Latino youth" in his ward, he said. They were concerned the stricter curfew would make them a target for police, he said.
"Their concerns were that they felt that it wasn't going to change anything and it was going to more or less target Black and Brown children," Moore said "But also their main concern was … to make sure we have more activities [for youth]."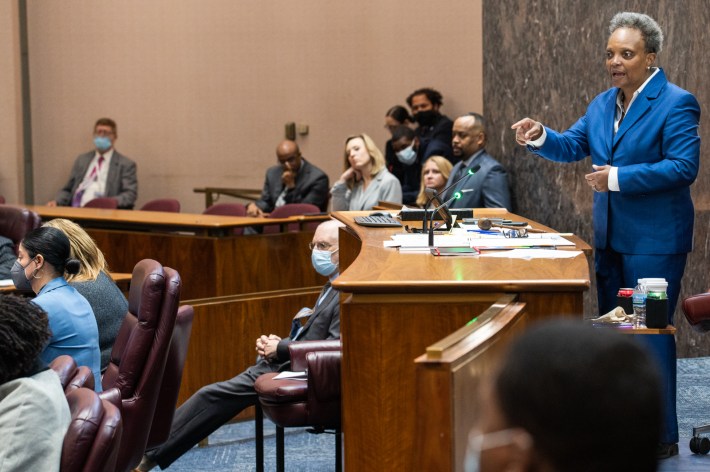 Moore said he's been a longtime advocate for more youth-centered activities. His ward hosted four youth pop-up events through Lightfoot's summer initiative to increase activities for young people across the city.
Those "not only engage our youth and keep them doing something positive, but also you're not targeting them … whether you do an arrest or some report on them to make them seem like that target of the police … I think that's very critical," Moore said.
The curfew policy won't be a priority for police over time, Moore said. But he wants to continue to review the data to see if there's a long-term trend of more enforcement in certain districts, he said.
"We'll see over time, if they could change it. Sometimes those fights happen because it's a new initiative and they're pushed, but we'll see over a three-year period," Moore said.
Crutcher, on the other hand, said she hopes the city will meet with her and organizers from GoodKids MadCity to consider repealing the policy.
"Numerous courts — including the Seventh Circuit — have found youth curfews to be unconstitutional because they infringe upon young people's First Amendment activity, violate Equal Protection and can negatively implicate parent's constitutional rights," the group wrote in a letter to the city in July.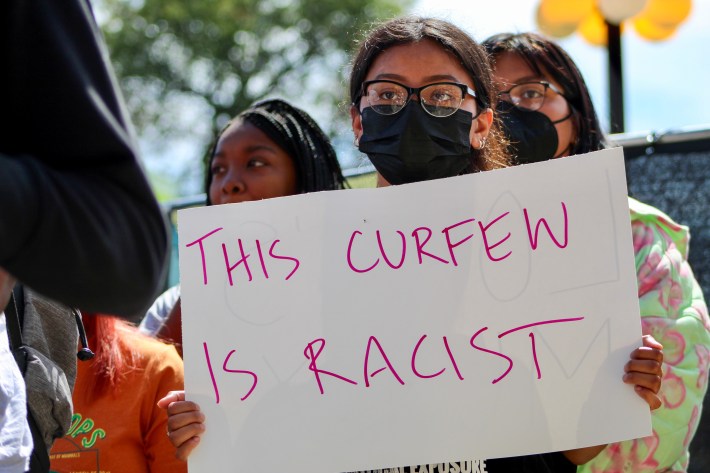 Lawsuits overturned curfews in Indianapolis and San Diego. Both cases argued those curfews did not narrowly serve a significant "governmental interest."
"We have not yet met with the city and our practice is before seeking court remedies is to try and meet each other in conversation about what's happening and solutions around that," Crutcher said.
The lawsuit will be filed if all avenues to schedule a meeting with the city have been exhausted, Crutcher said.
The Mayor's Office declined to comment on the proposed meeting.
Watch our "On The Block" TV show on The U, CW26 and MeTV.
Listen to "It's All Good: A Block Club Chicago Podcast":