ROGERS PARK — Far North side neighborhood groups and officials are organizing community events and programs, hoping to prevent violence this summer.
Neighborhood groups One Northside and Communities Partnering 4 Peace announced Tuesday their community safety plan, Shine a Light. The plan includes community events and programs to give kids a safe space this summer while creating violence intervention and mentorship efforts, officials said.
Plans include a flag football tournament in Uptown, a chess tournament in West Ridge, movie nights and Juneteenth celebrations in Rogers Park.
One Northside, the Uptown-based political and community organizing nonprofit, has been active in advocating for alternative policing strategies, including the passage of the city ordinance that created community policing boards in each city police district. The group also helped to elect progressive politicians who support further alternative policing strategies.
While those and other structural changes to address public safety are underway, One Northside and aligned groups also wanted to provide "short-term" options for bettering community safety this summer, said Rev. Lindsey Long Joyce, co-board president at One Northside.
"This summer, we're working hard to make sure that our young people have places to go, things to do and mentors to support them because our kids deserve that," Joyce said.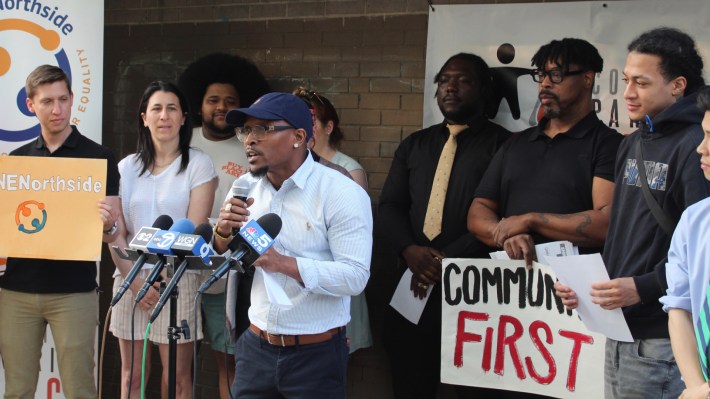 The announcement of the Far North Side community safety plan comes ahead of Memorial Day weekend, generally one of the most violent long weekends of the year.
It also came after a violent 24 hours on the Far North Side.
On Tuesday afternoon, a 33-year-old man was shot and killed in an Edgewater alley, police said. Minutes before that, a man was shot while walking in Uptown's Sunnyside pedestrian mall.
On Monday night, a 19-year-old Northwestern University student was seriously wounded in a shooting in Rogers Park.
Community organizers and elected leaders said Tuesday this level of violence cannot be normalized and communities can make positive steps to improve safety.
"We just can't continue on like this is normal," Ald. Leni Manaa-Hoppenworth (48th) said. "It's so important for us to know that when we band together we can build the community that we want to live in."
On top of community events, the coalition plans to hold direct intervention through mentorship and social justice programs.
Some of that work has been performed by Communities Partnering 4 Peace for years.
Communities Partnering 4 Peace will conduct nightly canvassing this summer of areas on the Far North Side experiencing violence. It will also work to expunge people's criminal records, help people obtain their GED certificate and offer financial literacy classes, said Khalil Cromwell, an outreach worker for the group.
The group has a program where it enrolls people eligible for house arrest and helps them get on their feet. It also recently started a mentorship program at Senn High School after violent incidents at the school, Cromwell said. A similar program, Parent Mentors, is in six Far North Side schools, pairing kids at risk of violence with adult guidance.
"Our mission is not only to step in when violence has has been committed, but to intervene and create options for our most vulnerable youth," he said.
One graduate of Communities Partnering 4 Peace's programs is 22-year-old Jacob Logan, an Albany Park native.
As Logan was being bonded out of jail, he was referred to Communities Partnering 4 Peace as a condition of his bond, he said. The group helped get him into a construction apprenticeship program and connect with college opportunities. He will likely take up those education opportunities in his efforts to be a professional studio engineer, he said.
"I wanted to avoid being in a bad predicament and … do better," Logan said of his life after being incarcerated. "I'm trying to bring positive things back to my neighborhood."
For more on the Shine a Light community safety plan, click here.
Listen to "It's All Good: A Block Club Chicago Podcast":