UPTOWN — Black Ensemble Theater is moving forward with its long-held goal of creating a cultural corridor along Clark Street with a media center, new performance spaces and affordable apartments for artists.
The pioneering theater company is asking the city's permission to build a massive development across from Black Ensemble Theater's headquarters at 4450 N. Clark St.
Named the Free To Be Village, the project would bring an arts and cultural destination to Uptown while forwarding Black Ensemble Theater's goals of advancing equality in Chicago, founder and CEO Jackie Taylor said.
The project calls for a combined media and technology center to open on the southeast corner of Clark Street and Sunnyside Avenue. A performance art and education center will also rise near the corner, while a building with housing and retail would be built just south, Taylor said.
The residential building would include 50 apartments that would be affordable for local artists. It would rise above ground-floor retail space that would house tenants and businesses that align with Black Ensemble Theater's goals of forwarding social justice, Taylor said.
A public plaza with performance space would be built along Clark Street, while decorative pavers would come to the intersection of Clark Street and Sunnyside Avenue, according to plans shared by the theater company. Public art by Black artists would line the street.
"It's my concept of a village that would take the mission of the theater — which is to eradicate racism — and propel it to the community on a much larger scale," Taylor said.

The media center, performance hall and educational facility would be built in the first phase of the project and housed in a modern, light-filled building designed by NIA Architects, Gensler and Site Design Group.
The residences would be built in a second phase, according to the plans.
Included in the arts center building would be a literary cafe, an archive room, a film screening room, a recording studio, an editing station, a dance studio and classrooms. It would specialize in hosting music, dance and theater classes as well as performances.
The classes would be available to people on a sliding payment scale and would include access to those who can't afford to pay, Taylor said.
"I'm an educator," Taylor said. "My firm belief in how to eradicate racism is through education, through co-existing together and through providing resources to enhance creativity."
The six-story residential building would have 50 apartments comprised of one- and two-bedroom units. The apartments would go above 13,000 square feet of retail stores.
There would be just less than 100 parking spaces in the combined development, with most of them in an underground garage while 21 street-level spots would be accessed through the alley.
The Free To Be Village has been in the works since 2009, when Taylor mentioned the project while pitching city officials on a $20 million theater and office complex on Clark Street. That facility, which is Black Ensemble Theater's current headquarters, opened in 2011.
More than 10 years later, the full development plan is moving forward. The plans were boosted by a $5 million donation from philanthropist Mackenzie Scott.
The budget for the development is estimated at $50-$70 million, Taylor said. Some of that money has been secured, but the theater company will seek funding from the city and state plus launch a capital campaign, she said.
The properties needed for the development, including the Japanese American Services Center, have been acquired, Taylor said. The Japanese American Services Center, whose building will be demolished and replaced, is moving to West Ridge.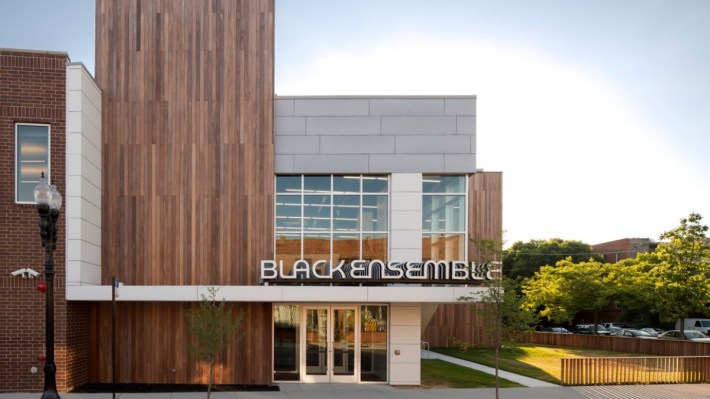 Black Ensemble Theater's development needs approval from the City Council as it requires a "planned development" zoning designation. A community meeting on the project will be held June 6, Taylor said.
If all goes according to plan, the project would break ground next year. When it fully opens, Taylor hopes her project proves a model for advancing social justice and the arts through development, she said.
"It's a strong example of how we as human beings are so much more alike than we are different," Taylor said. "When we come together, live together and create together, that we are the same."
Listen to "It's All Good: A Block Club Chicago Podcast":