LAKEVIEW — Ald. Bennett Lawson, the successor to former 44th Ward Ald. Tom Tunney, wants to lower the speed limit along a stretch of Wellington Avenue in Lakeview.
Lawson introduced an ordinance during his first City Council meeting Wednesday that would reduce the speed limit on Wellington Avenue from Sheffield Avenue to Halsted Street from 25 mph to 20.
That stretch of Wellington runs along Illinois Masonic Medical Center, Alexian Brothers Housing and Health Alliance and several apartment buildings.
"By lowering the speed limit in a heavily trafficked part of the ward, we can ensure our walkers stay safe," Lawson said.
Lawson has highlighted improving street safety for pedestrians, cyclists, drivers and other users as a priority for him in office. He recently conducted a survey of neighbors, which drew more than 2,000 responses mostly praising Lakeview's walkability.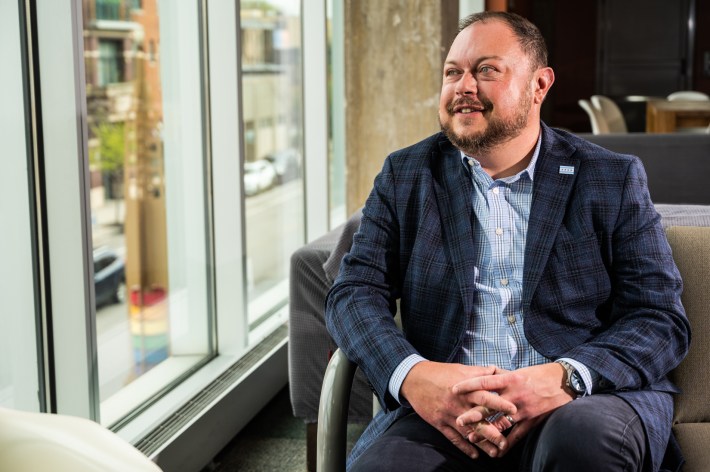 The speed limit measure was one of three ordinances Lawson introduced Wednesday, which was the first City Council meeting under Mayor Brandon Johnson. Twelve other new alderpeople also took to the council floor for their first meeting.
The other two ordinances Lawton introduced are aimed at protecting affordable housing and making it easier for some small businesses to open in Chicago.
The first of those ordinances would cement the city's Additional Dwelling Units pilot program and extend it across Chicago. The program allows homeowners to build new housing units such as coach houses and in-law apartments, units that have been prohibited since 1957 due to zoning law changes.
The second ordinance would update business regulations so personal and salon services — nail salons, beauty salons and barber shops — can operate within 200 feet of each other instead of the now-required 1,000 feet.
"When I speak with 44th Ward residents about the issues facing them and their families, I constantly hear concerns about how we can increase affordable housing options, help our small businesses thrive and improve pedestrian safety," Lawson said in a statement. "That's why I chose to introduce these ordinances as my first on Chicago's City Council."
Lawson was also named vice chair of the Committee on Zoning Landmarks and Building Standards. Tunney chaired the committee before retiring; the new chair is Ald. Carlos Ramirez-Rosa (35th).
Other committees Lawson will sit on include Ethics and Government Oversight, Environmental Protection and Energy, Health and Human Relations, License and Consumer Protection and Special Events, Cultural Affairs and Recreation.
Listen to "It's All Good: A Block Club Chicago Podcast":