CHICAGO — Recent research showing half of Chicagoans witness a shooting by the time they turned 40 is further proof of how gun violence is borne out of systemic neglect of Black and Brown neighborhoods, violence interrupters say.
The study, published this month, explored the disparities by age, race and gender in who was most likely to have witnessed a shooting.
Researchers from University of Cambridge, and Oxford and Harvard universities followed 2,418 Chicagoans, split among groups of people born in 1981, 1984, 1987 and 1996. The study was conducted over 25 years.
Twenty-five percent of the white Chicagoans surveyed said they're witnessed a shooting before they turned 40, while 56 percent of Black and Latino Chicagoans had seen a shooting at that age. 
About 7.5 percent of Black respondents and 7 percent of Latino respondents said they'd been shot themselves by age 40, compared to 3 percent of white respondents.
Across all races, 50 percent had been exposed to gun violence by age 40, according to the study. The average age of those who'd seen shootings was just 14 years old, while the average age for people who had been shot was 17 years old.
The implications on public health are be wide-ranging, researchers said.
" … [T]he sustained stress resulting from routine exposure to firearm violence can take a cumulative physiological toll on the body, and is associated with damage to the body's regulatory system and the acceleration of aging and susceptibility to disease," researchers said. "The stress from chronic exposure to firearm violence may also contribute to subsequent violence, through its impact on aggression, or even through the normalization of violence."
UCAN president Frank Perez, a gun violence interrupter on the West Side, said the numbers were a shock even to him.
Organizers like Perez long have warned about the mushrooming toll of gun violence and other social challenges from disadvantaged neighborhoods. Groups have launched mental health programs and other initiatives to address that psychological trauma and pushed for more funding to support community interventions that prevent violence.
But the research underscores how gun violence carries long-term consequences for communities of color, Perez said.
"Anyone that's seen someone they got shot, that will traumatize you for the rest of your life," Perez said. "This is what decades of neglect kicking the can down the road has caused for our communities."
In the study, lead researcher Charles Lanfear said long-term exposure to gun violence can lower life expectancy and diminish life prospects, ranging from people having lower test scores to diminished life increased risk of heart disease. 
Lanfear said the two biggest flashpoints came around the early '90s with a demographic bump mixed with high poverty levels and rises in gang crime from the crack epidemic, and the COVID-19 pandemic, which led to record-high gun deaths.
"We expected levels of exposure to gun violence to be high — but not this high. Our findings are frankly startling and disturbing," Lanfear said. "A substantial portion of Chicago's population could be living with trauma as a result of witnessing shootings and homicides, often at a very young age."
Other recent research concluded young men in West Garfield Park experience gun trauma tantamount to wartime violence.
The study found 18- to 29-year-old men in 2020 and 2021 were more likely to be killed in a shooting in the 60624 ZIP code, which largely covers Garfield Park, than a U.S. soldier was in the Afghanistan war or a soldier in an Army combat brigade that fought in Iraq 2003-2009.
Nonviolence workers said at the time that violence can desensitize people and lead to depression, social withdrawal and other mental health complications.
"These impoverished, long-neglected communities have young people thinking they don't have a life for themselves," Perez said. "There's not much of a hope for a future for them."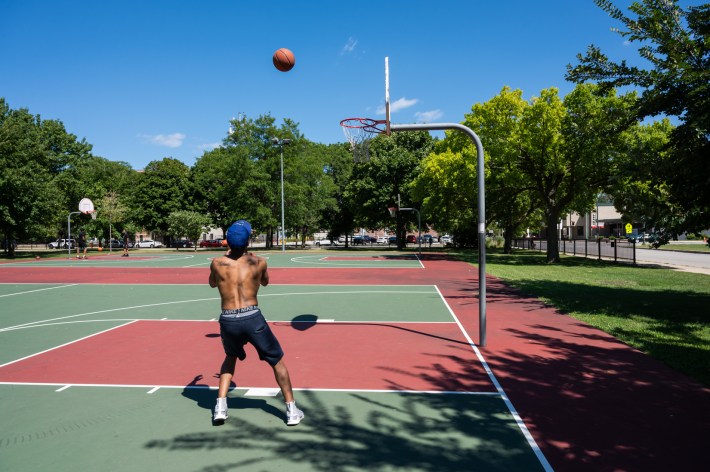 Jahmal Cole, founder of the My Block, My Hood, My City youth initiative, said exposing children to more opportunities and cultures could put them on a healthier path that can show Chicagoans a life of potential beyond violence.
Cole was shot at in two incidents in 2021. He said he still has PSTD from those close calls, as drivers who slowly approach him make him cautious and hearing fireworks or bottles pop open makes him uneasy.
Cole said the ubiquity of shootings make it an everyday issue people live with. Kids grow up seeing things such as bulletproof windows for school lunches or designer-branded caskets for teens killed by guns, he said.
"Gun violence is a national epidemic. When you have poorly funded schools and disinvested communities, it is a perfect breeding ground for it," Cole said.
On top of field trips to neighborhoods to try food and other activities, Cole believes reinvesting within areas on the South Side to give young people extra opportunities would be beneficial. This includes new basketball hoops in local parks, which have been gradually removed.
"Democracy starts in our backyard," Cole said. "Once the kids see options, they will want to pursue them after having exposure."
Listen to "It's All Good: A Block Club Chicago Podcast":