GREATER GRAND CROSSING — Ahead of the holiday weekend, South Side community groups organized events to engage young people in constructive activities.
In Grand Crossing's "Pocket Town," groups held a youth democracy day Friday in Hoard Park, organizing a day of lectures, mentoring, performances and food. In South Shore, groups came together for Peace Over East, an effort to keep watch over an area already reeling from a recent mass shooting.
Despite the persistent shootings throughout the city — culminating in the most violent weekend so far this year, with more than 100 people shot in Chicago — organizers say these violence prevention interventions work. They connect people with role models and provide emotional support to people most at risk of committing or being a victim of violence.
But their work will remain limited unless public officials seriously invest in these programs, organizers said. If city leaders secured funding for "programs that are bringing about viable long-term solutions," then found ways to scale those programs, it would be far more effective than showing face at scattered community events, said Anthony Wright, CEO of Ring of Hope in Greater Grand Crossing.
"Them showing up for a photo op is not really effective when there is no long-term relationship, when people don't actually know them," Wright said. "Many of our young people wouldn't even recognize a public official if they showed up in person."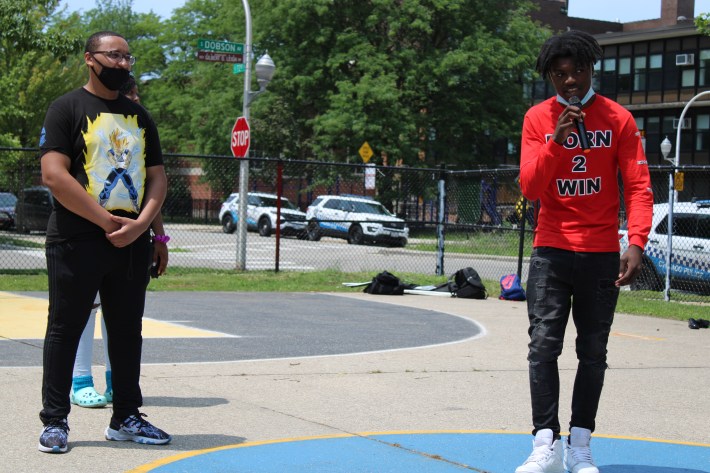 Building Lasting Connections
Arthur Reed, executive director of the Second Chance Initiative group in South Shore, volunteered with about 20 other residents this weekend for the Peace Over East initiative, announced after a June 27 mass shooting on 71st Street.
The residents' strategy to limit violent crime in South Shore over the holiday weekend included a movie night in Hasan Park, a community patrol of the gas stations at 67th Street and Jeffery Boulevard and a caravan roaming the neighborhood to stop potential violence.
Still, at least three people were shot in separate incidents Friday through Monday in South Shore.
Bringing that total down to zero in the weeks to come will require continued outreach and programs that expose people "at risk of being in a violent incident" to new experiences in their communities and beyond, Reed said.
"Not to discredit the work we do with other youth, but the driving force [in reducing shootings] are the guys who are most likely to commit violence or be a victim of violence," he said. "We find them something to do, and everything else will follow suit."
Anti-violence workers must consistently be there for the community's "most at-risk youth," not just on high-profile weekends, Reed said.
Organizers of the youth democracy day in Pocket Town will return to the area for the next seven Fridays, CHAMPS Male Mentoring founder Vondale Singleton said. They look to involve kids in a community-wide effort to ensure "people feel safe," he said.
"We need an all-hands-on-deck approach," Singleton said. "Now we're saying, 'What do we need to do to keep the momentum going?' Because we know what we're up against."
Ring of Hope offers boxing, basketball and a media lab for students to "express their anger and emotions" through music, podcasts and more. The programs were open for their regular sessions during the holiday weekend.
But programs and outreach, even when offered consistently, won't stop youth from falling victim to gun violence, Wright said.
"Along with the programs, we have to address some of the mental health issues with our young people," said Wright, a Chicago Public Schools social worker. "Just giving them a basketball or a microphone alone does not address some of the root issues that are going on that are systemic in their lives."
Diante, a rising freshman and Future Ties participant who requested not to use his last name, seconded the need for wraparound supports alongside engaging activities.
Future Ties, an after-school program based out of Parkway Gardens in Woodlawn, is a useful resource for kids as it offers "help with yourself — not just work and stuff, but your emotions and feelings," Diante said.
Young people's need for emotional support and consistency is why Jonathan Ross, CHAMPS youth president and a rising high school senior, plans to maintain relationships with his friends and peers in the program after graduation. He also plans to support his community members' mental health by studying to become a psychologist.
"I don't want to leave and then have all my people back here still struggling," Ross said. "People go through a lot of things that they have trouble speaking up about, and I think it's important that you have someone to express those emotions to."
'Sustain These Relationships Long-Term'
Mayor Lori Lightfoot and Supt. David Brown have repeatedly said violence has surged because the courts are being too lenient with violent offenders and letting people out on bail. Research has discounted those claims — but Brown and Lightfoot repeated them as recently as Tuesday at separate news conference.
Some South Siders said the leaders are missing the bigger picture.
The problem begins with disinvestment in underserved communities, residents and community group leaders said. They suggested a solution: Fund community groups so they can do long-term, impactful work.
Asiaha Butler, co-founder of the Resident Association of Greater Englewood, an organization that supports Englewood residents, said the leap in neighborhood crime can be traced to "economic starvation" in the community. 
Kids "are being raised in an environment with a sense of lack," Butler said. "Then they go out to their community, and they're like, 'Wow, like it doesn't look like anybody cares in this community.' That doesn't help the psyche of our young people growing up to make them feel valued or that anybody cares."
A Thursday mass shooting happened only steps from Butler's home, she said. When she heard the quick succession of shots, she said she couldn't believe it was a gun and not fireworks. Butler's daughter, fearful, asked if they could leave town before the holiday weekend.
"My family and I left for the weekend because [my daughter] was so traumatized," Butler said. "She didn't even see what happened, but she heard over 40 shots." 
The entire community has to deal with trauma — and until it's addressed, "sporadic violence" will happen, Butler said.
But if more community organizations were supported, they could shift the narrative, Butler said.
"There needs to be more support for community organizations that are creating pockets of peace and transforming their block in Englewood," Butler said. "There's very little talk about us. If we got more support, communication and guidance from the city, elected officials and even the police, I think we could get rid of as much crime on these blocks one block at a time."
Though Lightfoot has dedicated more funding to violence interrupters than prior mayors — including $36 million in 2021, plus $20 million for a mental health program — that money pales in comparison to the nearly $1.7 billion budgeted for the Police Department this year.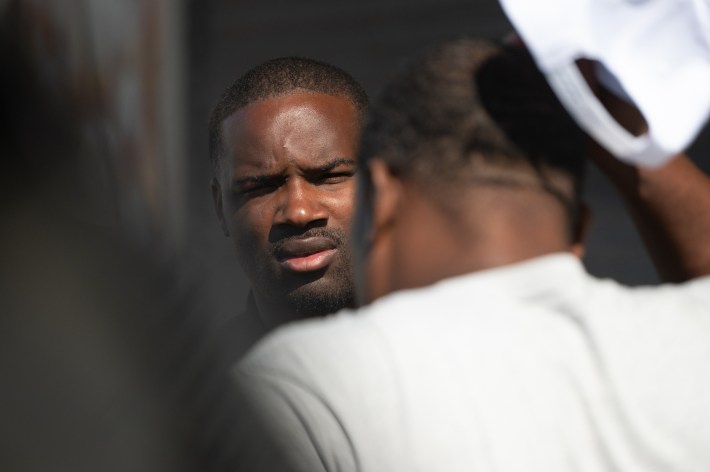 Charles McKenzie, a community activist known for his work with the Englewood First Responders and the self-proclaimed "Mayor of Englewood," said he's tired of waiting on city officials to find a solution. 
On Friday, McKenzie's 1-month-old niece, Terriana Smith, was shot in her head by a stray bullet during a mass shooting in the 6500 block of South Halsted Street. McKenzie said his niece was "doing much better and breathing on her own" on Tuesday.
McKenzie said he does everything within his means to help his community during moments of pain and joy. When streets have potholes, he said he buys the tools to fix them. When streetlights are out, he calls the city until they're back on. And if neighbors are hungry, he feeds them. 
But at the end of the day, McKenzie said he's only one man. 
"I'm not going to lie to anybody and say we can stop all the shootings that happen in our community — it's impossible for anybody to stop it all," McKenzie said. "But we can decrease the shootings and stick together to make a change and a difference.
"You have to be out there, boots on the ground, and start letting these people know that we need a change. We need more funding for real organizations, not organizations that get million-dollar grants that are not out here."
As conversations about crime in the city continue, McKenzie said city officials should begin by tackling the lack of neighborhood resources, like mental health facilities and parks.
Despite what happens, he said he's going to continue the work to make his community a better place. 
"I've been doing things on my own with money out of my own pocket since I was 15 years old," McKenzie said. "I fight so hard because I believe in this community. I love Englewood. When it's a passion and you love what you do, not for the money or the clout, you're going to do it."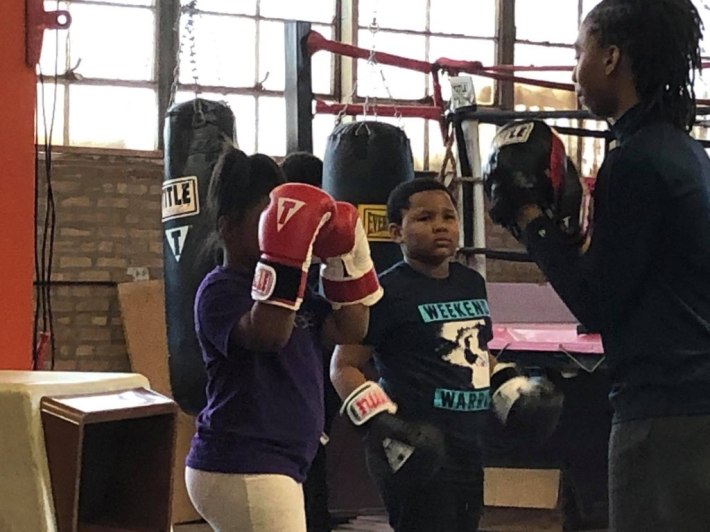 Leaders said the funding can't be a one-off.
"Sustained resources" are needed to ensure initiatives like Peace Over East are successful, Reed said. Organizers have not yet secured "concrete" funding to continue the campaign beyond the holiday weekend, he said.
"That would be the biggest thing we need to address — [partner organizations] need to be funded so they can sustain these relationships long-term," Reed said.
Ring of Hope's "big push for the summer" will be fundraising to open up a mental health facility on the South Side, Wright said.
The organization is working with the Race Against Gun Violence — a Sept. 23 run that aims to raise funds for and build relationships between violence prevention activists — to secure donations for the facility.
Ring of Hope has been active since 2010 with little consistent funding beyond what's provided by local church Just Christ Ministries, though the program has "been able to do a whole lot with very little," Wright said.
Part of the problem is a lack of data-driven studies that would help determine which programs are most effective, Wright said.
In addition, "neighborhoods are kind of in silos now," and leaders aren't necessarily looking for ways to take ideas like the Pocket Town youth democracy day or Peace Over East and expand them citywide, he said.
South Side communities need "good energy" and the support of local politicians to keep kids safe from gun violence, Diante said. But as they await action and funding from local leaders, the youth are far from helpless in working to improve their communities.
"We can help speak up and say what we need," Diante said.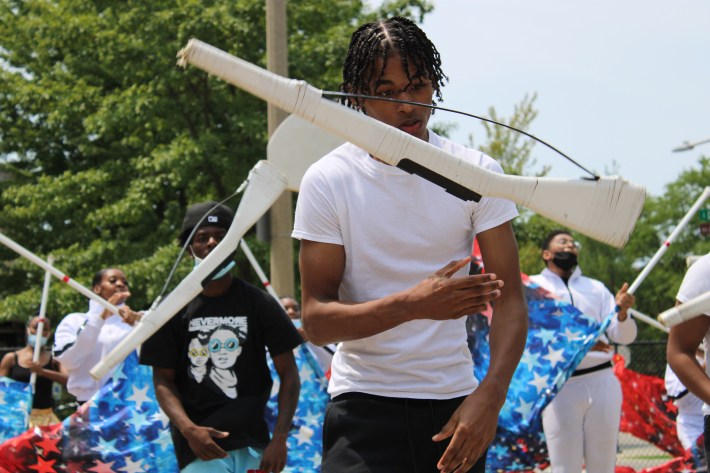 Subscribe to Block Club Chicago, an independent, 501(c)(3), journalist-run newsroom. Every dime we make funds reporting from Chicago's neighborhoods.
Already subscribe? Click here to support Block Club with a tax-deductible donation.
Listen to "It's All Good: A Block Club Chicago Podcast" here: