NORTH LAWNDALE — West Side neighbors are still waiting for the Park District to decide if Riot Fest will be held this year at Douglass Park, with no clear answer after another meeting between residents, officials and fest organizers this week.
But the festival has gained a prominent supporter: Ald. Monique Scott (24th), who represents the area.
North Lawndale residents and organizers of the large music festival pleaded their cases — again — at a Park District board meeting Wednesday. Neighbors have for years clashed with Riot Fest, saying the private event blocks them from portions of a public park and hurts the community, while organizers have said they try to partner with and benefit neighbors.
The disagreements have repeatedly come up at meetings — some of them turning loud and chaotic — in recent months as Riot Fest organizers try to get the Park District's permission to hold the event this September, while residents want it gone. The debate continued Wednesday, though the meeting was not as charged as past ones.
The Park District has not yet signed off on the fest amid the debate between neighbors and organizers. District spokespeople did not immediately answer Block Club's questions about when officials will make the final call.
"It is insulting that the city allows Riot Fest in a place where [there is still] evidence of the historic 1968 fires alongside sustained economic and social disinvestment," resident Denise Ferguson told the board Wednesday. "Our blight should not be easily mocked."
Neli Vasquez Rowland, Riot Fest's economic development director, said the organizers are working to build a stronger relationship with the community by prioritizing safety, providing internships to youth, highlighting local talent and making the park accessible.
"Our dedication to open dialogue, collaboration and creating opportunities for everyone is at the heart of our work," Rowland said. "In the coming weeks, we will make even more exciting announcements."
Riot Fest's organizers will hold a virtual community meeting 6 p.m. June 7, Vasquez Rowland said. A link and more information about the meeting will be provided at a later date.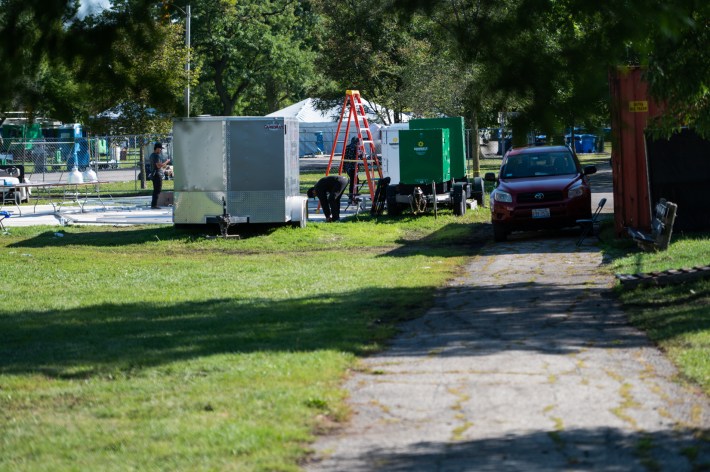 Riot Fest wants Park District clearance to hold the festival Sept. 15-17 at the park, with an expected crowd of 50,000 people per day.
But neighbors have long complained the festival and other events in the park block public access, damage the grounds, displace youth sports teams and attract large crowds that create safety risks.
Mount Sinai workers at prior park meetings said they watched crowds block ambulances from the hospital campus last year, which could have endangered people who need help. One neighbor at a previous meeting said she felt like a prisoner in her home during the festival, as a two-minute drive could take up to 30 minutes when the festival occurs.
"The hospitals cannot be relocated during the festivals," resident Rebecca Wolfram said in a statement Wednesday. "Taking away this space, which belongs to the people, is an issue that cannot be solved by private donations to charitable causes or any other cynical public relation displays."
The protests reached a pitch last year, when access to part of the park was blocked for large swathes of the summer and early fall for three private music festivals: Lyrical Lemonade's Summer Smash, Heatwave Festival and Riot Fest.
Summer Smash and Heatwave have relocated due to the backlash, but Riot Fest still plans on returning.
Riot Fest has tried to win over neighbors by offering benefits — including free tickets, temporary jobs, park cleanups and beautification efforts — and meeting with them.
Vazquez Rowland on Wednesday said the organizers also want to have constructive dialogue with surrounding hospitals.
The event's supporters now include Scott, as well as local groups, including the Douglass Park Advisory Council, the North Lawndale Eagles football team, Little Village Foundation, the Illinois Hispanic Chamber of Commerce and the Chicago West Community Music Center, Vazquez Rowland said.
Scott on Thursday confirmed her support for the festival, saying it brings a positive economic impact to the neighborhood.
"I know for a fact that Riot Fest is an asset to North Lawndale," Latasha Parchman, Douglas Park Advisory Council president, told the parks board Wednesday. "You will always have pros and cons, but when you have an organization that is giving back to the community, I want the board to think about it."
Listen to "It's All Good: A Block Club Chicago Podcast":