CHICAGO— In one of her final moves as mayor, Lori Lightfoot ordered city officials to center environmental justice and health in their decision-making, and Mayor-elect Brandon Johnson is pledging to continue that work after he takes office next week.
Lightfoot signed an executive order Wednesday committing the city to environmental justice efforts and "making consideration of health and other community impacts a priority across departments and in City policies."
The mayor ordered city officials to complete a cumulative impact assessment by Sept. 1 and continue the working group overseeing that assessment, among other points.
"While there are still years of work ahead, together we have laid the groundwork to remedy the harms caused by pollution and other burdens for generations of residents in environmental justice communities," Lightfoot said in a statement. "Now we pass the baton to the incoming administration and City Council and look forward to continued progress on these critical issues."
The assessment will identify neighborhoods most impacted by industry and pollution, officials said. The findings will inform leaders as they draft a cumulative impact ordinance, officials said.
RELATED: Air Pollution Harmful To Health Is Highest Along Lakefront, Highways, New Report Says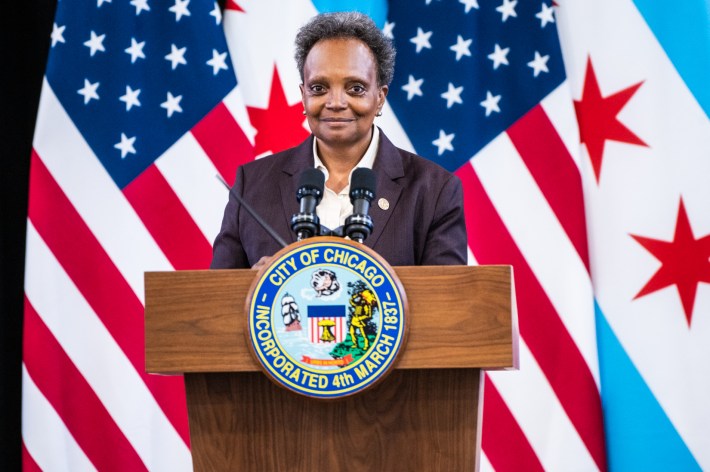 Such an ordinance would require the city to consider both an industrial facility's environmental impact and the environmental burden from nearby facilities before making zoning, permitting and enforcement decisions.
"With this [assessment], Chicago is reckoning with the impacts environmental justice communities face every day — and offering our City's leadership a roadmap to improve health, opportunity and quality of life," said Dr. Allison Arwady, commissioner of the Chicago Department of Public Health.
Lightfoot directed health officials to propose a cumulative impact ordinance in 2021. Advocates and local leaders say the ordinance would help improve residents' health in communities overburdened by pollution.
The executive order also directs officials in the city's housing, planning, health, and other departments to create a plan by Sept. 1, outlining how each department will reform their policies and practices to "better protect environmental justice neighborhoods" from pollution and health burdens.
It also directs the city's chief sustainability officer to hire a dedicated environmental justice coordinator, who will work to improve residents' participation in and awareness of the city's zoning, permitting and enforcement decisions.
Lightfoot touted the We Will Chicago plan, the 2022 Climate Action Plan, the Healthy Chicago 2025 plan, and $188 million in environmental investments through the Chicago Recovery Plan as "meaningful projects and policy changes" toward environmental justice she's overseen during her four years in office.
RELATED: Chicago's Health Department Does Little To Deter Repeat Polluters, Report Finds
Johnson welcomes the executive order "and will build on this progress in my administration," he said in a statement.
"This victory would not be possible without the tenacity of grassroots organizers and community members who have long fought for environmental justice and holding the city accountable," Johnson said.
The executive order comes as the city negotiates a settlement with the federal government, after the feds determined the city's systematic placement of polluters in Black and Brown neighborhoods was racist.
City Hall at first called the findings "absurd" and dared housing officials to punish the city before backing off and beginning settlement talks last year.
Residents have blasted the Lightfoot administration for breaking promises and failing to be transparent on issues of environmental justice, like the Hilco demolition that covered Little Village in dust and General Iron's plans to move its metal shredding operation to the Southeast Side.
It's been "exhausting" pushing city officials to implement environmental justice reforms, and Lightfoot's order is a sign "we're headed in the right direction," said Gina Ramirez, a Southeast Side resident and environmental activist.
But Ramirez "won't sleep well at night" until the city passes an ordinance which "tackles the root of this problem," she said.
"I would love to stop being so reactive in this organizing work and be proactive for clean, green solutions to our neighborhoods who have been sacrifice zones … for far too long," she said.
Ramirez joined activists across Illinois, Sen. Celina Villanueva and Rep. Sonya Harper in calling for the state to pass an "environmental justice act" Thursday, the day after Lightfoot's order.
The act would strengthen the state's regulations around industrial permitting, such as requiring state regulators to consider the cumulative impacts of polluters seeking to locate in environmental justice communities — similar to the goals of the city's assessment.
The city and state's efforts are "a long time coming," and offer hope that officials can work together around environmental justice after years of "pointing fingers" at each other, Ramirez said.
"Everything's culminating at once," she said.
Listen to "It's All Good: A Block Club Chicago Podcast":