CHICAGO — Lakefront neighborhoods and communities near Chicago's major highways see the highest concentrations of certain kinds of air pollution, according to a new Northwestern University report.
Neighborhoods near expressways are most polluted with nitrogen dioxide and fine particulate matter like smoke and dust, while lakefront residents breathe in the most ozone, the report found. All of the pollutants irritate the respiratory system.
A team of Northwestern researchers came to these results by creating a simulation that estimates air quality at a neighborhood level every hour — the first simulation of its kind, they said. It shows where pollutants form, how they spread and how they change due to weather, sunlight and other gases in the air.
The simulation shows pollution by 1.3-kilometer blocks rather than the 12-kilometer blocks typically used in similar models, said Anastasia Montgomery, the report's lead author and a doctoral candidate at Northwestern University. Measuring pollution by such a small area makes the data "socially relevant," Montgomery said.
The report was published in the "Journal of Geophysical Research: Atmospheres." For the full report, click here. For a map showing the simulated results for nitrogen dioxide, ozone and particulate matter, click here.
Some of the results "are pretty intuitive," as it's no surprise to find higher nitrogen dioxide levels near highways, Montgomery said.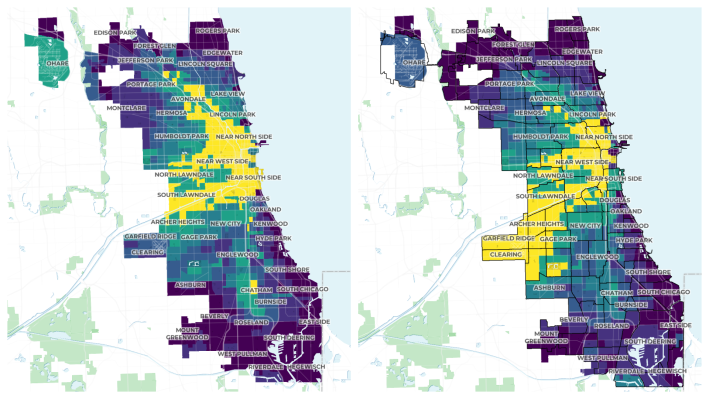 Large swaths of industry on the South and West sides — the subject of a civil rights complaint for which the city is negotiating a settlement — can explain the model's findings on that front, Montgomery said.
But other results may be surprising to Chicagoans unfamiliar with the science behind air pollution, Montgomery said.
"Lake Michigan acts as a basin for ozone because ozone's precursor pollutants get sucked onto the lake, have nowhere to go — and it creates ozone," she said. "A lot of people like to think if you're by the lake, since there are no pollution sources, it's a very clean breeze coming in."
The federal government only has a few sensors in the region for each pollutant. For example, the only nitrogen dioxide sensors in the city are near the Kennedy Expressway and in Ashburn. That means pollution data for areas in between those sensors must be estimated, Montgomery said.
The model helps to fill in those gaps by using emissions, weather and other data "to simulate what physically and chemically is possible between those" monitors, she said.
The Northwestern team will continue the line of research by further investigating the health effects of air pollution modeled in the simulation, Montgomery said.
"I don't like to work on projects that won't result in some sort of good," Montgomery said. "Who's living in an area is just as important as the level of pollution, if you're thinking about the social side of things."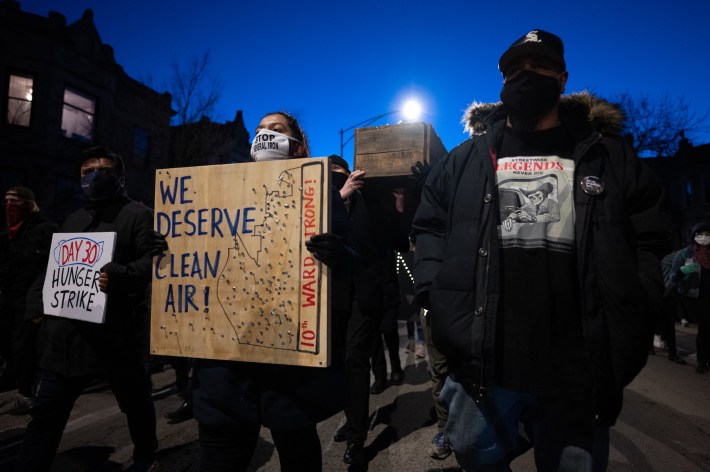 Leaders 'Know Where The Problems Are'
Because of a relative lack of air quality sensors, researchers could check less than 1 percent of the land area modeled for the project against real monitoring data, Montgomery said.
Models like the Northwestern team's are helped by having as much actual data as possible, and "citizen science" projects like PurpleAir monitors can fill in the gaps between federal sensors, she said.
"Models are great — they're useful to test out policies and what-if scenarios," Montgomery said. "But it's also important to have a really robust monitoring network to capture things that are perhaps unexpected."
Detailed monitoring data would not only improve models, but could end up serving as "a validation of policy" as officials try methods to reduce pollution, said Anthony Moser, board president of Neighbors for Environmental Justice.
"If the city starts acting in a serious way about reducing air pollution, we should see those results … measurably through improved air quality readings," Moser said.
Moser's group maintains PurpleAir monitors around the South Side near MAT Asphalt, near Armour Square Park, in Gage Park and near McKinley Park, as well as one near outgoing Mayor Lori Lightfoot's Logan Square home, Moser said. The monitors are also "a great tool for community engagement and outreach," he said.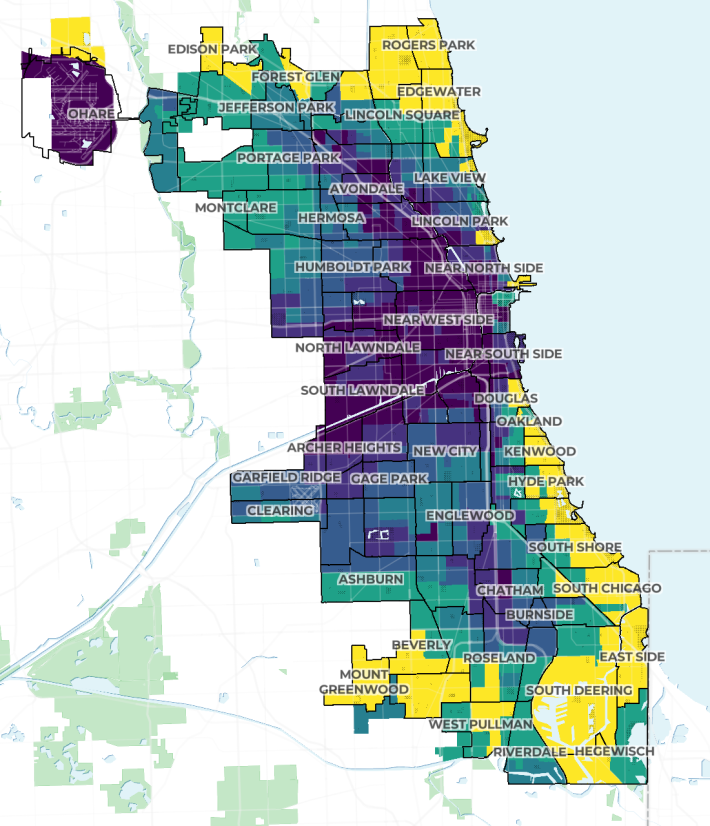 "It helps people think about the quality of the air and makes something that's normally kind of invisible into something that feels real and quantifiable," Moser said.
But Moser, who earlier this year released a report which found Chicago's health department does little to deter repeat polluters, said regulators already have the they need data to take action.
The Northwestern findings that pollution is higher near highways and in South and West side neighborhoods "are consistent with previous reports," according to the project summary.
The city's Air Quality and Health Report found in 2020 South and West side communities "bisected by major highways with high concentrations of industry" are overburdened with pollution.
The American Lung Association's 2023 State of the Air report found the Chicago metro areas's ozone and year-round particle pollution levels are among the 25 highest in the nation.
"When it comes to the city and the state, they know where the problems are, they know where the air quality is bad, they know where people are being hurt by this," Moser said. "What is needed from them is not more data, but more action."
With these results, the Northwestern study and more, it's clear officials need "to be actively thinking about how to reduce the amount of vehicular traffic that is generating emissions," Moser said.
The data also speak to the need for a cumulative impact ordinance, which would require the city to consider a business' environmental impact amid its context among environmental impacts of nearby businesses before making permitting decisions, he said.
Listen to "It's All Good: A Block Club Chicago Podcast":