EAST SIDE — Earlier this year, as Southside Recycling's attorneys fought the city's decision to deny the metal scrapper a permit to open on the Southeast Side, they highlighted the track records of the scrapper's related companies.
Existing facilities on the East Side campus run by the scrapper's owners pled guilty to only one environmental violation from 2009 until Southside Recycling's denial in 2021 — a 2019 permit violation after dust left the campus grounds, according to public records.
The company in violation, Reserve Marine Terminals, paid a $1,000 fine, and the city dropped a separate air pollution charge. With just one guilty plea in 12 years, health officials had no basis for barring Southside Recycling's owners from opening the new facility, company attorneys said.
But the attorneys' arguments likely say more about Chicago's lax environmental enforcement than they do about industrial facilities' good behavior, according to a report from the activist group Neighbors for Environmental Justice.
Dropped charges, light fines and a willingness to negotiate tickets with large companies are common themes in the Chicago Department of Public Health's environmental enforcement over the past decade, the "Ineffective by Choice" report reads.
Anthony Moser, board president of Neighbors for Environmental Justice and the report's author, pored over 20 years of public records and came to a striking conclusion: The city's enforcement methods give industrial businesses little incentive to follow environmental laws.
"There aren't a lot of short-term political benefits to aggressively prosecuting companies for environmental violations," Moser said. "The political willpower isn't there."
In another instance, city officials pushed Pullman Innovations in South Deering to settle more than a dozen air pollution, emissions, nuisance and other citations from February-July 2020, according to the report.
Neighbors and city inspectors said smells radiating from the facility, which produces vegetable oil for chicken feed and biofuels, were like "very sour, acidy vomit," "spoiled food" and "garbage, feces and rotten eggs." The smells "instantly made me nauseous and made me want to vomit," one inspector wrote in their report.
The city offered to settle the citations for an $84,000 fine and a requirement to install odor controls. Pullman Innovations rejected the settlement — even after city officials offered to cut the fine to $42,000.
After further negotiations, the city dropped all charges relating to air pollution and emissions. Pullman Innovations pled guilty on Feb. 3, 2022 to eight other citations, including seven nuisance charges, and paid $12,000, according to the report.
On Feb. 4, 2022 — and at least several other times over the next several months — complaints and inspections noted strong odors leaving Pullman Innovations and spreading into South Deering.
Pullman Innovations officials could not be reached for an interview. The company's owners have installed some odor controls and will continue to install more, as the owners are "committed to do the right thing for the neighborhood," Bob Foster, managing director of Pullman Global, told the Sun-Times.
Reserve Management Group officials, who own Southside Recycling, declined an interview through a spokesperson.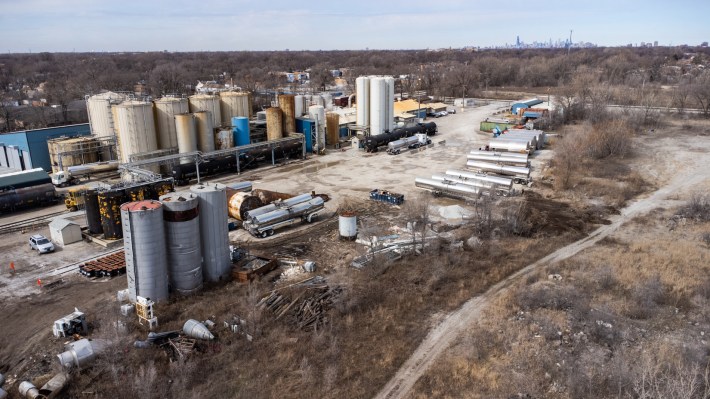 'These Industries Get A Slap On The Hand'
The Pullman Innovations situation is reflective of a wider trend, the report reads. Since 2012 — when Mayor Rahm Emanuel closed the Department of the Environment — the city's prosecution of environmental violations has been cut in half, according to public records.
Citations for air pollution — which contributes to Chicagoans' respiratory problems, cancers and premature deaths, per the city's own research — have dropped 90 percent over the past decade-plus.
The declines are due in no small part to the city's enforcement strategy, as health officials have explicitly said they ease up on polluters after they've earned a few citations, according to the report.
"Typically, we will issue no more than three tickets for a existing issue to better force compliance when a facility is slow to respond and usually we can get an issue resolved," assistant health commissioner Dave Graham wrote to Moser in January 2022.
City code instructs the health department to count every day a facility violates a regulation as a separate infraction.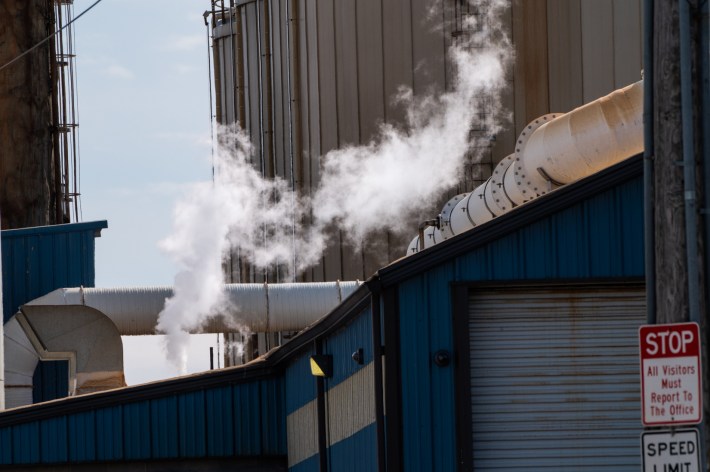 But the health department "needs to balance its enforcement activities to ensure compliance and keep its legitimacy at Administrative Hearings," the city court where virtually all environmental enforcement takes place, Graham wrote.
The report calls the city's strategy of not issuing more than a few tickets at a time the "Dave Graham Rule." The "rule" treats companies accused of violating city ordinances much differently than individuals in the same situation, advocates said.
"If you get pulled over for speeding, you try telling the officer, 'You can't give me a ticket — I've got three from last week that I haven't paid yet,'" Moser said.
Meanwhile, the health department has consistently enforced more minor violations around unclean construction sites, failure to use mesh on construction site fences and failure to install a proper chain-link fence around construction sites. They're among the top five charges to which companies have most frequently pled guilty since 2002.
Graham — whom former Inspector General Joe Ferguson recommended be fired for his role in a botched demolition that left Little Village coated in dust — declined an interview when reached directly.
He told Block Club to arrange an interview through the health department's spokespeople, who did not facilitate one after several requests.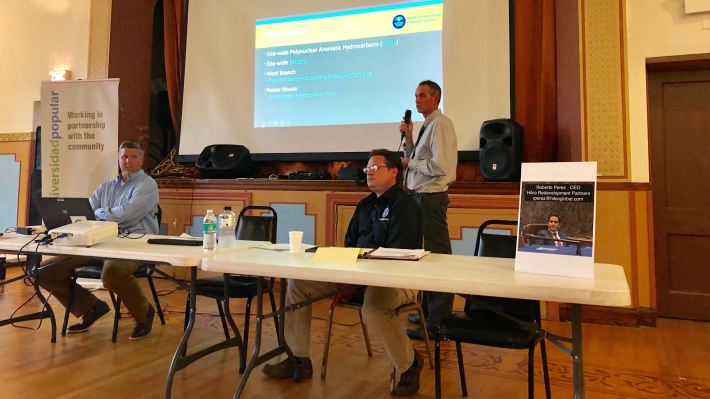 Even when officials do stack charges against repeat polluters, they can spend months or even years in court prosecuting those charges. The city will often settle with the largest industrial facilities without finding them guilty, according to the report.
In 2021, Sims Metal Management in Pilsen — the only large metal scrapper open in the city — paid $18,000 to settle 30 citations it racked up over the course of four months the year prior.
The health department dropped all charges as part of the settlement. That means 30 allegations relating to air pollution, nuisances, unpermitted dumping and vehicle exhaust aren't reflected on Sims' official record as officials consider whether to grant the company a new permit.
"We get ticketed as human beings, but these industries get a slap on the hand and get [their citations] capped," said Cheryl Johnson, executive director of People for Community Recovery in Riverdale. "Nothing should be capped in this community when it comes to public health."
The city's willingness to negotiate with companies it's repeatedly ticketed can also negatively affect state and federal regulations, which may rely on a company's track record with its home city as a starting point, Moser said.
"It's not that just [health officials] are failing city-level enforcement, they are preventing state-level or federal kinds of things from having an impact," Moser said. "They're not creating that ground-level evidence of what is actually happening in the neighborhood."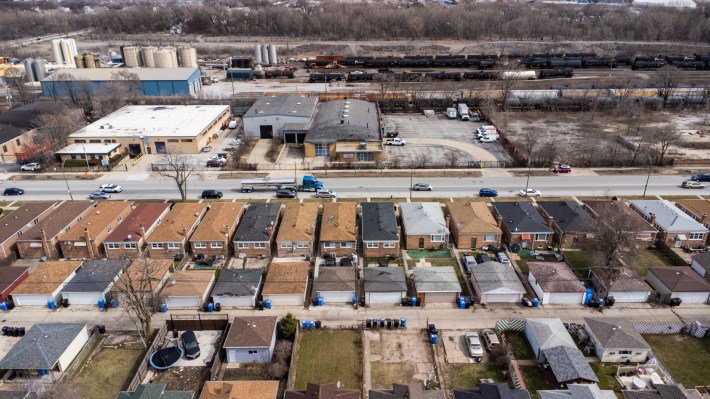 'Nothing is really moving inside of City Council'
The city has a range of options for beefing up its environmental enforcement after years of decline, according to the report.
The next mayor should oversee the revival of the Department of the Environment, Moser said.
Emanuel shuttered the department in 2012, and outgoing Mayor Lori Lightfoot failed on her 2019 campaign promise to revive the department, though she created a 10-person Office of Climate and Environmental Equity last year.
"We need a place in city government that is going to be able to create policy, to ensure that we have the proper systems in place" for environmental protection, Ald. Rossana Rodriguez-Sanchez (33rd) said.
Though enforcement was stronger when the environmental department was open, it was "underfunded and had the same problems of political will that we're still talking about" as the health department has taken on many of its responsibilities, Moser said.
A revived Department of the Environment should have at least a $10 million budget to effectively enforce city laws — such as citing polluters for every day they're found in violation, he said.
Advocates and local leaders are also pushing for a citywide cumulative impact ordinance, which they say would help improve residents' health in communities overburdened by industry and pollution.
Such an ordinance would require the city to study not only how a proposed business would impact the environment, but also its context among the environmental impacts of nearby businesses.
"Environmental consideration can't just be something that's happening after the fact," Moser said. "Pollution adds up over time. You can't keep permitting new facilities when you can't even regulate the ones you've got, and you're not considering the impact of the ones that are already there."
Lightfoot directed health officials to propose a cumulative impact ordinance in 2021, but city officials and advocates are still hashing out the text of a proposal, supporters said.
"I feel like nothing is really moving inside of City Council at this point," Rodriguez-Sanchez told Block Club late last month after calling for a cumulative impact ordinance.
A spokesperson for Ald. Samantha Nugent (39th), the acting chair of the city's environmental protection committee, did not respond to requests for comment.
The report also recommends city officials:
Issue abatement orders, by which the public health commissioner can force a business to halt its operations due to threats to health, safety or the environment;
Make city contracts dependent on the contractor's environmental compliance;
Take environmental violations to Cook County Circuit Court rather than solely relying on Administrative Hearings court; and
Hold public hearings where officials can testify to the city's enforcement practices.
"If you are never holding [polluters] to account, if you're never requiring them to admit liability, then it's never really gonna get better," Moser said.
Listen to "It's All Good: A Block Club Chicago Podcast":