EAST SIDE — Southeast Siders "will keep fighting" to persuade Mayor Lori Lightfoot to reject a permit for a controversial metal scrapper, hoping to finally quash an effort that was put on pause after the U.S. Environmental Protection Agency intervened last week.
Lightfoot delayed a decision late Friday on whether to grant Reserve Management Group an operating permit for Southside Recycling in East Side. RMG, which also owns the defunct General Iron in Lincoln Park, wants to open at 11600 S. Burley Ave., where the company already operates four facilities.
EPA administrator Michael S. Regan told Lightfoot in a letter that RMG's plans "raised significant civil rights concerns" for residents. Regan urged the mayor to do an environmental justice analysis "to meaningfully consider the aggregate potential health effects" of the facility for Southeast Siders. 
Lightfoot called off the city's permit review and directed the Department of Public Health to do the requested analysis shortly after Regan's letter was made public.
Friday's announcement was "the direct result of a community that practiced their civic duty and defended their health," said Yesenia Chavez, a Southeast Side resident who joined a hunger strike in protest of the facility earlier this year.
Now, it's time for the city to permanently stop RMG's plans, which would shift most essential employees and equipment from General Iron to Southside Recycling, activists said Monday.
"Even though the city tried to leave the lane open to maybe do the permit down the road, we're not going to stop until the permit is denied," Dixon Romeo, campaign director with United Working Families, said at a news conference Monday. "If General Iron is not good enough for folks in Lincoln Park, then do not bring it on the Southeast Side."
Óscar Sánchez, one of three people who initiated a month-long hunger strike in protest of Southside Recycling earlier this year, said the community will continue to fight to deny the permit.
"The starvation was only a representation of those resources our community had been starved from for years, resources that we had asked for because we need them, from health care to education," Sánchez said. "These developers underestimated us. They thought we were sold on the idea of economic development, but we know we deserve better than General Iron."
At an unrelated event Monday, Lightfoot said the city would conduct the environmental impact study "in deference to the [Biden] administration and U.S. EPA." Health department officials did not respond to questions on when the study would begin or whether the results would be shared publicly ahead of a final decision on the permit application.
However that impact study is conducted, environmental activists said they should have a seat at the table during "the next leg of this fight."
"Let's be super honest about what the data says," Romeo said. "Let's actually involve and listen to community members and have a process that is legitimate for community input and not biased."
Lightfoot also said her office is directing the city's chief sustainability officer and health department to propose a cumulative impact ordinance to be considered by the City Council before the end of the year. As part of the that, industrial businesses would require an assessment of how operations would impact the environment of the community.
Nancy Loeb, a professor at Northwestern University's law school and director of the Environmental Advocacy Center, said such an ordinance would be "critical to avoiding harms to overburdened communities going forward."
But the city "has every basis to deny this [permit] today," Loeb said.
"We already know that there are significant health threats that the facility presents, and there's been extensive public and expert comment on this, including by an overwhelming portion of our medical community," she said.
In a statement Friday, RMG spokesman Randall Samborn rejected claims the facility would exacerbate poor air conditions, saying city and state officials already concluded "the new Southside Recycling facility will meet or exceed all applicable environmental and health standards."
"Southside Recycling is subject to likely the most stringent set of federal, state, and local regulations of any metal recycling operation in the country," Samborn said.
RMG leaders repeatedly have said blocking the company from opening the East Side facility inevitably will mean diverting more scrap metal to Sims Metal Management in Pilsen, which is not required to follow the city's rules for large recycling facilities unveiled last year.
"The advanced pollution control system at Southside Recycling is creating a new industry standard that will serve as a national model for capturing and controlling emissions from large recycling facilities," Samborn said. "The U.S. EPA knows this is in stark contrast to other metal shredders, including the only other one in Chicago that continues to operate in Pilsen but has none of the air pollution controls and enclosures that Southside Recycling has. Delaying Southside Recycling's permit will only exacerbate the environmental justice burden in Pilsen."
On Monday, Loeb said RMG's statement was a "cynical attempt to pit environmental justice communities against each other."
"Sims cannot significantly increase its operations in Pilsen using its current equipment. Its capacity is capped at 750,000 tons per year," Loeb said. "RMG is fully aware, as are their attorneys, of this public information and this campaign of misinformation. Attempting to pit environmental justice communities against each other needs to stop now."
Samborn responded that "Southside Recycling knows that many of our former suppliers are taking their recyclable metals to the Pilsen facility because they have limited options."
"Yet, the City and EPA – pressured by vocal activists – appear content to allow the Pilsen shredder to continue operating without pollution controls in an environmentally overburdened area but won't allow Southside Recycling to operate with its state-of-the art controls.
"It's irresponsible that so-called environmentalists are ignoring the data and science to the detriment of the environment. When the professor says highlighting the Pilsen shredder is a 'cynical attempt to pit (environmental groups) against each another,' she must be saying there are environmental groups that find it acceptable to operate a shredder with no pollution controls and environmental groups that find it unacceptable to operate a shredder with pollution controls approved by the U.S. EPA, IEPA, and the City of Chicago," Samborn said.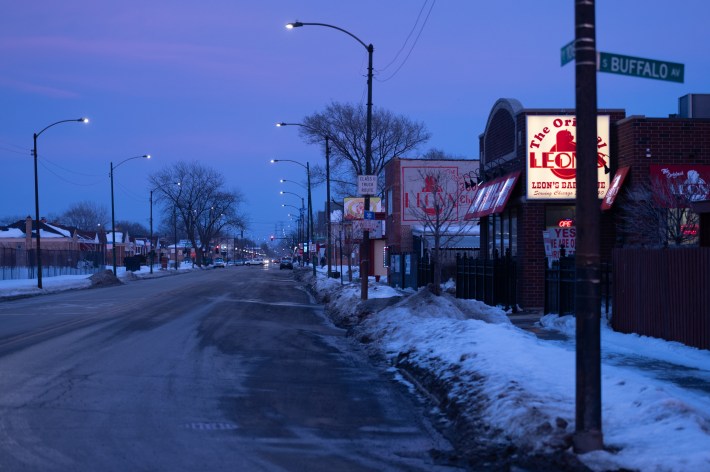 Even as neighbors, community leaders and activists mobilized against Southside Recycling, city and state officials continued to approve RMG's various applications to open for business.
The Illinois EPA approved critical permits last June, outraging senators, activists, aldermen and neighbors who noted General Iron's history of environmental violations on the North Side. State environmental officials said at the time they could not consider those past infractions when reviewing a permit, but activists said state law indeed allowed the EPA to review an "applicant's past compliance history."
Regan took aim at that decision in his letter to Lightfoot, saying the comments from the EPA under the Trump administration last summer "do not reflect the current priorities and policies" under President Joe Biden.
In October, the city quietly issued Southside Recycling the first of two needed permits, breaking public pledges to alert the public.
RELATED: City Repeatedly Breaks Promises To South Siders When Approving Polluters And Demolitions
RMG applied for the second necessary permit, an operating permit, in November. But city officials made the company re-apply after finding three dozen deficiencies in the "incomplete" application.
The company re-submitted its request in January, which was awaiting a final decision by the city when Regan sent his letter.
Subscribe to Block Club Chicago. Every dime we make funds reporting from Chicago's neighborhoods.
Already subscribe? Click here to support Block Club with a tax-deductible donation.