WEST ENGLEWOOD — A newly appointed principal at a prestigious South Side high school was removed from his position Friday following a Chicago Public Schools investigation.
Abdul Muhammad was ousted as interim principal at Lindblom Math and Science Academy, 6130 S. Wolcott Ave., according to a CPS letter sent to families and faculty. The dismissal, "effective immediately," followed "an investigation that substantiated findings" against the principal, according to the letter. 
A CPS spokesperson did not share details of the investigation, but confirmed Muhammad's removal was not related to reports of Lindblom teachers chaperoning students to vote at a polling place across the street from the school at Lindblom Park, 6054 S. Damen Ave.
"The reassignment is not related to students leaving campus to vote on March 23," a CPS spokesperson said.
Muhammad has been reassigned to the Network 16 office, which assists 15 schools on the South and Southwest sides, including Lindblom, according to the letter.
When classes resume April 10 after spring break, Everett Edwards will serve as the school's Administrator-in-Charge, according to the letter. 
"Please know that we are taking this situation extremely seriously, and we remain committed to providing Lindblom students with a positive learning environment where they can reach their full potential," the letter said. "While the Network 16 team is unable to discuss details regarding the case, we are available to discuss the steps CPS takes to support students and matters related to your child." 
Family and faculty were encouraged to call the Network 16 office at 773-535-8240 with questions or concerns.
Muhammad could not immediately be reached for comment.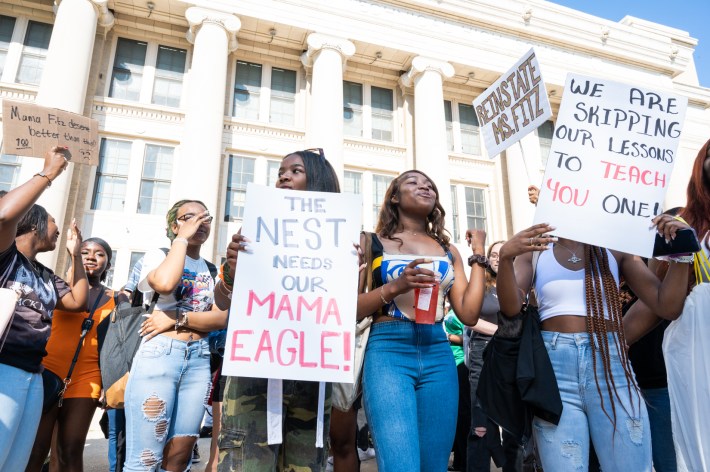 Muhammad became principal at Lindblom at the beginning of the 2022-23 school year. He replaced Wayne Bevis, who served as principal 2015-2021, before leaving to start the CPS Virtual Academy. 
Muhammad quickly faced pushback from hundreds of students and alumni when he fired Karen Fitzpatrick Carpenter — known to students as Ms. Fitz or "Mama Eagle" — at the top of the school year. Carpenter, a Lindblom alum, was assistant principal for 24 years before the surprise dismissal. Students walked out on the first day of school to protest her firing. 
Several students and faculty said at the time Carpenter largely filled the principal role after Bevis left and before Muhammad was brought on board.
Muhammad hired two new assistant principals to replace Carpenter. In a separate letter, Carpenter thanked the community for her years of service. 
"Though it was not my choice to leave the Nest at this time, I do so knowing that there is a long legacy and history that I have been honored to help shape," Carpenter wrote. 
A CPS spokesman said at the time they were aware of the personnel changes, and the district trusts principals to create positive environments for students and faculty. 
"Principals work with district leaders as they develop their staffing decisions, but it's ultimately up to each principal to develop their team and determine how to best use their resources," the spokesperson said. 
Following the protests, the Chicago Board of Education postponed a vote to approve a four-year contract for Muhammad, The TRiiBE reported at the time. The most recent move to confirm a longer-term contract in December again was taken off the board agenda, and Muhammad was set to serve as interim principal for the rest of the year, according to The TRiiBE.
Devon LaRosa, the Network 16 Chief of Schools, said at the time that "in order to make a final determination, all concerns will need to be addressed or resolved," according to a letter sent to the school community. "We will continue to solicit feedback from the students, families and staff to make a final decision that is in the best interest of the school community."
Subscribe to Block Club Chicago, an independent, 501(c)(3), journalist-run newsroom. Every dime we make funds reporting from Chicago's neighborhoods.