WEST ENGLEWOOD — Hundreds of students at a prestigious South Side high school walked out of the first day of classes Monday morning to protest the firing of a beloved assistant principal.
Lindblom Math and Science Academy students flowed into the plaza in front of the school in support of Karen Fitzpatrick Carpenter, known to students as Ms. Fitz.
Herself a Lindblom alum, Carpenter was fired this month after 24 years at the school, 6130 S. Wolcott Ave., according to an email sent to students and parents.
Student Kennedy Ross and other members of the student council led the protest, which generated support from dozens of alumni, parents and community supporters, most donning the school's maroon and gold on everything from headbands to varsity jackets to sneakers. Organizers passed around petitions, and asked students and alumni to flood the Chicago Board of Education meeting Wednesday in support of Carpenter.
"Ms. Fitz is an Eagle herself," student Arielle Warner said to the crowd, referencing the school mascot. "She has helped all of us. Now it's time to support her."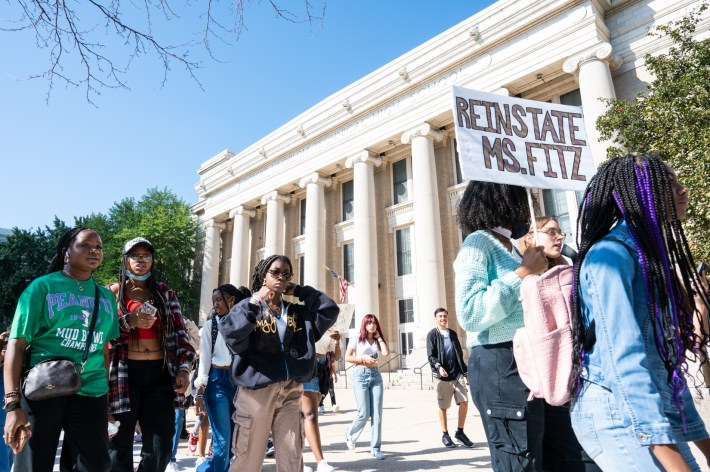 Lindblom's principal Dr. Abdul Muhammad, who took over the role this year, announced Carpenter's departure in a letter sent to students and faculty Aug. 9, calling her a beloved assistant principal who had supported students and staff for more than two decades. 
In that letter, Muhammad announced the hiring of two new assistant principals, Debra Kearney and Adrienne Morales. Muhammad did not respond to an email from Block Club seeking comment.
Carpenter followed up with an emotional email of her own, thanking the community for her time at the school and saying it was not her decision to leave.
"Though it was not my choice to leave the Nest at this time, I do so knowing that there is a long legacy and history that I have been honored to help shape," Carpenter wrote. She could not immediately be reached for further comment.
The student council organized the walkout on the first day of classes, saddened that the person who had greeted them at the door for more than two decades wouldn't be there to do so Monday, Ross said. 
"We called her 'Mama Eagle' at the school, because she really was like our mama away from home," Ross said. "She treated us like her own kids."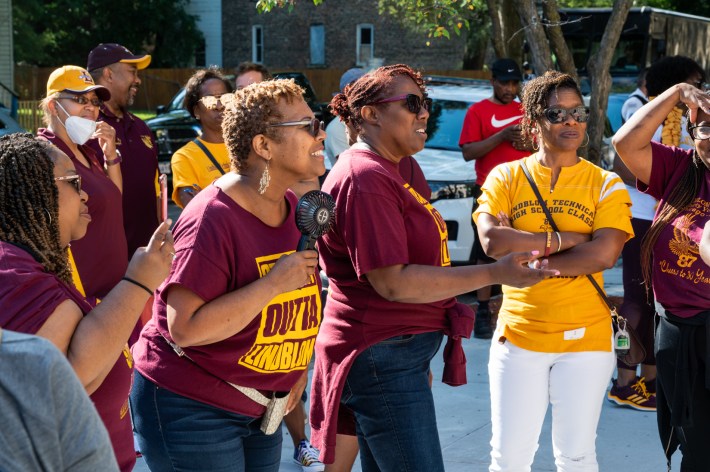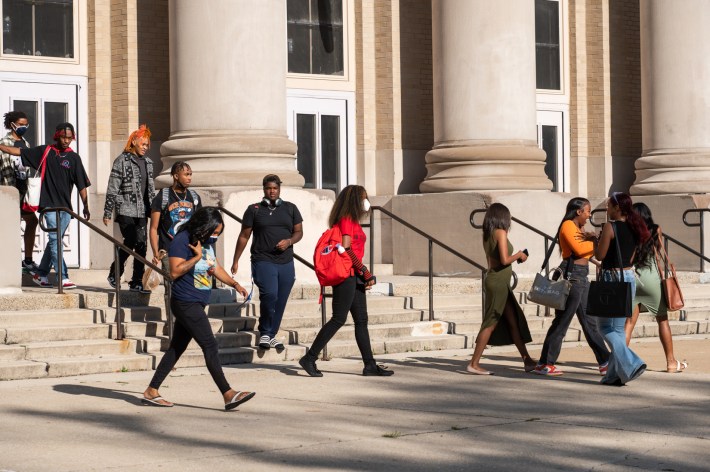 Located in West Englewood, Lindblom Math and Science Academy is a selective-enrollment high school that dates back to 1919 and is consistently rated one of the top high schools in the city. The school has approximately 1,300 students, and includes an academic center middle school for high-performing 7th and 8th grade students. 
Lindblom's previous principal, Wayne Bevis, served from 2015 through 2021, when he left to start up the CPS Virtual Academy. Several students and faculty said Carpenter largely filled the principal role during the 2021-2022 school year.
"She had to kind of carry the school on her back," Ross said. 
"She ran the whole school for a year, and she did a fantastic job," student Kourtney Johnson said.
Carpenter spent every day of her tenure caring for them, from helping with college admissions to organizing prom, students said. Many of those demonstrating were seniors who had been at the school since 7th grade when they entered as part of the academic center, or "Ackie" program.
They said school leaders owed Carpenter the dignity and respect she had showed students throughout her career. 
"We all realize the administration has a right to bring on a new staff," alumnus Cheryl Hunt Brown said. "But there's a way to do it."
Alumni and parents hope Carpenter would be honored to see students standing up and walking out for their beliefs.
Domini Brewton said her daughter, an 8th grader, was shocked when she heard about Carpenter's firing. She came to support her daughter and her peers Monday. 
"She was really upset," Brewton said. "These kids are young, intelligent minds. The best and brightest in Chicago. They are going to use their voice."
With signs demanding to "Bring 'Mama Eagle' Back To The Nest," students and alumni marched around the building and performed the school "swoop" cheer, led by 1985 alum Marlon Crawford.
Seniors said it was Carpenter who helped keep longstanding school traditions alive, like the "Class Sing," in which the graduating class passes the proverbial baton to their junior classmates. 
"When I walk across the stage in the spring, I want it to be Ms. Fitz who shakes my hand," senior Jackson Bishop said.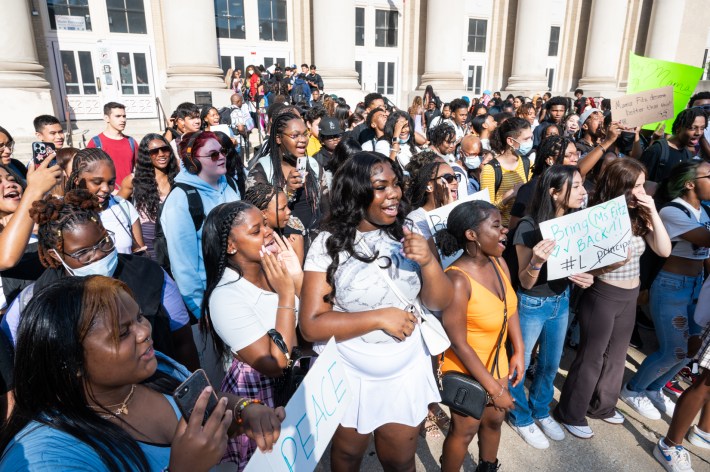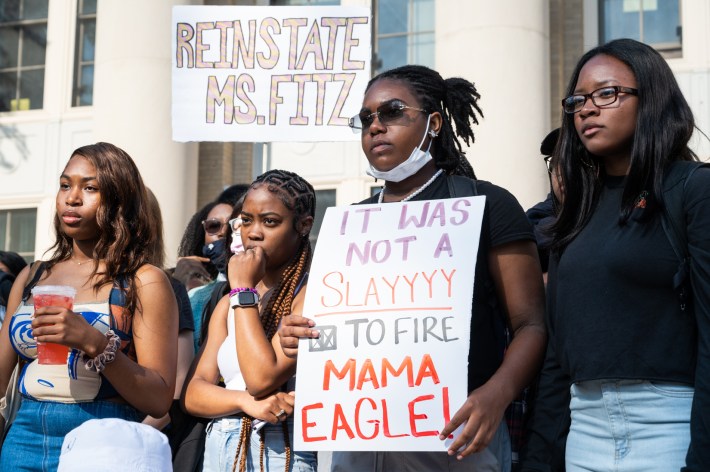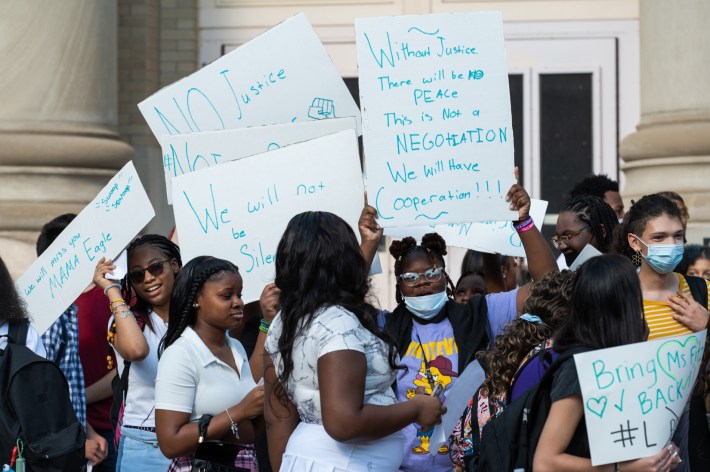 Students and alumni also spoke out against the departure of longtime faculty member and wrestling coach Dan Ostrozovich, known as "Coach O." Ostrozovich's parents attended Monday's protest and embraced students who supported their son, saying he also had no plans to leave the school.
"We are here to support them all," said Kate Ostrozovich, the coach's mother. "'Coach O' loved Lindblom."
Chicago Public Schools principals have broad authority to make administrative personnel decisions, allowing them to craft their own leadership teams on a school-by-school basis, officials said.
A CPS spokesman at the protest said in a statement they were aware of the personnel changes and the district trusts principals to create positive environments for students and faculty. 
"Principals work with district leaders as they develop their staffing decisions, but it's ultimately up to each principal to develop their team and determine how to best use their resources," the spokesperson said. 
Fired assistant principals have 60 days to identify a new position within the Department of Principal Quality, which helps connect those administrators to different job openings in CPS, a spokesperson said.
Listen to "It's All Good: A Block Club Chicago Podcast":