KENWOOD — Supporters of mayoral candidates Brandon Johnson and Paul Vallas clashed at a Thursday news conference as the candidates' camps wrangle over Vallas' background as the former schools chief in Chicago, Philadelphia and other parts of the country.
Johnson had just wrapped up a news conference at the Rainbow Push Coalition, 930 E. 50th St., when Vallas supporters from the Midwest Coalition to Stop Violence entered the room to hold a news conference of their own. The Vallas-aligned group was escorted out and held a news conference outside.
Johnson's press conference was organized by a coalition of activists and residents from New Orleans and Philadelphia who said they wanted to set the record straight on Vallas' school leadership history.
Vallas led Chicago Public Schools from 1995 to 2001. After leaving Chicago, he was schools CEO in Philadelphia, oversaw the Recovery School District in New Orleans and was head of Bridgeport Public Schools in Connecticut.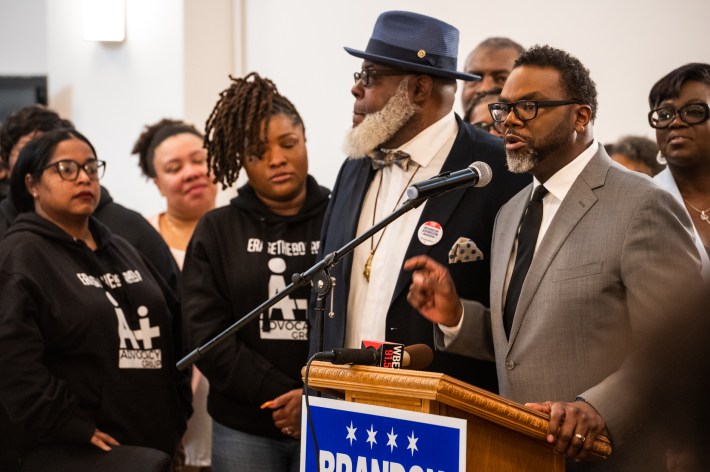 Melissa Francis, who said her daughter attended school in New Orleans during Vallas' tenure, said the number of charter schools increased as public schools disappeared, leaving the family with few options. One critic recently told the Tribune that Vallas' support of the charter system further divided the local school system.
The mom and Hurricane Katrina survivor said New Orleans is still suffering from the effects of Vallas' leadership, saying the city hasn't been able to "maintain teachers since."
Though that city's charter schools have received more than $5 billion in federal funding over the past 16 years, the conditions in schools are abysmal, Francis said.
"We remember our story and how we were affected by a disaster. People took advantage of us. Cast your vote for the person whose values align with yours. People who are going to value you," Francis said.
Philadelphia councilwoman Kendra Brooks told the crowd she came to Chicago to warn voters of Vallas' "path of destruction," saying that city is also still recovering.
Vallas became Philadelphia's schools chief in 2002 after the state took over the public school system. The Philadelphia Inquirer recently described Vallas as a polarizing leader who oversaw improved academics but left the district with a large deficit. Charter schools, which were authorized by Philadelphia's governing board, increased during Vallas' tenure as schools chief, according to local reports.
"The buck stops here," Brooks said. "Chicago, you have the opportunity right now to change the trajectory of this race. We cannot allow this path of destruction to continue."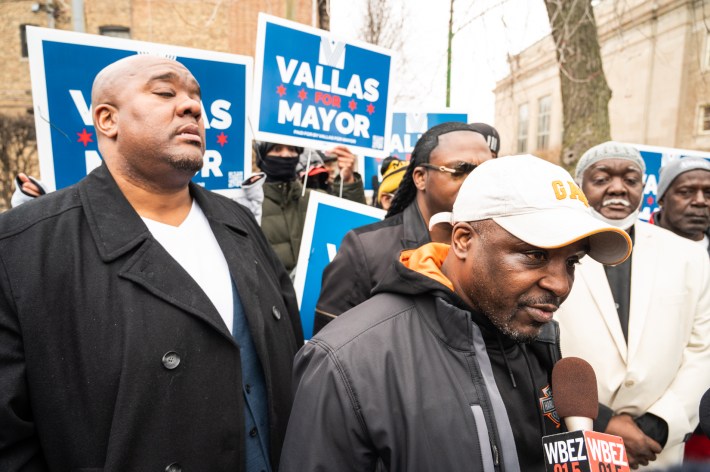 Outside the Johnson news conference, Vallas supporters — which included several other former Philadelphia schools executives — called out Johnson out for his lack of experience and said the former social studies teacher is a "progressive pawn" for county board President Toni Preckwinkle.
Vern Trent, who formerly oversaw school climate and safety for the Philadelphia school district, said Vallas' community engagement initiates changed the city's schools for the better.
"He set up a system to address truancy by recruiting parents from the community to become truancy officers. He took that a step forward because social service systems were operating in silos serving the same communities and families. Paul started pulling them together," said Trent, who worked for Philadelphia schools for 35 years.
Trent also touted Vallas' efforts to prevent violence by hiring community members as interrupters.
Coalition members also criticized Johnson's camp for not allowing them to ask questions of the speakers attacking Vallas' record.
Activist Mark Carter compared Johnson to former Chicago Teachers Union leaders Karen Lewis and Jesse Sharkey, and he blamed the duo for the 2013 school closures under then-mayor Rahm Emanuel.
"They gave the power to Rahm Emanuel to close schools and fire teachers. If he thinks we're going to be quiet about this, his problems are just beginning in this election. He won't be mayor. We'll do everything in our power to make sure he does not become mayor of this city," Carter said.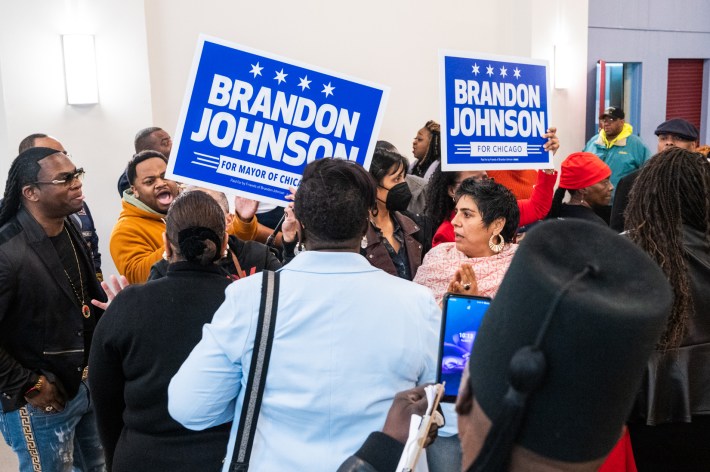 Vallas, who was at Josephine's Cooking to announce he'd been endorsed by six more alderpeople, told a Block Club reporter he did not know supporters planned to go to Johnson's news conference and was unaware of the morning fracas.
"I had no idea. But some of his people have showed up at my press conferences, too," Vallas said.
Vallas said bringing people in from out of town to critique his record is "what desperate campaigns do."
"… I imagine that I can go to his neighborhood and find a neighbor who doesn't like him and have a press conference," he said.
Vallas also dismissed claims he has closed schools. The Times-Picayune in New Orleans reported in 2011 Vallas closed traditional neighborhood schools while expanding the charter network. He was also criticized "for a lack of transparency, inattention to the most disadvantaged students, and slow progress at the schools he directly controlled," the paper reported.
"The facts are the facts, and I think Brandon is going to continue to grab at straws to divert people's attention," Vallas said.
Block Club's Atavia Reed contributed.
Subscribe to Block Club Chicago, an independent, 501(c)(3), journalist-run newsroom. Every dime we make funds reporting from Chicago's neighborhoods.
Click here to support Block Club with a tax-deductible donation. 
Thanks for subscribing to Block Club Chicago, an independent, 501(c)(3), journalist-run newsroom. Every dime we make funds reporting from Chicago's neighborhoods. Click here to support Block Club with a tax-deductible donation.
Listen to "The Ballot: A Block Club Chicago Podcast":