CHICAGO — The City Council on Wednesday approved two measures aimed at strengthening bike and pedestrian safety in the city, including a program to mail tickets to drivers caught blocking bike lanes.
The Smart Streets pilot program calls for the use of city cameras to ticket drivers illegally parked in bike lanes, bus-only lanes, crosswalks and commercial loading zones. The program would use existing cameras on city vehicles and other infrastructure to monitor driving scofflaws and mail them a ticket for parking infractions.
The city will also add cameras to fixed infrastructure such as street poles to boost enforcement, city officials have said.
The pilot area for the new ticketing system extends from Lake Michigan to Ashland Avenue and North Avenue to Roosevelt Road. It is intended to last two years, according to the ordinance.
Offenders would get one warning letter before being issued a ticket by the Department of Finance, according to the ordinance. City Council last month increased the fine for vehicles blocking a bike lane from $150 to $250.
Mayor Lori Lightfoot introduced the ordinance establishing the pilot program. Alds. Daniel La Spata (1st), Brian Hopkins (2nd), Gilbert Villegas (36th), Andre Vasquez (40th) Brendan Reilly (42nd), and Matt Martin (47th) co-sponsored the ordinance.
"As traffic fatalities have risen at an alarming rate both locally and nationally in
recent years, it is critically important that Chicago use every tool available to
improve safety for all road users," Lightfoot said in a statement announcing the proposed pilot program.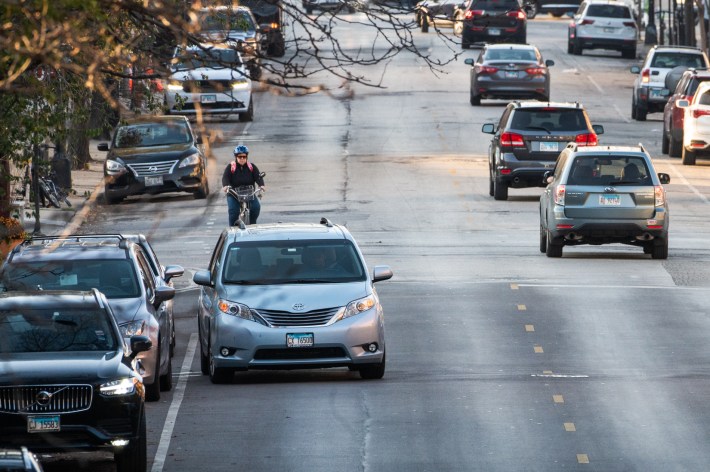 The City Council also passed an ordinance that requires the city's Department of Transportation (CDOT) to incorporate upgraded infrastructure for pedestrians, bicyclists and transit users when redesigning roads.
The transportation department will create design guidelines standardizing the pedestrian-, bike- and transit-friendly infrastructure under the ordinance. It also requires annual updates to City Council on the type and location of improvements underway.
Ald. Martin first introduced that measure last year, saying it will help formalize processes of road redesign that have taken place in some wards for years.
"We've had a very productive working relationship with CDOT, as it pertains to arterial resurfacing that are actively underway in terms of design. So I think in a lot of ways, this codifies how CDOT has been approaching redesigns for these major street improvements," Martin told Block Club.
More transportation advocates and local leaders have pushed for tougher enforcement of traffic laws in the wake of a deadly year of crashes.
Citywide, drivers have crashed into at least 439 cyclists in bike lanes from the beginning of 2020 through July 2022, according to the city's crash data.
Several pedestrians and bicyclists were killed in those crashes in 2022, including at least four children in June alone. There have been 50 reported crashes, three of them fatal, along Milwaukee Avenue's busy bike lane since 2020, Block Club and the Illinois Answers Project reported.
Listen to "It's All Good: A Block Club Chicago Podcast":