CHICAGO — In a holdover from COVID-era safety measures, it will now be easier for restaurants across Chicago to add walk-up windows to serve carry out orders to customers.
Introduced by Ald. Matt Martin (47th), the walk-up window ordinance will allow restaurants with certain neighborhood zoning classifications to install to-go windows without seeking a rezoning from City Hall.
The measure was passed by the zoning committee Tuesday and full City Council Wednesday.
The ordinance does not allow most businesses to sell liquor out of the windows, with exceptions along the Lakefront, Riverwalk and at Navy Pier. It would limit walk-up window hours to between 7 a.m. and midnight.
"There are planned developments, and there are … developments in Downtown zoning that can [already] proceed with this activity, absent this ordinance, by right," planning official Patrick Murphey said Tuesday. "So it is allowed in certain locations. This just allows it in all of our business and commercial districts throughout the city."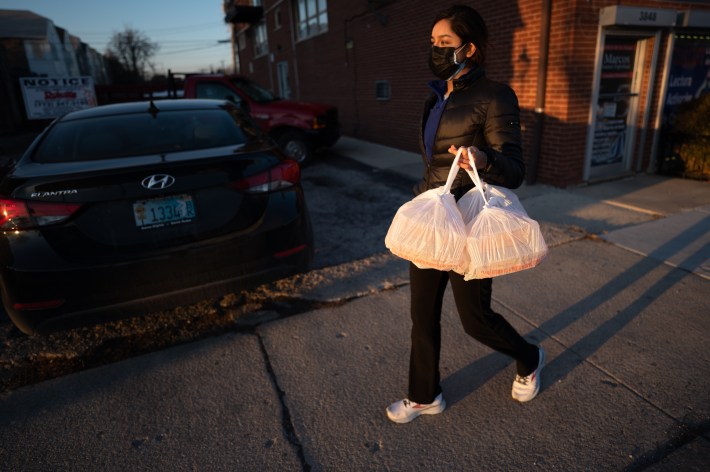 The sale of tobacco products is also prohibited under the measure, and businesses wanting to install a walk-up window must have sufficient space on the property or a nearby public way for people to line up, subject to city approval.
"This is the sort of thing that will allow businesses to adapt to the circumstances that COVID has brought," Martin said at Tuesday's zoning meeting. "And while — knock on wood — the worst of the pandemic is behind us, there is a new normal in place and I think this represents a compromise, will provide businesses flexibility but still ensures our offices and our communities will have a say in terms of how businesses are operating."
Ald. David Moore (17th) was the only zoning committee member who opposed the measure, citing concerns that some businesses on the South and West sides could use it to limit indoor dining and only serve customers out of a window.
"I could just see it, in certain communities, people taking advantage of this for the wrong reasons," Moore said Tuesday.
Listen to "It's All Good: A Block Club Chicago Podcast":