LINCOLN SQUARE — Drivers who block bike lanes will face steeper fines and an increased risk of getting towed following a new crackdown that passed City Council Wednesday.
The measure from Ald. Andre Vasquez (40th) increases the fine for blocking a bike lane from $150 to $250, regardless of whether the violation results in a collision, he said. 
The ordinance also expands the number of city departments that can request a tow for a car blocking a bike lane and allows the Chicago Department of Transportation to revoke the service permit of service vehicle for blocking bike lanes, Vasquez said. 
The ordinance also requires crews conducting street work that would block a bike lane to use large traffic signs typically used for car traffic to give bicyclists ample warning to so they can seek a detour, he said. 
"They have to use that so that cyclists can see it way before they get to that block. The measure requires them to do that, and if they don't, their permits could be revoked," Vasquez said. "So if you're on your bike two blocks away you know this is blocked so you've got to move out of the way, find a different route."
The measure mainly focuses on adding penalties for bike lane obstruction but Vasquez said it was just one piece a larger effort to make the city's roads safer for pedestrians and bicyclists.
"We've been car centric since like the 1920s. … And that's not where we are going forward," Vasquez said. "If you're somebody who's an environmental justice person and you want to see that we're in a society where people are driving less cars, you have to create better infrastructure, better public transportation and safer models for people to ride. This is just the beginning of a number of pieces of legislation that we're all working on."
The ordinance will also require the city's transportation department to give two presentations a year before City Council about what improvements officials have made on these issues, Vasquez said.
The ordinance will go into effect in 10 days, Vasquez said.
"We need to ensure the safety of our neighbors who chose to walk for their commute, especially our children and our seniors," Vasquez said.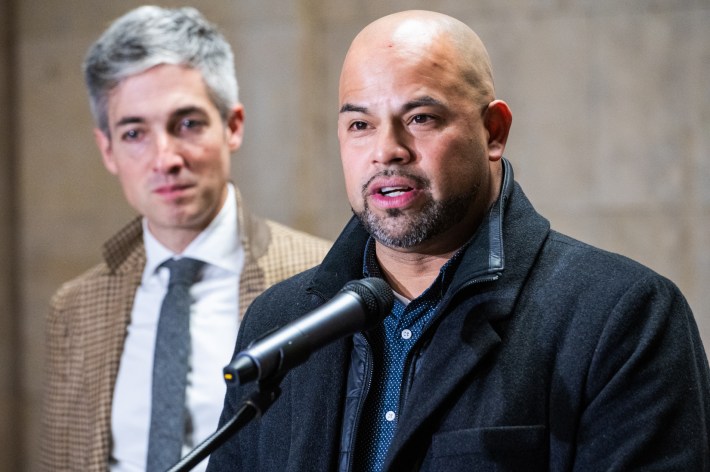 The ordinance comes during a deadly year of car crashes that have killed several pedestrians and bicyclists, including at least four children in June alone. Elizabeth "Lily" Grace Shambrook, 3, died when her mother attempted to navigate around a ComEd truck blocking a bike lane in Uptown. 
Tim Shambrook and Kate Snow, Lily's parents, said in a statement after the vote the new rules are a first step but don't go far enough to address the city's problems around bike safety.
"Safety should be every elected official's top priority and our little Lily paid the ultimate price for others' misconduct and disregard for the safety of bicyclists," Shambrook said.
Attorney Robert A. Clifford is investigating what happened the day Lily died.
"We all co-exist in a society where it takes cooperation and a concern for others who need to do their jobs to ensure that senseless tragedies like this cease. That concern was missing here," Clifford said. "The flagrant and repeated disregard for the safety of bicyclists and lack of respect for designated bike lanes by operators of trucks and vehicles creates deadly hazards that simply cannot be tolerated."
Marina Ross, whose son Raphael "Rafi" Cardenas died in June when a driver hit him while he was riding a mini scooter, spoke at a press conference before the meeting and said she supported more legislation to crack down on dangerous driving.
"Losing your child destroys you. It destroys your family and the communities where this happens," Ross said. "His death was part of a pattern on Chicago streets where a number of toddlers children and adults were were killed walking and riding their bikes."
Rafi would have turned 3 this month, Ross said.
"Walking, biking and riding a mini scooter are safe activities. But driving is unsafe," Ross said. "I think drivers should hold themselves accountable, and if they can not do that, then the city should hold them accountable."
Bicyclists have said unsafe driving, uneven enforcement of traffic laws, the lack of protected bike lanes and a disjointed bike lane network throughout the city all contribute to deadly conditions.
Courtney Cobbs, co-founder of Better Streets Chicago, travels about 95 percent of time on her bicycle through the city and said there isn't a day that she doesn't see a parked car blocking a bike lane.
Blocked bike lanes force bicyclists to dip onto car traffic where drivers are going between 30 and 45 miles an hour which can lead to serious injuries or death in a collision happens, Cobbs said.
"Keeping our bike lanes clear is super important. It's vital to the lives of cyclists, she said. "I'm really excited about this ordinance and I hope that it does result in more cars being towed so that drivers know that the city is serious about keeping their bike lanes clear."
Drivers have hit at least 439 cyclists in bike lanes from the beginning of 2020 through July 2022, though that's an undercount since many crashed aren't reported or are miscategorized, Vasquez said.
"And that is only what was reported. So we know … there have been many more than just those crashes," Vasquez said. "And the deaths that have occurred as a result of blocked bike lanes and other ill informed traffic decisions by the city could have been prevented by intentional focus on accountability and the creation of safe and protected bicycle lanes."