RIVER WEST — Alderpeople gave final zoning approval to the proposed Chicago casino district Wednesday, the latest step in the development's path forward as it seeks a gambling license from the state of Illinois.
The planned casino is set to be built on the Tribune Publishing site along the Chicago River between Grand and Chicago avenues.
The first phase of the development would include the Bally's-operated casino, a 500-room hotel, 11 restaurants, a 3,000-seat theater, riverwalk extension and a museum.
Later phases in the casino district could include up to 4,800 residential units, 250 additional hotel rooms and thousands of square feet of retail space.
The City Council approved the overall casino plan in May. Alderpeople still needed to sign off on amendments to the site's specific zoning uses, which is why the latest proposal was reviewed by the council's Zoning Committee and full body this week.
The measure passed 39-5 with Alds. Brian Hopkins (2nd), Anthony Beale (9th), Ed Burke (14th), Raymond Lopez (15th) and Brendan Reilly (42nd) voting against it. Ald. Sophia King (4th) recused herself from the vote "out of an abundance of caution" because her husband's law firm may at one time have represented Bally's, she said.
Bally's still requires licensing approval from the Illinois Gaming Board to proceed with the Chicago casino site. A company representative Tuesday said that process is ongoing.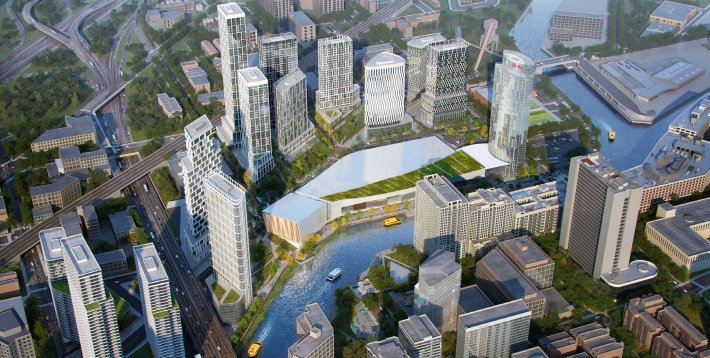 The controversial casino plan has been hailed by Mayor Lori Lightfoot and other supporters as a major windfall for the city of Chicago and its pension obligations.
City officials have projected the permanent Bally's casino could bring in around $200 million in annual tax revenue to offset the city's police and fire pension debt by its second year in business.
The Medinah Temple, 600 N. Wabash Ave., in River North has been selected as the temporary casino location and is expected to open next year.
The company also provided an upfront payment of $40 million to the city, designated for pension payments.
Ald. Walter Burnett (27th), whose ward includes the casino site, praised the project Wednesday, even though he voiced skepticism earlier this week over the development's minority hiring plan.
"I'm for this casino because I'm for the future of this city," Burnett said Wednesday. "This casino is the right thing for this city."
But several alderpeople continued to cast doubt on the casino's revenue projections and Bally's fiscal solvency.
Hopkins, whose ward includes parts of River North, the Gold Coast and Lincoln Park, said Bally's was "under-capitalized" and is "scrambling" to find the money necessary to bring the development to fruition.
"It really raises the prospect for us as a city: what do they bring to the table as our partner in this venture?" Hopkins said. "This simply couldn't happen without the city of Chicago authorizing it and being a partner to, in this case, our chosen selection, Bally's. What do they bring to the table? They don't bring the money that they need to make this happen."
Longtime casino foe Ald. Brendan Reilly also slammed the project Wednesday. Reilly has repeatedly raised concerns over potential public safety issues he believes could be caused by the influx of people at both casino sites, as well as traffic congestion issues.
"I could go on and on and on about traffic and safety and why we should be very skeptical about this project. But I won't. I would just say remember this day," Reilly said. "People in this room raise these red flags now, and I hope to god they don't come true."
At a press conference after Wednesday's council meeting, Lightfoot called claims that Bally's was on shaky financial footing "nonsense."
"Bally's has secured right now today over $1.7 billion to build this casino, right now. Right now, they have the money to get it done. Which the aldermen know. It may be inconvenient to some, but that is the fact," Lightfoot said.
Listen to "It's All Good: A Block Club Chicago Podcast":