RIVER NORTH — As plans move forward with a temporary Bally's casino in River North, residents doubt the casino's insistence the project will have little impact on traffic, parking and public safety.
The temporary casino, which will be at the 110-year-old Medinah Temple, will be used until Bally's permanent casino and resort at the Tribune Publishing site in River West is completed. The casino could be open by summer and remain for up to three years, officials said.
The city held its second community meeting for the temporary site Tuesday, allowing neighbors to ask questions and share concerns. The first session, held in July, was used to share how the Medinah Temple will be retrofitted for a casino while preserving the historical building.
The Medinah casino will have three floors with 800 slot machines, 50 gaming tables, a three-meal restaurant, quick food service venues and bars. It will be open 24 hours a day, seven days a week.
A traffic study of Medinah Temple, commissioned by Bally's and conducted by Fish Transportation, estimated that during peak hours about four vehicles will arrive each minute along with another four vehicles leaving.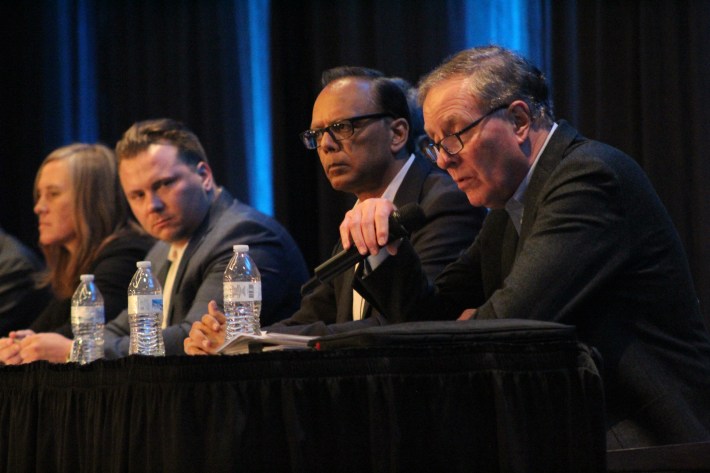 The study also estimated 60 percent of patrons arriving by car will either park or valet. Additionally, it's estimated Medinah Temple will generate 462 trips during the weekday evening commuter peak hour, 4-6 p.m., and 516 during the Friday evening casino peak hours of 8-11 p.m.
The study concluded there will be plenty of parking for casino patrons, citing about 5,000 available spots in parking garages in the area.
Tim Doron, senior traffic consultant with Fish Transportation, told residents Tuesday he thinks the traffic generated by the temporary casino will not overwhelm the neighborhood. He said he could predict this because he visited the parking garages near Medinah Temple during peak times and counted empty spaces.
The study has received backlash from neighborhood groups and the local alderman, who say the study is flawed. Tuesday night was the first major opportunity for residents to share that frustration in person.
"I currently rent [parking] from 10 East Grand, and I can tell you, on the weekends, it's full. I can tell you, in the summer, it's full … in the winter, particularly," a resident said.
Another asked if the city could guarantee parking rates won't go up because of the high demand by people headed to the casino. But officials said that's not something they can guarantee since the garages are operated by private businesses.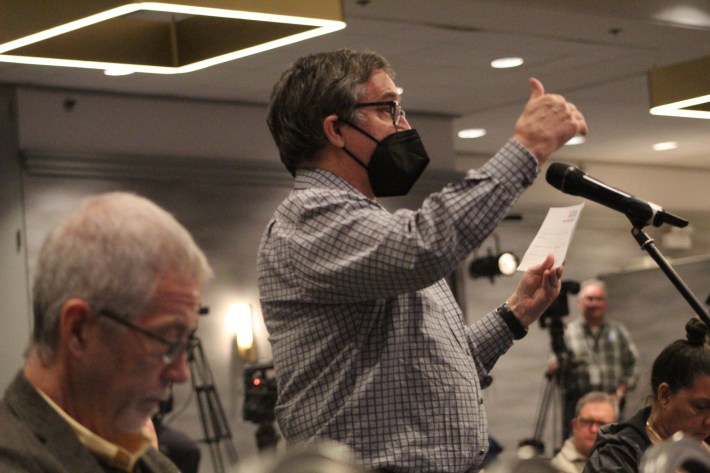 Lisa Hackney-James, an Episcopal priest at nearby St. James Cathedral, said she's concern about the possibility of casinogoers taking up parking for Sunday services. The church uses about 300 parking spots Sundays at the ROW Parking Garage at 50 E. Ohio St.
"I am wondering what assurance we'll have that they're not going to come and show up to a saturated — especially from Saturday night to Sunday morning — parking situation," Hackney-James said.
Doron said that's not something he can guarantee.
Another top concern for residents was public safety. Bally's executives said their "best-in-class safety initiatives" will include a single entrance to the casino, 24/7 surveillance system with video retention, concealed weapons detection technology, high-tech exterior video surveillance and private security.
Eric Carter, first deputy superintendent of the Police Department, said city will install additional license plate readers and street cameras near the casino. He also said there will be police officers from the 18th District assigned to cover the exterior of the Medinah Temple.
Residents pushed back, citing the trouble the department has had with staff shortages and recruiting officers.
"Why do I feel that I just received a Christmas gift that I never asked for?" said Stéphane Brahy, president of the condo association for 55 East Erie. "I think it's pretty clear that the casino is a disruptive force in any neighborhood. … These are families, these are children that live here."
Some residents said they are ready to welcome the casino, citing economic opportunity and the creation of hundreds of jobs.
Bally's will open an employment and training center early next year with a casino job fair slated for late spring or early summer, executives said. The temporary site is slated to open next summer.
The next community meeting, which will focus on the permanent site, is Dec. 5 at the Chicago Tribune Publishing Center, 700 W. Chicago Ave.