O'HARE — Mayor Lori Lightfoot is vowing to find housing and other support for the people experiencing homelessness at O'Hare Airport — and get them out of the airport.
In recent months, there have been reports of more people sleeping in airport terminals and the O'Hare Blue Line station to keep warm. Outreach advocates who work with them say numbers have greatly ballooned this year compared to years past.
Some people who stay at O'Hare previously told Block Club it's safer and warmer than being outside.
"We have taken, and will continue to take, the steps that are necessary to move people out of the airports," Lightfoot said Thursday at an unrelated press conference. "Airports are a very different place than on the street or under an underpass. It's a secure location."
While O'Hare does not allow members of the public to be at the airport unless they are flying in or out or work at the airport, some people who stay at O'Hare told Block Club there's an "unspoken rule" that if you keep to yourself and find a quiet corner, you may be unbothered by law enforcement or other officials.
However, that could change.
Lightfoot said she is working with the Chicago Police Department and the Department of Aviation to remove people from the terminals and get them access to resources.
"We absolutely, fundamentally, cannot have people sleeping in our airports who are homeless, that is unacceptable," Lightfoot said. "And so we're going to continue within the bounds of the law to do what is necessary to provide those folks with support but elsewhere. They can't be in our airports."
The mayor's comments were in response to news stories by Fox News' Tucker Carlson and the New York Post about homelessness at O'Hare. She said it was important to consider the sources, which routinely criticize Chicago and her administration.
"They're never going to portray our city in a favorable light," she said. "My understanding is those pictures are quite old."
Some photos shared on Twitter that showed homeless people, their belongings and trash were dated Feb. 12.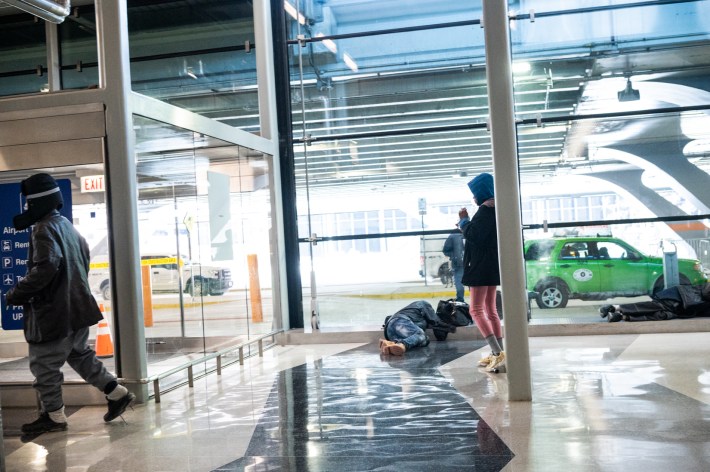 In recent weeks, more police officers have been stationed near the O'Hare Blue Line and in the baggage claim areas of Terminals 1 and 2, where most people experiencing homelessness stay. On a recent morning, officers were seen talking to some men walking around Terminal 2 and asking for their ID.
"Go to Haymarket," one officer told the man.
Haymarket Center's O'Hare outreach program, which sits close to the Blue Line exit and before entering the terminals, has been connecting people staying at the airport with substance abuse counseling, housing and other social services since 1990. The organization served 25 percent more people in 2022 than in the previous year, and that increased need has continued into 2023, said Jessica Dubuar, director of health and specialty services.
"Our January at O'Hare was one of the busiest Januarys we ever had," Dubuar previously told Block Club. "We are seeing more individuals and more encounters [who are] new to our system."
The nonprofit, funded by the Chicago Department of Aviation and the Department of Family Support Services, is open 24/7 but does not have sleeping capacity. It's looking for more funding options to help address the need and is continuously working with local agencies and other outreach groups to address the issue, Dubuar said.
Homeless advocates have said that the city needs to do more to address the homelessness crisis and offer non-traditional services to help meet people where the are. That could include mobile outreach buses that offer medical and substance abuse counseling, opening more low-barrier shelters on the Northwest Side and hiring more staff to work with those in need, specifically those who choose to set up in public spaces, advocates previously said.
On the Northwest Side, there is no dedicated social services team or a shelter for unhoused folks in the area, said Monica Dillon, who runs the Northwest Side Homeless Outreach. There are also no warming centers on the Northwest Side.
Haymarket offers food, social services and substance abuse counseling but is not a shelter.
"If we had the infrastructure we would not having this conversation," Dillon said. "This is not a quick fix … We need more social services and more dollars and money to work on homeless prevention, homeless outreach and shelter outreach."
Dillon, who visits O'Hare and assists people there on a weekly basis, said the recent national outlets exaggerated the numbers of folks staying at the airport, "which is a shame."
The city has earmarked millions to help with the issue and received a national grant earlier this month that will help strengthen Chicago's homeless outreach, increase rapid access to permanent housing, supportive services and other measures.
Subscribe to Block Club Chicago, an independent, 501(c)(3), journalist-run newsroom. Every dime we make funds reporting from Chicago's neighborhoods.