HERMOSA — Three candidates running for 30th Ward alderperson shared their ideas at a forum Friday to slow gentrification and prioritize education — and one candidate attacked another for his past work with Immigration and Customs Enforcement, commonly known as ICE.
Jessica Gutiérrez, Warren Williams and JuanPablo Prieto introduced themselves to voters and answered questions about education, economic development and immigration during a candidate forum Friday morning at New Hope Bible Church, 1805 N. Kostner Ave.
Candidate Ruth Cruz did not attend due to illness, organizers said.
The forum was hosted by Palenque LSNA, formerly the Logan Square Neighborhood Association. It was preceded by a 26th Ward aldermanic forum, but only one candidate, Jessie Fuentes, attended.
The four candidates running in the 30th Ward are vying to replace incumbent Ariel Reboyras, who announced in September he would not seek reelection. He was first elected to City Council in 2003.
The newly redrawn Northwest Side ward includes portions of Belmont Cragin, Irving Park, Portage Park and Avondale. It's about 54 percent Latino, according to city data.
All three candidates present at the forum highlighted their community involvement in recent years and stressed they would bring transparency and neighbor buy-in to their decisions as alderperson.
That extends to the future of a large development site known as the Belmont Triangle, which consists of 3.8 vacant acres in the heart of Avondale bounded by Milwaukee Avenue, Belmont Avenue and Pulaski Road.
Palenque LSNA held a rally last summer outside Reboyras' office demanding he support an all-affordable development at the site.
The alderperson had previously agreed to support a plan with 20 percent of the housing being affordable, but Reboyras then joined the demonstration to endorse the group's demands.
Last fall, the city sought plans for mixed-use developments at the Belmont Triangle, but ultimately no formal proposals were submitted, a planning department spokesperson said.
In response to a question about the site and larger plans to stall gentrification, Gutiérrez said she would demand affordable housing and a community center on the site from any developer.
"I want to make sure that any developer that comes into the 30th Ward, that we are at the forefront together, telling them what they can do and not telling us what we can do," said Gutiérrez, who is a former policy director at the Puerto Rican Cultural Center in Belmont Cragin and daughter of former Rep. Luis Gutiérrez.
Prieto said the he'd work to increase housing stock in the 30th ward and use his experience working with contractors as director of diversity programs at the CTA to hold developers accountable.
"We're going to sit down with them and we're going to develop the goals and tell them what they're going to do in the 30th Ward. We're going to make sure that every project has goals around affordable housing and green space and other community benefits," he said.
Williams, an Avondale resident and founder of independent political organization 30th United, said affordable housing was personal for him after moving four times in seven years due to rising rents.
Williams supports affordable housing at Belmont Triangle and citywide changes like the Bring Chicago Home ordinance and tax-increment financing reform "to make sure our property taxes are not going to private developers, they are going to the people," Williams said.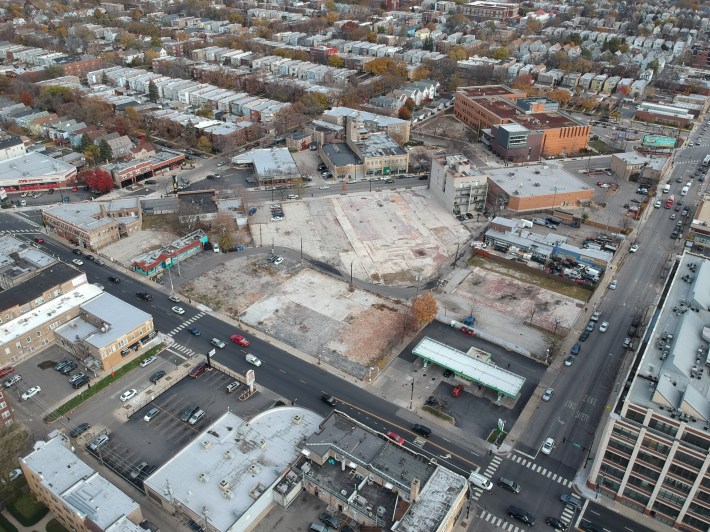 Throughout the forum, Gutiérrez took shots at what she called "failed" Latino leadership in the 30th Ward and Chicago.
In 2019, Gutiérrez ran against Reboyras and lost by only about 300 votes in a contentious runoff election.
During a conversation about economic development and immigration, Gutiérrez also brought up Prieto's past work as a contractor for ICE. The agency is part of the Department of Homeland Security and oversees deportations of undocumented people.
According to Prieto's LinkedIn, he worked as an outside contractor for agency 2011-2014..
Prieto confirmed in a post-forum interview he was an ICE contractor, but he said he worked on background checks and made no decisions on people's immigration status.
"I had a contract with Homeland Security. I ran criminal background and immigration background checks and prepared a packet for agents to review. So I made no sort of recommendations or decisions on any immigration action," he said.
During the forum and in an interview, Gutiérrez slammed Prieto for his work with the agency and said it should be a red flag for voters in the majority-Latino 30th Ward.
"With the 60 percent Latino population in the 30 Ward, with Belmont Cragin constituting the largest and most diverse Latino population in Chicago, and with huge numbers of mixed families, documented and undocumented. …We deserve better in our community," Gutiérrez said.
In response, Prieto said he supports immigration reform and the DREAM Act, and he highlighted his work at the CTA and as a board member at nonprofits La Casa Norte, the Spanish Coalition for Housing and the Latino Worker Safety Center.
"I support making sure that we're a welcoming city. But those are baseline policies that we need to then expand upon and create generational wealth. That's the way that we're going to empower our communities, and that's the work that I've been doing at CTA for the last eight years now," said Prieto, who is the son of Colombian immigrants.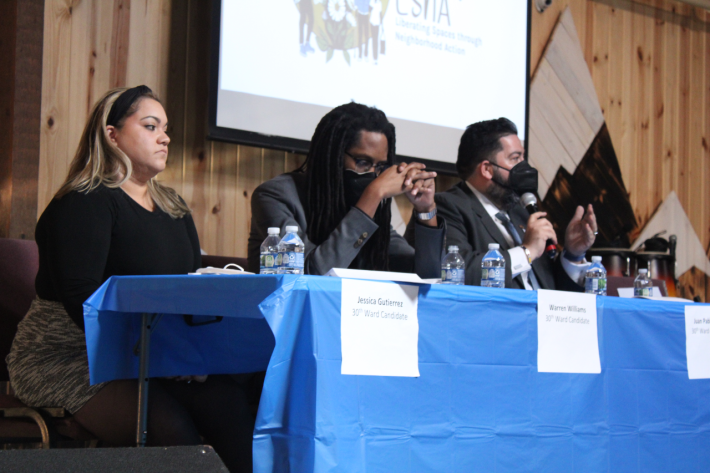 Cruz, who did not attend the forum, told Block Club last month she would focus on funding violence prevention and mental health resources if elected alderperson, and she'd push for more police officers in 30th Ward.
Since December, Cruz has received two $5,000 donations from Reboyras, according to campaign finance records. Cruz has said she is grateful for his support, but she is "her own person" and holds more progressive stances.
"Ald. Reboyras led the 30th Ward with integrity and ethically was never involved in any scandal. So I want to highlight that. But can we do a lot of things differently? Absolutely," she told Block Club last month.
The election is Feb. 28. If no candidate receives at least 50 percent of the vote, the top two will proceed to a runoff April 4.
Subscribe to Block Club Chicago, an independent, 501(c)(3), journalist-run newsroom. Every dime we make funds reporting from Chicago's neighborhoods.
Click here to support Block Club with a tax-deductible donation. 
Thanks for subscribing to Block Club Chicago, an independent, 501(c)(3), journalist-run newsroom. Every dime we make funds reporting from Chicago's neighborhoods. Click here to support Block Club with a tax-deductible donation.
Listen to "The Ballot: A Block Club Chicago Podcast":