HUMBOLDT PARK — A forum for the 26th Ward aldermanic race turned into a campaign event Friday — since only one candidate showed up.
Vying for the open 26th Ward seat is community activist and leader Jessie Fuentes, 26th Ward Democratic committeeperson Angee Gonzalez Rodriguez and DJ Julian "Jumpin" Perez. Veteran Ald. Roberto Maldonado dropped out of the race last month.
Fuentes was the sole candidate to attend Friday's forum, hosted by community organization Palenque LSNA at New Hope Church, 1805 N. Kostner Ave. Gonzalez Rodriguez and Perez were not in attendance.
Gonzalez Rodriguez previously said she would attend the forum, but a campaign volunteer said Friday that she was recovering from shoulder surgery and unable to make it. Perez wasn't able to make it because of a scheduling conflict, campaign manager Carlos Claudio said.
The forum also included candidates running to represent the 30th Ward.
Fuentes, who was recently endorsed by Maldonado, addressed her challengers' absence in her opening remarks, saying, "I want to apologize that I'm the only one here today because you all deserve to hear from all of your candidates to make an informed vote."
Fuentes said her deep ties to Humboldt Park, years of experience working with neighborhood youth and for local organizations and struggles growing up make her the ideal person for the job.
"I am the daughter of drug addiction, an incarcerated parent, poverty. I know very well the pains of our community and what is required to ensure that we can be on the right side of history," Fuentes said.
Fuentes, 31, is a lifelong Humboldt Park resident who was the program director for Humboldt Park youth center Café Teatro Batey and the dean of students at two schools in the neighborhood: Pedro Albizu Campos High School and Roberto Clemente Community Academy.
In recent years, Fuentes has become an active player in local politics as the director of policy and youth advocacy for the Humboldt Park-based Puerto Rican Cultural Center and co-chair of the Puerto Rican Agenda, another local group.
"I know what it means to make sure that we are providing our young people with the wrap-around services they deserve," Fuentes said.
"I've co-chaired the Puerto Rican Agenda for seven years, advancing policy to ensure that we have state-designated cultural districts across the state of Illinois, that we can ensure [families] are no longer displaced gentrification, that we can consider housing as a right in the city of Chicago, and not a privilege. And I'm ready to do that work in City Council — because our families deserve that."
Alongside an empty chair, Fuentes answered a few questions from the audience.
Asked about gentrification-fueled displacement, Fuentes said she's "committed" to bringing affordable housing projects such as Encuentro Square and the Pioneer Bank redevelopment to fruition, providing tax relief to burdened homeowners and public housing for people experiencing homelessness.
Fuentes said she'd prioritize immigrant families by boosting affordable housing and creating lending programs for small businesses.
"Congresswoman Delia Ramirez is a really good friend of mine, and I promise you we will not stop, at the federal level, at the state level, at the county level and at the city level, until every immigrant family gets the rights they deserve," she said.
In response to a question about mental health services and public school students, Fuentes said she'd reopen a mental health clinic in the ward shut down by the city by former Mayor Rahm Emanuel and push to reform the school district's student discipline policy.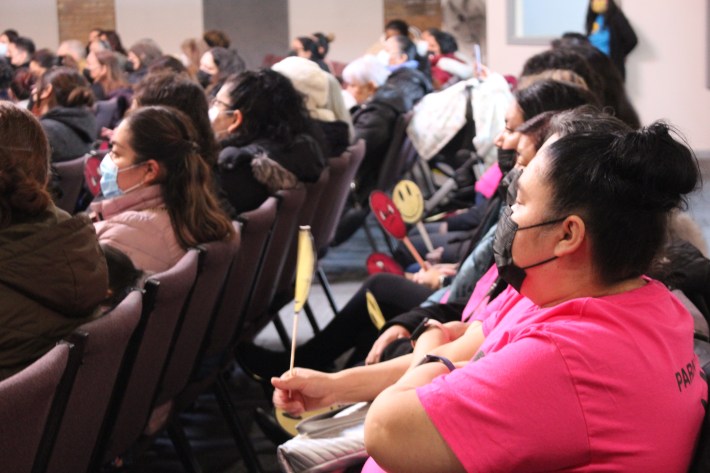 "I'm a restorative justice practitioner. I believe in engaging young people in a process of healing, so that they learn and can become agents of change in their community," Fuentes said.
"But unfortunately, we have many schools across the district that have become a school-to-prison pipeline for many young Black and Brown people. That is not something I'm going to stand for."
The forum was attended by dozens of neighbors associated with Palenque LSNA and other co-sponsoring community organizations, such as the Center for Changing Lives and LUCHA.
Subscribe to Block Club Chicago, an independent, 501(c)(3), journalist-run newsroom. Every dime we make funds reporting from Chicago's neighborhoods.
Click here to support Block Club with a tax-deductible donation. 
Thanks for subscribing to Block Club Chicago, an independent, 501(c)(3), journalist-run newsroom. Every dime we make funds reporting from Chicago's neighborhoods. Click here to support Block Club with a tax-deductible donation.
Listen to "The Ballot: A Block Club Chicago Podcast":