DOWNTOWN — Six candidates vying for three open seats on the Near 18th Police District Council shared their public safety priorities at a forum Tuesday.
The police district councils were created by the the 2021 Empowering Communities for Public Safety ordinance, which City Council passed after years of community organizing. This is the first time Chicagoans can vote on their members.
The 18th Police District includes parts of Old Town, Lincoln Park, Near North Side, River North and Streeterville.
The council candidates are Kimberly Bowman, Amy Cross, Robert Johnson, Karen Kane, Brad Kessler and Lisa Seigneur. Three will be elected.
RELATED: Meet The Near North (18th) Police District Council Candidates
Those elected will serve four-year terms and be tasked with holding monthly meetings to act as a liaison between the community and the Police Department. Councils will also be tasked with developing and implementing community policing initiatives and providing information about investigations to neighbors.
The councils don't have power to implement policies or initiatives of their own. Instead, they can only work with the Community Commission for Public Safety and Accountability to make policy recommendations, which the commission decides whether to vote on implement.
Each candidate had 90 seconds to answer six questions on key issues.
When asked about their qualifications for the council, Bowman, Johnson, Kane and Kessler listed connections to community groups and work with police.
Seigneur and Johnson touted their close connections with the Police Department. Seigneur is a recent graduate from Chicago's Citizen's Police Academy and member of the River North Residents Association's safety committee, she said.
Johnson, a former police officer and current CAPS beat facilitator, said he has good relationships with his former colleagues and knows "how to talk the talk and walk the walk."
Cross, a lawyer, said she's not involved with any community groups, which would bring neutrality to the council.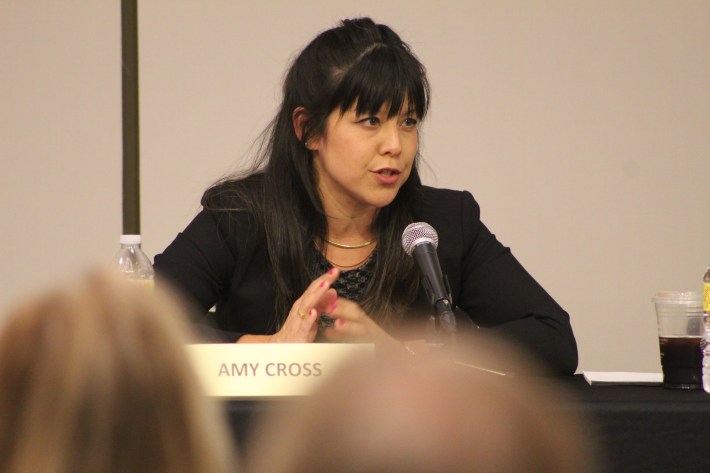 "I don't have an agenda beyond really trying to build effective public safety and accountability structures based on what I've seen work everywhere else," Cross said. "What I can do is bring some national perspective so that I can bring some best practices and in a sense, a sort of neutrality."
Johnson incorrectly said police are "no longer allowed to pursue bank robbers or shoot perpetrators," saying officers' "hands are tied."
"Unfortunately, because of serious accidents that have occurred over the years … they are no longer allowed to pursue on foot," Johnson incorrectly said.
There is no policy that completely prohibits officers from shooting people, and there have been multiple instances of officers shooting Chicagoans in recent months. Similarly, officers are still widely allowed to chase people in cars and on foot.
There have been reforms passed in recent years to limit officers' use of deadly force and prevent potentially fatal and harmful moves like chokeholds.
And the Police Department made changes to its foot chase policy last year after an officer chased, shot and killed 13-year-old Adam Toledo.
Officials said foot chases are dangerous for officers, the public and people being chased — but the updated policy still allows officers to chase people if there is a "valid law enforcement need to detain the person … [that] outweighs the thread to safety posed by pursuit," a call that is left up to the officers. They are not supposed to chase people for minor offenses and must also now fill out forms afterwards.
Public Safety Issues
Bowman and Kane said carjackings are the biggest crime-related issue facing the area, while Seigneur said statistics show aggravated battery and robbery are the biggest issues.
Statistics from the Police Department show in the 18th district and citywide, vehicle theft was the was the most reported crime in 2022.
In 2022, 21,425 vehicle thefts were reported citywide, 785 of those from the 18th district. That's a 102 percent increase citywide and 32 percent increase in the district compared to the year prior.
Kessler, who ran Chicago Public Schools' anti-violence initiative, said gangs are the district's biggest issue. He also said police have gotten worse at solving crimes because of "a lack of administrative support" and resources.
Cross and Kessler said they would support violence intervention practices. Cross said she'd evaluate the way funds are spent in the Police Department.
"We have increased the police budget this year by $64 million," Cross said. "We could continue to argue that we need more and more police and funding, but what we really do need to do is to actually focus on resource allocation."
Cross said this does not mean she supports taking money away from the department, but instead she wants to look at initiatives in the agency that could be better funded.
Bowman, Johnson and Kane said the police need to be able to "proactively police" without additional hurdles. The trio is running as a slate, campaigning as "common sense for 18," according to a flyer handed out at the forum.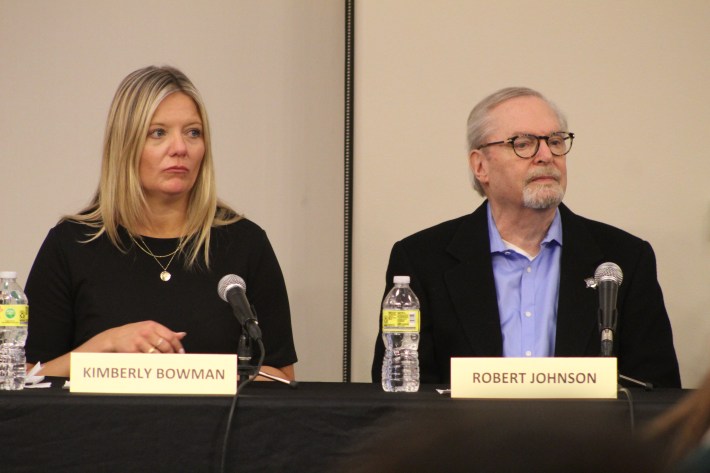 Mental Health
Kane, Bowman, Johnson, Kessler and Seigneur said they would not support diverting Police Department funding to mental health resources for all Chicagoans.
"We should be able to fund both sides of the coin," Kane said. "Funding for mental health is an absolute must … but I think it should be done in conjunction with the police."
Johnson said mental health is important, but more training and resources to treat mental health should be provided within the department. He supports police accompanying mental health professionals to 911 calls, he said.
Seigneur said there are plenty of resources available within the department to help with Chicagoans' mental health.
"It's not because I have no sensitivity to mental health. It's literally because there are plenty of resources that are currently being allocated and trained for within the Chicago Police Department for mental health services," Seigneur said.
People calling 911 can specifically ask to speak to a mental health dispatcher, she said.
"Plenty of dispatchers already staffed specific to mental health. I would not allocate any more dollars to this at this time," Seigneur said.
Cross didn't explicitly say if she would support diverting funding, but she said she would want to better understand the department's budget.
Cross cited a 2022 report from the Community Commission for Public Safety and Accountability that stated "our spending on public safety is not delivering the results our communities need. We need to spend better and more strategically."
"Whether that is shifting money away from the Police Department … I don't have a position on that. But I know that we are spending a lot on policing, and we are not spending very much on crisis response," Cross said.
There's a two-year pilot program only available in several neighborhoods that dispatches mental health clinicians and emergency medical responders to some 911 calls. The Crisis Assistance Response and Engagement program, or CARE, was implemented by Mayor Lori Lightfoot in 2021 through a $3.5 million initial investment by the city.
But community organizers have said the program needs to be scaled up at a faster rate.
Kessler and Bowman also said they want to better understand how funds were spent in the department to better allocate resources. Kessler pitched investing in other agencies, like the city's Department of Health and Human Services.
"I think we actually understand the funds first and then we decide which are the best agencies to actually respond to the mental health crisis," Kessler said.
Subscribe to Block Club Chicago, an independent, 501(c)(3), journalist-run newsroom. Every dime we make funds reporting from Chicago's neighborhoods.
Click here to support Block Club with a tax-deductible donation. 
Thanks for subscribing to Block Club Chicago, an independent, 501(c)(3), journalist-run newsroom. Every dime we make funds reporting from Chicago's neighborhoods. Click here to support Block Club with a tax-deductible donation.
Listen to "The Ballot: A Block Club Chicago Podcast":