SOUTH CHICAGO — All five aldermanic candidates running to replace retiring Ald. Susan Sadlowski Garza in the 10th Ward race gathered to talk public safety and community-led development at a forum Thursday night. 
Eleven community groups on the Southeast Side joined together to host Thursday's forum at the South Chicago Salud Center, 3039 E. 91st St.
Conversation opened with a discussion of the candidate's public safety platforms. Across the board, candidates advocated for an increase in community and youth programs. 
Local activist and community organizer Ana Guajardo said that a share of law enforcement funding should be redirected toward after-school and violence prevention programs. 
Echoing Guajardo, police officer Peter Chico promised that as alderman he would push to keep schools and school programming open in the evenings and on the weekends. Keeping youth engaged, he said, was the key to strengthening public safety in the long-term. 
"We need to wrap our arms around [young people] and give them something to do," Chico said. 
Óscar Sanchez, a community organizer and activist, said he would focus on workforce development and bringing new economic opportunities to the 10th Ward in an effort to reduce crime. Jessica Venegas, a 16-year police officer, also promised to direct ward funding toward workforce development, emphasizing the importance of trade and technical training. 
All candidates except Sanchez expressed a desire to increase the police presence in the 10th Ward. 
Yessenia Carreón, who worked as a staffer for former 10th Ward Ald. John Pope, advocated for raising officers' retirement age to keep the department fully staffed with experienced officers. Chico said that keeping the district's force fully staffed would be an important "short-term" priority for addressing public safety concerns. 
Sanchez took a different approach. 
"Policing is not the only answer," Sanchez said. He expressed support for the Treatment not Trauma campaign, which advocates for the return of public mental health clinics and crisis intervention programs that do not involve police.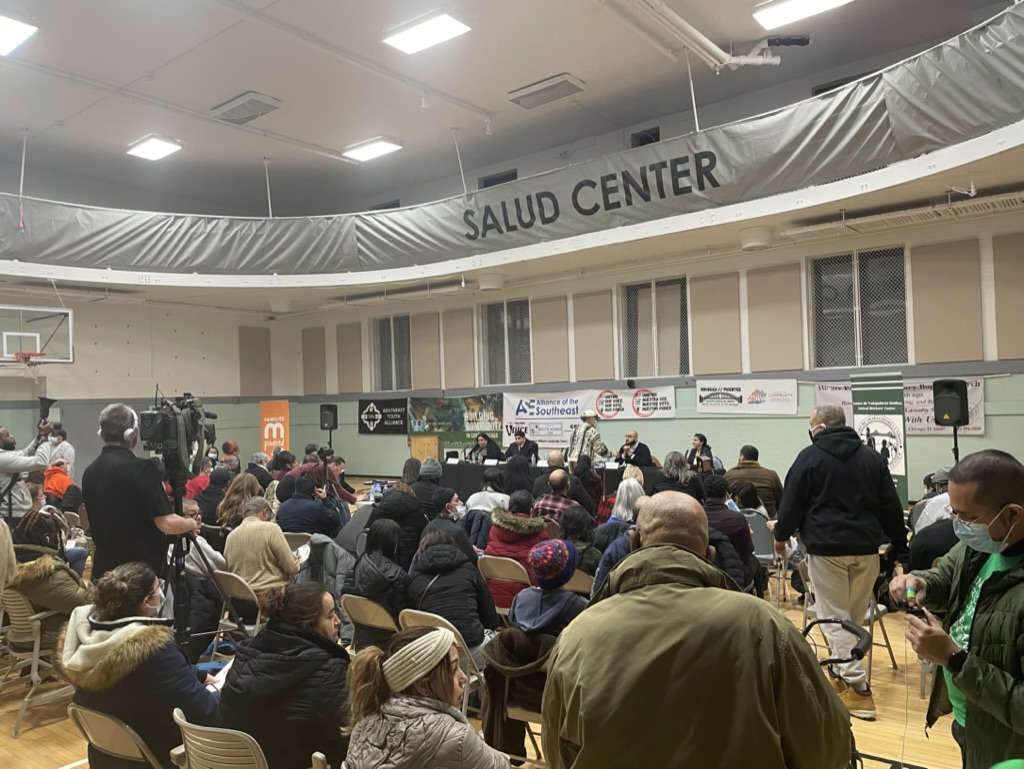 Venegas echoed Sanchez's calls for mental health services while stressing that a strong police presence was good for maintaining public safety.  
All candidates stressed that police officers should be connected to the neighborhood and held accountable for misconduct. 
"Accountability is a must in the police department," Guajardo said. She expressed support for a policing program that would emphasize regular beat patrols and relationship-building between officers and ward business owners.  
Between discussions of police and public safety, candidates shared their visions of equitable housing and business development in the ward, pledging to strengthen the resources available to business owners and ward residents whose housing is at risk. 
Guajardo, who co-founded the migrant workers advocacy group Centro de Trabajadores Unidos (CTU), or United Workers Center, promised to support cooperatively-owned local businesses, which the group already works to sponsor. She said she imagined a future where all business and housing development in the 10th Ward would be owned by community members. She also said she would push for a raise in the minimum wage. 
Carreón, a small business owner, advocated for educational programs and "quarterly workshops" for local business owners. 
"Small business is what this neighborhood used to be made of," Carréon said. 
Venegas, Carreónm, and Chico all advocated for property tax "freezes" that would keep homeowners from being priced out of their neighborhoods. 
When asked, Guajardo, Sanchez, Venegas, and Carreón all expressed support for a South Works Community Benefits Agreement (CBA) that would tie incoming business and real estate developers to certain local employment and affordable housing commitments. Chico did not use his speaking time to clearly confirm his support for the CBA. 
The 10th Ward has historically struggled against outside developers backed by City Hall. Activists and organizers in the ward spent years battling the proposed move of metal-scrapping giant General Iron, rebranded Southside Recycling, into the ward. Sanchez was among the activists who led a 30-day hunger strike against Southside Recycling. 
"We shouldn't just settle for any development. We need development that's restorative," Sanchez said. "We're suffering. We're tired. People feel abandoned."
Sanchez said that local ownership of business should be prioritized over employment, and that "the Southeast Side deserves a circular economy" that would keep money in the pockets of ward residents. 
Carreón said that incoming businesses should be held to a strict environmental standard. She said she would not allow "businesses that are putting our health at risk" to expand into the ward. Along with Chicago, she advocated for the return of a citywide Department of the Environment. 
The post-industrial Southeast Side continues to suffer from air pollution and high rates of respiratory illness, and concerns about environmental justice helped drive the campaign against Southside Recycling. 
Subscribe to Block Club Chicago, an independent, 501(c)(3), journalist-run newsroom. Every dime we make funds reporting from Chicago's neighborhoods.
Click here to support Block Club with a tax-deductible donation. 
Thanks for subscribing to Block Club Chicago, an independent, 501(c)(3), journalist-run newsroom. Every dime we make funds reporting from Chicago's neighborhoods. Click here to support Block Club with a tax-deductible donation.
Listen to "The Ballot: A Block Club Chicago Podcast":