CHICAGO — A civilian police oversight ordinance backed by civil rights groups and three aldermanic caucuses will get a vote in a City Council committee next month, bolstering advocates' push to bypass Mayor Lori Lightfoot in their quest to wrest powers over the Chicago Police Department away from City Hall.
The Empowering Communities for Public Safety ordinance was accepted into the council's public safety committee after a hearing Friday. Chair Ald. Chris Taliaferro (29th) committed to holding a vote in June.
A vote on the ordinance — created as a compromise between the Civilian Police Accountability Council and a competing proposal authored by the Grassroots Alliance for Police Accountability — is a big step forward for alderman and organizers who have pressured the mayor for months to commit to a new civilian oversight model.
RELATED: Rival Civilian Oversight Plans For Police Department Join Forces For 'People's Ordinance'
Lightfoot withdrew her support for GAPA last summer. Since then she has pledged an alternate reform plan, which her office has yet to introduce.
On Friday, supporters of the civilian oversight legislation railed against the mayor's repeated efforts to delay a vote, including a last-minute effort this week to present her own ordinance.
"Offering a plan at the last minute, a plan that she has not done the work of engagement that is required, is just a sign of how broken the system is," Martin Levine, a 48th ward resident said. "Delaying has not brought change or improvement. As this change was ignored, Adam Toledo and Anthony Alvarez died."
Dubbed as the "people's ordinance," the police oversight plan had widespread support among City Council members, including the Progressive Caucus, the Latinx Caucus, and the Black Caucus. Advocates said Lightfoot only moved to introduce her own plan this week after it became clear there were enough votes in City Council to override a mayoral veto.
"It's important to realize what has got us to this moment and what has spurred our mayor to take action to craft her own ordinance… It was the support of the Black Latinx and Progressive caucuses backing [the people's ordinance,]" said Jazmine Salas, co-director of Chicago Alliance Against Racist and Political Repression. "She's responding to our power and not to the public safety needs of our city."
Lightfoot was expected to offer up her plan Thursday, but the mayor's office never released the competing ordinance. The Tribune reported Friday the mayor has said she will have her ordinance ready in time to introduce at next week's City Council meeting. It then would be assigned to the public safety committee for review, potentially forcing aldermen to pick one over the other.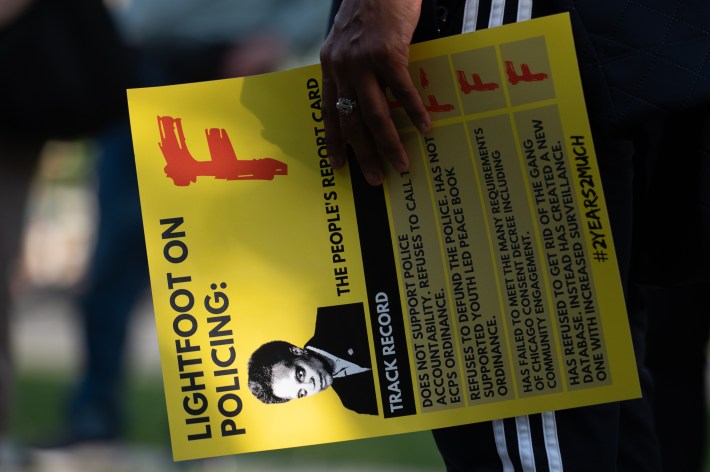 Advocates blasted Lightfoot for the series of broken promises on the issue dating back to her campaign when she pledged to pass the GAPA legislation within her first 100 days in office.
"That was 732 days ago," resident Anthony Driver said. "Eight years of community and aldermanic engagement can't be replaced in a matter of days."
The CPAC/GAPA plan would allow residents to approve a binding referendum to give a civilian commission authority over issues currently decided by the Chicago Police Board. The commission would be empowered to negotiate police department contracts, hire and fire the superintendent, and set the department's budget, greatly reducing the mayor's influence.
The mayor's plan is expected to challenge the binding referendum and allow her office to retain those powers.
"In other words, not to establish any real oversight or control over the police," said Ted Pearson, co-chair of Chicago Alliance Against Racist and Political Repression.
Should the committee approve the proposal in June, the ordinance will move to the full City Council.
"It is our elected responsibility that has been pushed off for far too long. Months and years have gone by without action on this," said Ald. Harry Osterman (48th), vice chair of the public safety committee.
Pascal Sabino is a Report for America corps member covering Austin, North Lawndale and Garfield Park for Block Club Chicago.
Block Club Chicago's coronavirus coverage is free for all readers. Block Club is an independent, 501(c)(3), journalist-run newsroom.
Subscribe to Block Club Chicago, an independent, 501(c)(3), journalist-run newsroom. Every dime we make funds reporting from Chicago's neighborhoods.
Already subscribe? Click here to support Block Club with a tax-deductible donation.