CHICAGO — Thousands of migrants continue to arrive in Chicago, increasingly straining the city's ability to house and support them, local leaders say.
Migrants have shown up at police stations, community centers and other locations in recent weeks, unable to access a city shelter, an alderperson and a community organizer said. In some cases, rumors and other information have encouraged migrants to seek help in places besides the shelters.
Mayor Lori Lightfoot's administration has denied migrants are being turned away from shelters. But as city leaders scramble to find more housing for thousands of people, organizers and local leaders also are hustling to help migrants they say aren't easily finding support through the city.
Erendira Rendon, vice president of immigrant justice at the Pilsen-based Resurrection Project, said the city needs to create more shelters and fund case management and rental assistance so nonprofits can help people move on from shelters.
"In order for us to start alleviating pressure, it's going to take the city investing in nonprofits," Rendon said. "If [the city] doesn't do that, it's going to continue to play catchup."
Earlier this month, Lightfoot and New York City Mayor Eric Adams wrote a joint letter to Colorado Gov. Jared Polis, asking him to stop sending buses of migrants to their cities — a stunt Texas Gov. Greg Abbott has been orchestrating for months.
Since August, more than 5,000 migrants have been bussed to Chicago from Texas and Colorado, according to the city's Department of Family Support Services. Of those, nearly 4,000 accepted shelter from the city or state, while many others continued their journey to connect with friends and family in Chicago or elsewhere.
RELATED: After The Buses: Meet The Migrants At The Center Of Texas' Manufactured Crisis
In the letter to Polis, Lightfoot and Adams said their cities are "at maximum capacity in shelter space and available services."
And recently, an anonymous flyer circulated throughout the North Side, directing people to go to the 24th District police station and a local hospital if they need help.
The flyer showed directions from the once-vacant West Ridge YMCA, 2424 W. Touhy Ave., which was converted to a temporary shelter in September to accept recent migrant arrivals.
RELATED: West Ridge's Closed YMCA, Now A Migrant Shelter, Gets $3.75 Million For Renovation, Likely Reopening
Ald. Debra Silverstein (50th) said she wasn't aware of the flyer or who created it.
Prior to the holidays, the policy for when someone showed up somewhere other than city shelters was to call 311, and a case worker would be sent over to do intake and find a shelter with space for that person, Rendon said.
But that policy hasn't been working since late 2022, Rendon said. Most recently, there have been instances where a case worker can't come, so it falls on the nonprofit or other organization to take individuals to police stations to await shelter, possibly for days, she said.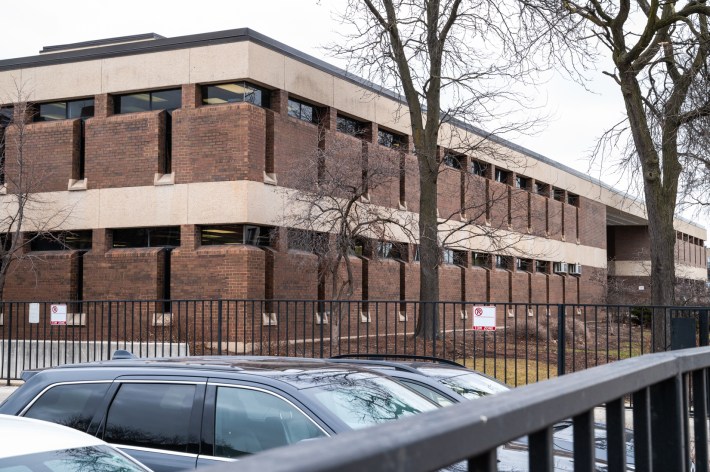 A city representative said city centers, including a 24/7 community service center on the West Side that connects people with shelters, has seen an uptick in migrants arriving. He said police station and hospital officials are directing people there.
On a weeknight earlier this month, there were a couple dozen people who showed up to the center seeking shelter. Twenty-five were placed in temporary housing.
The Garfield Park Community Service Center, 10 S. Kedzie Ave., is not a shelter itself, but it's open all hours of the day to find beds for people.
"Individuals only have to leave once a shelter bed is available," the city representative said. "With the help of our community partners, transportation to those shelter beds is provided."
Pilsen Ald. Byron Sigcho-Lopez (25th) said his office has been getting more frequent calls about migrants in need of housing since around Christmas.
His office recently was alerted to nearly a dozen migrants who arrived at the 12th District station two weeks ago in need of support. He said the people originally showed up a shelter, but they were turned away due to lack of space.
District police coordinated with Sigcho-Lopez to find housing for nearly all of them, including using a donated apartment from a Pilsen resident, he said.
The Southwest Side alderman has been strongly advocating for temporary shelters in his ward, which has historically been a welcoming area for Latino immigrants. He said he requested a meeting with the mayor about this "humanitarian crisis," but he was denied.
A mayoral spokesperson said migrants who arrive at other locations seeking support are being directed to city shelters. There's no deadline for people to leave the shelters, the spokesperson said.
"The only individuals asked to leave a shelter have been individuals who refuse to follow safety guidelines and threaten the safety of other already vulnerable individuals or staff," the spokesperson said.
A spokesperson for Lightfoot didn't address Sigcho-Lopez's request for a meeting.
Though the pace of bus arrivals has slowed since its peak this fall, it's unclear exactly how long the city can continue to support people.
In trying to address this housing crunch, the city announced controversial plans last month to reopen a school in Woodlawn to house a couple hundred migrants.
Local neighbors blasted the lack of coordination and transparency from the city — saying officials didn't ask for any input — but the decision is moving forward, and migrants could move in as soon as this week.
Block Club's Joe Ward contributed.
Listen to "It's All Good: A Block Club Chicago Podcast":