WOODLAWN — A shelter to house asylum seekers and other migrants in a former South Side elementary school did not open last week as initially planned, but it could open this week, according to the Tribune.
Mayor Lori Lightfoot's administration has for months planned to house migrants bused to Chicago from other states — mostly asylum seekers, according to city officials — at the vacant former home of Wadsworth Elementary School, 6420 S. University Ave.
The city intends use Wadsworth as a shelter for up to two years. They'll house up to 250 single men and women there to start, with more people housed at the campus in the coming months. Officials have not yet determined the maximum number of people who will be sheltered there.
Mayor Lori Lightfoot's office first denied Wadsworth would be used as a shelter after Ald. Jeanette Taylor (20th) said in October she was briefed on a plan to house hundreds of migrants there.
The city has since delayed the move-in date twice since reversing course and saying the shelter would open. Officials first said it would open Jan. 6, but pushed that back to the week of Jan. 23 after residents blasted the plans and a lack of transparency.
But the shelter did not open last week, and officials told neighbors at a meeting Saturday that people could move in as soon as this week, according to the Tribune.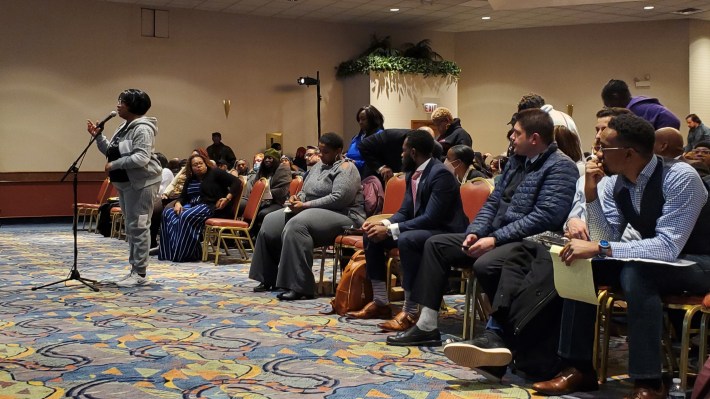 More than 5,150 migrants have arrived in Chicago since Aug. 31, when Texas Gov. Greg Abbott, a Republican, began busing them to Democrat-led cities to protest federal immigration policies.
Texas and Colorado — the latter of which is led by a Democratic governor — have since sent more than 100 buses to Chicago, along with 1,500 migrants who arrived in the city separately.
The arrivals have overwhelmed the city's shelter system, officials said. Woodlawn residents have spoken out against the Wadsworth plans even as some have said they empathize with the migrants' plight and the city's dilemma.
Neighbors have criticized the city for sharing details only once it was a "done deal" that Wadsworth would house migrants. They've also taken issue with the city's move to renovate the former school into a shelter after letting the property sit idle for years.
Taylor made numerous demands of the city relating to housing, immigration, economic development and other issues in response to the city's plans for Wadsworth. They include a $5 million fund to help community organizations in the ward develop long-term plans for helping shelter residents.
The alderperson also demanded that an increased police presence for the shelter not lead to more tickets or traffic stops in the community, and called for city officials to commit to a community-led process for renovating other vacant schools in the ward, among other points.
"It is hard to be a welcoming community when it feels like our own cry for resources and refuge is being ignored," Taylor said in a ward newsletter last week.
City officials will provide updates on the Wadsworth shelter to Taylor's office every two weeks and invite two Woodlawn residents to sit on a citywide advisory council around the migrants' arrival, Brandie Knazze, commissioner of the Department of Family and Support Services, said at a Jan. 12 meeting.
The city will also hold monthly community meetings for the next three months, then hold meetings every other month, Knazze said.
Listen to "It's All Good: A Block Club Chicago Podcast":