DOWNTOWN  — Ald. Walter Burnett (27th) isn't going anywhere anytime soon — and he has big plans for the ward he's led for nearly 30 years.
Burnett is not facing an election challenger for the first time since 2007, guaranteeing him an eighth City Council term after February's election. First elected in 1995, Burnett overwhelmingly won reelection bids in 2011, 2015 and 2019. 
Only Alds. Ed Burke (14th) and Carrie Austin (34th) have been on the council longer. Both will step down — along with at least 14 other colleagues — this year, leaving Burnett as the longest-serving alderperson.
Burnett, who lives on the Near West Side, told Block Club he has no plans to retire. He expects an explosion of growth in the 27th Ward, specifically in the West Loop.
The new ward boundaries, which go into effect when the new City Council forms in May, include much of the West Loop, Cabrini Green, Goose Island, River West, Fulton Market, Near West Side and parts of Humboldt Park and Garfield Park.
"I think the West Loop is going to continue to go after things. I expect that we'll be back settled economically in a couple of more years. … All that's going to do is help to push more development going west, north and south," Burnett said.
Part of that growth has been because of the 2021 lift of a decades-long ban on residential construction north of Lake Street, opening the door to a housing boom in Fulton Market. The change created a rush of projects from developers like Sterling Bay and LG Development looking to capitalize of the change.
The Casino, More L Stations And A Cabrini Green Revival?
Top of the list for Burnett's eighth term: Chicago's first casino.
The City Council approved the Bally's casino proposal at the Tribune Publishing Plant in River West in May. The permanent site sits in Burnett's ward, while the temporary site at the Medinah Temple is in neighboring Ald. Brendan Reilly's 42nd Ward.
The permanent Bally's casino, 700 W. Chicago Ave., will include 3,400 slots, 173 table games, 500 hotel rooms, a 3,000-seat entertainment venue, six restaurants, a food hall and three bars. The company has committed $75 million to infrastructure improvement projects around the casino site, which include projects ranging from synchronized traffic signals to reconstruction and widening of roads.
RELATED: Chicago's Casino Will Have A 3,000-Seat Theater, A 2-Acre Park, An Extended Riverwalk And More. Here's What To Expect
Already, a 2,000-unit apartment building is slated to go up just west and south of the $1.7 billion casino project.
"A lot of stuff is going to happen in that area. New businesses, new housing, all of the above and new infrastructure, so I'll be focusing on that," Burnett said.
Burnett also hopes to "piggyback" off of that success to "help finish up Cabrini Green."
In October 2021, City Council approved a plan from Mayor Lori Lightfoot to spend an additional $600 million over the next 12 years to fulfill a redevelopment plan from former Mayor Richard M. Daley to transform Cabrini Green.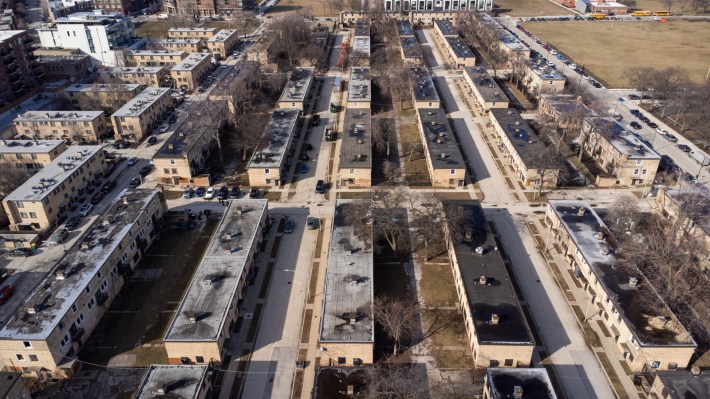 That plan, revealed in 1997, consisted of tearing down the neighborhood and starting over. But broken promises from Daley's administration displaced many residents from demolished public housing units.
"We are trying to get as many resources for our ward as possible. I see a lot more affordable housing happening in these developments," Burnett said.
Also on the horizon are more CTA stops, specifically the completion of the Damen Street Green Line station. The station, near the United Center, is meant to fill a 1.5-mile gap between Green Line stations at California and Ashland.
Burnett said he'll continue to set his sights on an additional "L" stop at Orleans and Chicago Avenue and a Metra stop at Ashland Avenue and Kinzie Street.
"We are going to be hustling. I have a competitive spirit. I keep trying to beat myself but also keep my ward getting the resources that are available," Burnett said.
Part of the resources headed Burnett's way are $2 million annually from a Host Community Agreement with Bally's. He wants to use the money for improve public safety by investing in violence intervention for the ward, he said.
But Burnett isn't shy in saying part of the ward's success is banking on who the next mayor is.
"If the same mayor is in there and the same planning commission, we know what track we are on. If it changes, then we don't know," Burnett said.
Burnett didn't support Lightfoot when she first ran for mayor in 2019, opting to support Cook County Board President Toni Preckwinkle instead. But the veteran alderman, who has long been an ally to sitting mayors, said he hopes voters will support Lightfoot's reelection bid. A lot of the city's progress under her was slowed by the pandemic, he said.
"I think she deserves another chance to finish what she started," he said.
Burnett said there have been advancements with Invest South/West, LaSalle Street Reimagined and what he believes are efforts from Lightfoot to boost affordable housing.
Lightfoot has recently been under fire for appearing to take credit for projects under Invest South/West that began before she took office, the Tribune reported. But Burnett was quick to defend Lightfoot, saying she "advanced" what former Mayor Rahm Emanuel was doing with with the Neighborhood Opportunity Fund and "molded" it into the Invest South/West program.
Burnett also faced criticism after a Sun-Times investigation revealed $300,000 is missing from his campaign fund. Contributions have "disappeared" from his campaign finance reports, the paper reported.
Burnett refused to disclose where the money went, only saying he did not convert it into personal income.
The Sun-Times also reported a home owned by Burnett was raided twice under suspicion that it was a drug house. He and his wife face $40,000 in fines for violating the Drug and Gang House Ordinance.
Asked about that, Burnett told Block Club it was paid for and taken care of, and he didn't have anything to add.
Listen to "It's All Good: A Block Club Chicago Podcast":