UPTOWN — The race to replace retiring Ald. James Cappleman (46th) includes the chief administrative judge of the country's social welfare programs and a union leader and bartender at the Palmer House.
Patrick Nagle and Roushaunda Williams are among the six candidates looking to succeed Cappleman after he retires this spring following three terms as Uptown and East Lakeview's alderperson.
Nagle is running to take his public service career to the next level, he said.
A Lakeview resident, Nagle is the chief administrative law judge for the Social Security Administration, overseeing a large court network that rules in benefit awards cases for the federal agency.
Williams is a veteran bartender at the Palmer House hotel in the Loop and a union leader for Unite Here Local 1, which organizes Chicago hospitality workers.
Williams led efforts to protect the jobs and benefits of hotel workers furloughed during the pandemic and has been involved in other union efforts. She also has the backing of powerful labor unions.
The two candidates have entered a crowded race for the open 46th Ward seat. The other candidates are political organizer Angela Clay, research scientist Marianne Lalonde, former congressional aide Kim Walz and Michael Cortez.
The 46th Ward is among the historic number of open seats in the Feb. 28 election following a wave of retirements on the City Council.
If no candidate secures 50 percent of the vote, the top two vote earners will proceed to a runoff April 4.
More on these two candidates:
Patrick Nagle
A 30-year resident of the 46th Ward, Nagle has spent much of his professional career in law, including as a federal prosecutor and administrative judge.
Nagle was appointed as an administrative law judge for the Social Security Administration in 2009. He was named chief administrative law judge for the Social Security Administration in 2016, working in Chicago and Washington, D.C., and overseeing its 1,500 administrative judges.
After years working on the federal level, Nagle said he wanted to get into government more locally.
"I've been in public service my whole life. I feel like I've made a real contribution, both in Chicago and also nationally," Nagle said. "But I also felt a desire to want to help out kind of more hyper locally than I had before."
To run for office, Nagle must adhere to strict ethical guidelines surrounding his role as a federal judge. That includes the federal Hatch Act, which limits the political activities of federal employees.
The law precludes such employees from running in elections where the candidate represents a political party, among other restrictions. Because Chicago's municipal elections are non-partisan — candidates do not declare as Democrat or Republican — Nagle is able to run for the ward seat and retain his federal employment. He would have to give his job up should he win office.
Those ethical guidelines also include restrictions on certain political speech. Despite those "restrictions," Nagle said he is able to talk to voters about the issues impacting the ward and how he would address them.
Nagle said crime is the "fundamental challenge facing the city of Chicago." In the short term, Nagle said he favors hiring more officers to offset the reduction in local police ranks in recent years. He supports more preventative efforts, including mentoring and after-school programs.
Nagle was a member of Cappleman's zoning and development advisory board, which weighs in on development proposals in the ward. He is also a board member of East Lakeview Neighbors Association.
Development under Cappleman has been a hotly contested topic, with some saying development has led to displacement and gentrification. Nagle said he is in favor of building more housing, including affordable housing. Allowing for dense development in the neighborhood will take upward pressure on rents for existing, more-affordable housing, he said.
"Building in general and building with density is the elixir to a lot of a lot of these ills," Nagle said. "When you increase the supply, what you find, I think, is that there's a ripple effect to the other community. Those classes of housing prices either go down or they stabilize."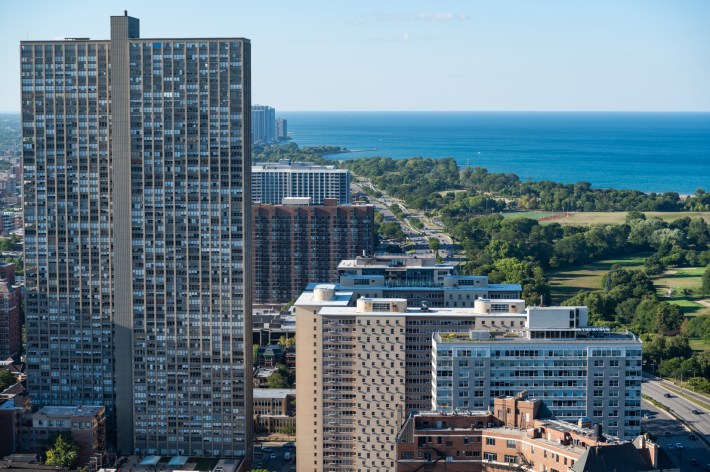 Roushaunda Williams
After 20 years as a union bartender and labor advocate, Williams said she is ready to bring her advocacy and activism to the City Council.
Williams has worked as a bartender at the Palmer House for two decades. She is the lead shop steward for the Palmer House's workforce that's represented by Unite Here Local 1.
In Williams' union role, she helped earn protections for hospitality workers during the pandemic, including the retention of their jobs and benefits, she said. She was on the front lines of the 2018 hotel workers strike in Chicago that resulted in some workers receiving year-round benefits even if they were furloughed in the slow season.
Williams also helped get panic buttons installed in hotels for housekeeping employees and has testified before Congress on workplace sexual harassment, Williams said.
"I've just been an advocate since I was young," Williams said. "I decided I could further advocate for people on the City Council."
Williams' campaign has gotten a big boost from Unite Here Local 1, whose political action campaign chipped in more than $52,000, election filings show. Her campaign has also been endorsed by the Chicago Federation of Labor.
A South Side native who has lived on the North Side for about 10 years, Uptown resident Williams said her priorities as 46th Ward alderperson include affordable housing, public safety and the improving schools.
Williams was furloughed for a year and a half during the pandemic, causing her to confront an issue that has touched many: housing insecurity. The experience informs her platform to build more affordable housing and strengthen protections for tenants, she said.
"That was the first time I was at risk for having to move into somebody else's home," Williams said. "It makes it very difficult when you can't afford a place to live."
While furloughed, Williams said she occupied her time helping her colleagues find jobs, including helping with resumes and cover letters. She said she would take that one-on-one approach to the ward office, where she said she won't be afraid to intervene in the community's issues and needs.
"I'm going to work really, really hard," she said. "My focus can totally be on the issues of the ward."
Listen to "It's All Good: A Block Club Chicago Podcast":